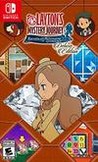 Summary:

Enhanced puzzle-solving adventure experience with the Deluxe Edition. NEW PUZZLES: This Deluxe Edition includes more than 40 brand-new puzzles and additionally, some refined puzzles from the Nintendo 3DS version. Unlocked DLC: Content that was previously released as paid DLC, including the

Enhanced puzzle-solving adventure experience with the Deluxe Edition. NEW PUZZLES: This Deluxe Edition includes more than 40 brand-new puzzles and additionally, some refined puzzles from the Nintendo 3DS version. Unlocked DLC: Content that was previously released as paid DLC, including the "Daddy's Girl" and "Luke Lookalike" outfits, are unlocked.

…

Expand
Developer:

Level 5

Genre(s):

Puzzle

,

General

# of players:

No Online Multiplayer

Cheats:

On GameFAQs

Rating:

E10+
With better aesthetics, all DLC included, and new puzzles, this 3DS port has a lot going for it. LAYTON'S MYSTERY JOURNEY: Katrielle and the Millionaires' Conspiracy – Deluxe Edition is a great series debut on the Nintendo Switch, and it should excite fans of LEVEL-5's long-running series. It'd even be a good starting point for first-time Layton players.

Even the things that were off-putting felt more like small stumbles than full-on faceplants. With so much to explore and unravel in this game, plus accessible daily puzzles, Katrielle and the Millionaires' Conspiracy feels like a game we could get lost in for a good, long time.

Layton's classic adventure holds up quite well. This version offers extra content and, even if they are not big additions, it's a good reason to rediscover this classic.

Layton's Mystery Journey: Katrielle and the Millionaires Conspiracy Deluxe Edition is as complete as this game will get, with the added benefit of being on a current console. The spirit of the Layton series continues on, but the story doesn't live up to its predecessors. If you're here for the puzzles there is more than ever, there are even extra daily puzzles. Just be prepared for a few too many 'trick' puzzles or unclear instructions that can have you second-guessing often. At the end of the day, Layton's Mystery Journey is a decent game that will hopefully lead into a grander adventure with Katrielle at the helm.

Initially I was worried that Layton sans the titular professor would be a problem. In the end that wasn't where the issues lay with Layton's Mystery Journey. I'm certainly on board with Katrielle taking over and having the kind of long career that her father did, but Level-5 does need to get some fresh new puzzle-designers in, because with this game they dropped the ball too frequently for a series of this calibre.

Layton's Mystery Journey isn't the best game in the series by any means, but it can still be an enjoyable collection of low-stress puzzles - especially in the absence of any other Layton titles on modern systems. Between the splendid production values and the large number of clever but recycled puzzles, new players will probably be the ones getting the most out of this Deluxe Edition.
The beginning of the game is kind of boring with the mysteries being quite dull and predictable BUT the last one threw me off so bad. The plot

The beginning of the game is kind of boring with the mysteries being quite dull and predictable BUT the last one threw me off so bad. The plot twist with the combined story line really redeemed the overall game. Thought the story they silently stacked all the pieces of the mystery together without the player even knowing and the final reveal was just perfect

…

Expand

This was my first game on switch and my third Layton game. It isn't the best that I have played, but I still had a fabulous time.

This was my first game on switch and my third Layton game. It isn't the best that I have played, but I still had a fabulous time. Realistically I'd give it an 8.5, but I suppose a 9 will do

…

Expand

It's a nice game, but some puzzles aren't that logical or unclear what the meaning is. In this game the overall story is very weak, not even

It's a nice game, but some puzzles aren't that logical or unclear what the meaning is. In this game the overall story is very weak, not even once i was curious how the story ended. In the first 6 layton games, the overall story was exciting to follow, with a lot more cinematics.

There is also too much dialog. Eventually i started skipping the conversations. i rather see more cinematics and more puzzles then dialog.

I finished the game, i mildly enjoy it, i will go back to some cases to play missing puzzles, but afterwards i wont play this game ever again.

I really want a layton game like the first six.

…

Expand

No es la mejor obra de esta saga, pero si es una muy competente y la protagonista tiene un grab carisma. Y sobre la jugabilidad nada q no se

No es la mejor obra de esta saga, pero si es una muy competente y la protagonista tiene un grab carisma. Y sobre la jugabilidad nada q no se sepa de esta saga. Pero lo q es la historia en si mas floja que en otros titulos.

…

Expand