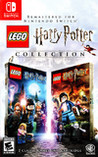 Summary:

The LEGO Harry Potter Collection brings LEGO Harry Potter: Years 1-4 and LEGO Harry Potter: Years 5-7 to the PlayStation4 computer entertainment system for the first time with both top-selling videogames remastered on one disc! This compilation unites the creative prowess of LEGO and the

The LEGO Harry Potter Collection brings LEGO Harry Potter: Years 1-4 and LEGO Harry Potter: Years 5-7 to the PlayStation4 computer entertainment system for the first time with both top-selling videogames remastered on one disc! This compilation unites the creative prowess of LEGO and the expansive world of Harry Potter, with an exciting journey full of spell-casting, potion-making, puzzle-solving, lessons, dueling and much more for players of all ages to enjoy. Gamers can experience the entire LEGO Harry Potter adventure featuring content from seven books and eight films, with enhanced graphics, environments, lighting and visual effects, along with two downloadable content (DLC) packs. Sure to delight fans of J.K. Rowling's ever-expanding Wizarding World, the LEGO Harry Potter Collection serves as a perfect gift for those eagerly anticipating the upcoming film, Fantastic Beasts and Where to Find Them, a prequel to the Harry Potter film series.

…

Expand
Developer:

Warner Bros. Interactive Entertainment

Genre(s):

Miscellaneous

,

Compilation

# of players:

No Online Multiplayer

Cheats:

On GameFAQs

Rating:

E10+
Please enter your birth date to watch this video:
You are not allowed to view this material at this time.
LEGO Harry Potter Collection Trailer
After all is said and done, the LEGO Harry Potter Collection really is a fun game and with this being the definitive collection, it is the best way to play. Of course, you can get this on Xbox One or PS4, but you can only take the Switch version with you when you go see the next Fantastic Beasts film.

The two-game LEGO Harry Potter Collection offers great value for those wanting to relive the young wizard's brick-based adventures on Nintendo Switch. It's practically bursting with content, but the improvements offer little more to those that have experienced their magic and charm before. Even if they are starting to show their age, the games remain as some of the best in the LEGO series and a spellbinding local co-op addition to the portable home console's library.

The game's more straightforward design and focus on puzzle solving makes it stand out a little from more recent Lego games while still featuring the easy to pick-up gameplay and humor every entry is known for. Of course, that simplicity will dissuade some while attracting others, especially those looking for something younger family members can enjoy together. Having two whole games worth of content can also be seen as a double-edged sword depending on how you feel about repetition and collectibles. In short, it's another solid Lego game with all the good and bad that come with the franchise.

Tons of content is available to play through, all fitting into the niche that TT Games has established for their LEGO franchise titles. Players will get a fun, lighthearted retelling of their favorite movies, all with a LEGO makeover layered on top.

Lego Harry Potter Collection for the Nintendo Switch is a nice, complete edition to the Switch's library.

Almost a decade after its original release, LEGO Harry Potter is feeling the weight of his years. A lack of variety of mechanics and a level of not-so-rich graphic richness are flanked, however, to a carefree and stimulating gameplay.

LEGO Harry Potter Collection is a trustful albeit lazy port of two fun but ultimately obsolete games which fans of the British wizard will probably still love.
OKay this i a quick review so this game is AMAZING the level design is just MWA its like a french chef made this game. When you play this game

OKay this i a quick review so this game is AMAZING the level design is just MWA its like a french chef made this game. When you play this game you notice so many little details and things like that and sometimes you're gonna be like "wow i get this game in so many levels" this is no meme review or something this is actually true this game is actually really good and i'm so surprised that it even is. I MEAN imagine if you read the books and you want to watch the movies i tell you TO not watch the movies and play the lego games instead WHY you may ask because this lego game is ten times more faithful to the books than the movies, well there are some parts of the movie in the lego games so then people who watch the movie would understand but they reference the books all the time, so i think you will have a really great time playing this game as a harry potter fan, or even somebody looking for a game they can play and i tell you this game has content LOTS of content and its very worth the price for 40 bucks for this game. I managed to 100% complete lego harry potter years 1-4 in 35 hours ad lego harry years 5-7 40 hours to 100% complete, so you have a total of 75 amazing hours of lego gameplay. BUT sadly the one flaw is the replay value cuz after you 100% complete the game there is no reason to go back but i dont really care since there is so much content so what ever. JUST BUY THE GAME

…

Expand

Like all LEGO movie-games, the whimsical gameplay is a total joy and its reconstructed stages are all filled with nostalgia and surprises.

Good, but beaware that this release has a lot of game breaking bugs, more compared to the originals.

Years 1-4 are amazing. Years 5-7 have visual lag that's really annoying. Would give a 10 if all 7 years played smooth.

The cinematic scenesYears 1-4 are amazing. Years 5-7 have visual lag that's really annoying. Would give a 10 if all 7 years played smooth.

The cinematic scenes are cute and while there isn't any talking they get the message across. You definitely know what's going on. The level designs are clever and fun. They definitely keep you engaged and entertained. These games are also surprisingly true to the books. While I like the movies I think I liked playing these games more than watching the movies. There is also a lot of game play. I was surprised at how many hours I put into this.

…

Expand