Publisher:

Nintendo

Release Date:

Oct 29, 2021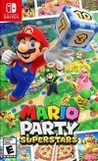 Summary:

A Superstar collection of classic Nintendo 64™ boards - Calling all Superstars! Mario Party™ is back with 5 classic boards from the Nintendo 64 Mario Party games. Frosting meets flowers as you race to get the most stars (and sabotage your opponents) on the Peach's Birthday Cake board from

A Superstar collection of classic Nintendo 64™ boards - Calling all Superstars! Mario Party™ is back with 5 classic boards from the Nintendo 64 Mario Party games. Frosting meets flowers as you race to get the most stars (and sabotage your opponents) on the Peach's Birthday Cake board from the original Mario Party game. Or watch the countdown that unleashes Bowser Coin Beam and hold onto those coins on the Space Land board. The tides can turn quickly in Mario Party, so stay vigilant, partygoers. This and all other modes can be played online**, too! 100 classic minigames return from the Nintendo 64 and Nintendo GameCube™ games and more!

Try your hand at a Superstar collection of minigames from throughout the Mario Party series. Whether you are saving up coins for stars in board game mode or practicing in free play, there is nothing quite like being the last one standing in Mushroom Mix-Up or Shy Guy Says. All minigames are played with button controls, so you can stick to the Joy-Con™ controller or bust out the Nintendo Switch™ Pro Controller or a Nintendo Switch Lite system.

Party with superstars near or far

Bring the party anytime, anywhere with same-system***, local wireless***, or online** play. Matches with friends in board game mode save each turn, so feel free to take a break and pick up where you left off. Use stickers to praise or pester fellow players as you race across the board collecting stars. All modes support online multiplayer, so you can hop in with friends for a few minigames or a marathon 30-turn match. Victory is just as sweet (and stealing stars is just as satisfying) from anywhere across the globe.


…

Expand
Genre(s):

Miscellaneous

,

Party / Minigame

Cheats:

On GameFAQs

Rating:

E
Please enter your birth date to watch this video:
You are not allowed to view this material at this time.
Mario Party Superstars | Nintendo E3 2021
With a great collection of classic mini-games and a surprising level of challenge, even for experienced players, there's plenty to love about Mario Party Superstars. While it can be unfair at times, the randomness of the game keeps emotions high, spicing it up for everyone and making each new game fresh.

Mario Party Superstars is the ultimate celebration of the franchise on Nintendo Switch. It takes the best minigames from past entries and creates a game that looks beautiful. New animations, useful features, and a very good online multiplayer makes this entry in the series the best Mario Party ever created.

With Mario Party Superstars alongside Super Mario Party, the Nintendo Switch has two different but great series installments. While Superstars would benefit from more boards, it's a charming nostalgia-laden trip with far-reaching multiplayer appeal for family and friends of all ages. It's also replayable as ever, with online play, achievements, and unlockables.

Mario Party Superstars is the best game in the series, bringing a better selection of minigames and fewer gameplay gimmicks.

Mario Party Superstars is a blast from the past put into a very clean and modern package. It'll definitely be more appealing to older generations of gamers who grew up before the early 2000s. The minigames and maps have aged well and showcase moments that truly defined the Mario Party franchise more than 20 years later.

Superstars is fantastic party game where you and your friends can have a great time with a solid selection of classic minigames.

Mario Party Superstars certainly provides the highs that the series is capable of, but unless you're restricted to playing on the Switch Lite or itching to play with a Pro Controller, there's a better version of this game available for you and your loved ones to play in Super Mario Party.
good game but less than super Mario party..
maybe this game is remake..
good game.

After the disappointment of Super Mario Party, this is exactly what I needed. Mini-games are great and varied, graphics are beautiful, and the

After the disappointment of Super Mario Party, this is exactly what I needed. Mini-games are great and varied, graphics are beautiful, and the boards are fun. I love how landing in an Item or another player's spot will trigger a mini-game. Having a 20 coin cost star again really helps to balance the competition.

I have really nothing bad to say about the game. I would love to have DLC with new boards, mini-games and characters come out, when I say new I mean not from the previous Mario Party although I know this is not what this entry is about.

If you love to play Mario Party with friends this is a no-brainer, even if you have not played one before this is the best one you can get, you got all the best things about the previous games with the advantages of the switch. Even if you don't have a group to play with, you can start a new game Online! Try it out, you won't be disappointed.

…

Expand

I hate to seem biased by rating so many Ninty titles a 9 or 10....but jeez!!! They are doing so well! This is THE best Mario Party game ever

I hate to seem biased by rating so many Ninty titles a 9 or 10....but jeez!!! They are doing so well! This is THE best Mario Party game ever released. No more motion controls (which makes this way more skill based), the boards require actual strategy, the dice has been returned to normal (all characters get a 1-10), oh and the graphics are gorgeous. Everything has a true HD shine to it, character models along with level textures are high quality and the game has a certain polish. Even the most lame mini games are enjoyable due to how well the controls have been implemented. Speaking of mini games, I think the selection is truly worth the title, "Superstars". Do yourself a favor and pick this one up, you will see what I mean once you play it. : )

…

Expand

It is easily one of the best mario party experiences yet, but it's not perfect. It lacks any interesting side modes, the online lags

It is easily one of the best mario party experiences yet, but it's not perfect. It lacks any interesting side modes, the online lags significantly during certain minigames, and some of the minigame choices are questionable. Also, I know this game is mainly targeted towards fans of the n64 games, but it has way too little emphasis on the newer games, which in my opinion has better minigames. Mario Party; The Top 100 had 12 minigames from MP9, but Superstars only has 4. That game had my favorite minigame collection, and I think a lot of newer fans such as myself won't get the full experience. In addition, this game feels a little too similar to The Top 100. I believe more than half of the minigames are the same, and while some popular choices were obviously returning like Pushy Penguins and Shy Guy Says, I feel like they could have had some more minigames that haven't appeared in a while. The Top 100 also had the decathlon and championship battles, while Superstars is mostly just boards and minigames. This game is definitely better because it actually has interesting boards, and I'm glad the boards are finally fun again for the first time in 8 years. I do wish this game embraced all fans, instead of just the older ones though.

…

Expand

This is amazing Mario party but i do have to say i wish they used the custom dice blocks and had more characters and boards but 100 minigames

This is amazing Mario party but i do have to say i wish they used the custom dice blocks and had more characters and boards but 100 minigames is amazing buy this now!

…

Expand

My history with the Mario Party series is not that deep, I have memories as a kid of playing the N64 games but never played the Gamecube or

My history with the Mario Party series is not that deep, I have memories as a kid of playing the N64 games but never played the Gamecube or Wii games. I did play the recent Super Mario Party for Switch which got about 60-70 hours of game time shared between me, my girlfriend and our friend group, and as fun as that experience was, there was definitely some stuff missing from that game. But here is Mario Party Superstars, a blast from the past and full of all that goodness that can cause the ultimate betrayals among the people you play with!

Mario Party Superstars includes 5 total boards from the original 3 Nintendo 64 games. There is 2 boards from the first game, 2 from the second, and 1 from the third. Graphically, the game has been updated and all the boards look amazing, if you were a fan of the original games, this will be special for you. The boards themselves haven't changed in terms of how you play on them, aside from some differences here and there, it definitely has the newer Mario Party feel when compared to the more recent Super Mario Party and some additions that wasn't there in the original, like the lucky spaces, there is a lot of them though I feel this was to give casual and/or newer players more of a chance against the veterans who know their Mario Party. For the most part, it feels like the same boards as you remember.

There are a total of 100 minigames, all taken from games across Mario Party from 1-10 which is pretty awesome. There was a lot of recognizable games here and some may have made me glance at the palm of my hand, I am still recovering from my N64 injuries of playing Tug o' War, which is included here but also comes with a warning to NOT use the palm of your hand which got a giggle out of me. Overall I am happy with the game inclusions, I am sure there are people out there who didn't get their favourites but you aren't going to please everybody. There is a lot of variety in the games and plenty to enjoy.

My time has only been spent playing it with my girlfriend at the moment with 2 CPUs. We have both played all the boards now and have had an absolute blast. I have not had the chance to play online yet though my girlfriend most definitely has, she is quite into the game and plays it against people online each day since it was released, to the point where I had to buy her the game for her own Switch as she kept using mine.

Online inclusion is great and you can play full boards with other people from across the world, with stickers to help you communicate with them. Online play with the full boards was something that was missing from the last Mario Party so its great to see it in this one. For the performance online, even watching her I can see some regular lag during mini games especially that probably will be a little difficult to make the experience incredibly enjoyable, but overall it still seems playable.

Final Rating - This is a fantastic game for a group of people to play or even just by yourself (though most fun with people), it brings you such a huge amount of nostalgia but is also great for newcomers too. Online being included is also a necessary and highly welcomed feature as there are people who are still in lockdown or have restrictions on groups of people in one place so props to Nintendo for that, its not something they typically do well. Definitely a game to pick up, you will have a lot of fun!

…

Expand

just stop releasing these mario party """"""""""""games"""""""""""" please. they're no fun for single player. kinda discriminants against

just stop releasing these mario party """"""""""""games"""""""""""" please. they're no fun for single player. kinda discriminants against introverts like me

…

Expand