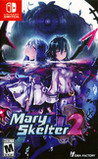 Summary:

The Nightmare continues in Mary Skelter 2! In this first-person dungeon crawler, play as fairy tale-inspired characters called Blood Maidens, each with deeply customizable character-specific classes. Balance between power and madness in turn-based battles with a blood-fueled transformation

The Nightmare continues in Mary Skelter 2! In this first-person dungeon crawler, play as fairy tale-inspired characters called Blood Maidens, each with deeply customizable character-specific classes. Balance between power and madness in turn-based battles with a blood-fueled transformation system, and escape a living prison while indestructible Nightmares give chase in real time. This game also includes the first installment of the series, Mary Skelter: Nightmares.

…

Expand
Developer:

Compile Heart

Genre(s):

Role-Playing

,

Roguelike

# of players:

No Online Multiplayer

Cheats:

On GameFAQs

Rating:

M
With Mary Skelter 2, Compile Heart has shown that they can deliver a phenomenal DRPG. Every aspect of this entry has been refined to a near-flawless level. The labyrinths are fun to explore, and their gimmicks, while plentiful, never reach the point of overbearing. Instead, they lend the adventure a unique identity, one that's rarely seen in dungeon crawlers. As far as battle-systems go, the developer has done a lot to keep this from being one-dimensional. You can attempt a full-on attack, but the mental state of your allies might suffer, leaving you at risk for the devastating Blood Skelter. Plus it's impossible to say no to an enhanced edition of the first game. All in all, this is a must-have for any fan of the genre.

Mary Skelter 2 is more of the same, but given that no one else out there would touch this combination of fairy tale, fetishistic horror, and anime fan service, I can't complain one bit about what Mary Skelter 2 is. It's the sequel to one of the most original and memorable dungeon crawlers in recent memory, and that too makes it one of the most original and memorable dungeon crawlers in recent memory.

Mary Skelter 2 is a wonderful, first-person dungeon-romping adventure RPG.

Mary Skelter 2 is a very solid dungeon crawler that will appeal to all fans of the genre, especially for its quirky story and dark tones. Not suitable for all newcomers, though: it's long, difficult and sometimes even obscure in some of its puzzles.

Classic dungeon crawling with a bizarre twist and interesting features. Unfortunately the port to Switch is rather lackluster, but at least you get the prequel as well.

Ultimately, Mary Skelter 2 is more of the same, with an interesting story twist. This isn't a bad thing for fans of the original, or those who haven't experienced either game, but may unintentionally scare away those who had technical issues with the first Mary Skelter outing on Vita. Mary Skelter 2 invites those who haven't yet dived into the series to partake of both the first and second title in one handy package. For those seeking a solid dungeon-crawler on the Nintendo Switch, Mary Skelter 2 gets a hearty recommendation.

Mary Skelter 2 is a fun game at its core, but it surrounds that with a lot of elements that detract from the experience and make it almost unplayable in public, at home, or anywhere you think your screen could be seen. Fanservice isn't an inherently bad thing, but the characters are all way too young to be used in this way, and it's just not great. The customisation is good, and the combat gets great the further you press on, but it's hard to ignore the random instances of undressed girls sprinkled throughout the game.
Bundled with the first game, this version is so amazing, no censorship, great dungeon crawling and unique concept

mary skelter 2 is a good dungeon crawling game, with interesting mechanics and great story, mary skelter 1 is included too ( both games are

mary skelter 2 is a good dungeon crawling game, with interesting mechanics and great story, mary skelter 1 is included too ( both games are good and defenitly worth it)

…

Expand

Mary Skelter 2 is built upon those corridor-view dungeon RPG games, where the monsters appear in front of you during combat, but your own

Mary Skelter 2 is built upon those corridor-view dungeon RPG games, where the monsters appear in front of you during combat, but your own characters attack without making a direct appearance on the combat field. Of these type of corridor-dungeon games, MS2 is the best of any that has been made to date. The game includes massive party and character customization, and quality of life upgrades including auto-pathing to a map location with customizable option. This is great for taking the tedium out of going back and forth between locations. The dungeon visuals are great, and the audio is not bad. I like seeing the characters in their different outfits for each character class change. The combat is very deep for this kind of game, and you can even set dungeon modifiers to create a greater challenge. The game lets you progress the story at your own pace, so you can build up your characters at any time if you prefer doing that to get ahead.
The game also includes a copy of Mary Skelter : Nightmares, for an incredible value. It is very difficult to get a physical copy of the game, so I bought it from the Switch store and haven't regretted buying it at all. I have regretted buying many a game in this style, but this one has redeemed my faith in the game-play style.

…

Expand

Mary Skelter: Nightmares presenta dos juegos por el precio de uno, siendo comprensible al estar la historia de ambos entrelazada.
EstamosMary Skelter: Nightmares presenta dos juegos por el precio de uno, siendo comprensible al estar la historia de ambos entrelazada.
Estamos ante un juego de compile heart y por tanto con fan service para saturar varios cerebros así que avisados estáis. Si pasáis por encima de esto, lo que tenemos es un RPG de tipo dungeon crawler que cumple sin pena ni gloria. Para ser un dungeon crawler el juego es bastante sencillo exceptuando algún pico de dificultad absurdo (eso no quiere decir que no vayas a ver la pantalla de game over unas cuantas veces por tus propios descuidos). Al principio solo tenemos disponible el Mary Skelter 2, y tras completar este juego desbloquearemos el Mary Skelter 1 con la posibilidad de ver el final verdadero gracias a una mazmorra extra que une a ambas entregas y concluye la historia. La historia es interesante hasta cierto punto, cumpliendo su cometido, pero quedando algunas incógnitas después de completar ambos juegos (que asumo tendrán respuestas en el reciente Mary Skelter: Finale).
Aunque es un juego sencillo dentro del genero al que pertenece, hay muchas mejores opciones para introducirte en él (por tema de dificultad los remakes del etrian odyssey o el etrian odyssey 3, o el smt strange jorney si te atreves con una dificultad más elevada pero que merece la pena por ejemplo). Si te gusta el genero y no tienes nada nuevo a lo que jugar, mary skelter: nightmare con su doble pack puede mantenerte entretenido bastante tiempo. O si eres un fan de compile heart, tengo entendido que este es uno de sus mejores juegos (es su único juego que tengo, así que no puedo asegurarlo)
No lo recomiendo para otros tipos de públicos

…

Expand

Extended dialogue sections are unbearable and enemy graphics are painful to look at. I don't expect a graphical powerhouse in a game like

Extended dialogue sections are unbearable and enemy graphics are painful to look at. I don't expect a graphical powerhouse in a game like this but that mid 90s look on the character models is horrible.

…

Expand