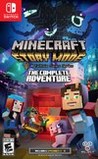 Summary:

Be The Hero Of A Grand Adventure In The Minecraft Universe!

Embark on a perilous quest across the Overworld, to the End, and beyond. With a team of friends at your side, and a troubled land in need of heroes, your decisions - what you say and do - drive the story around you, so chooseBe The Hero Of A Grand Adventure In The Minecraft Universe!

Embark on a perilous quest across the Overworld, to the End, and beyond. With a team of friends at your side, and a troubled land in need of heroes, your decisions - what you say and do - drive the story around you, so choose wisely!

Features fan favorites Stampycat, Dantom, Captainsparklez, Stacyplays and Loshadowlady.

Developed in partnership with Mojang, the creators of MineCraft.

Disc includes all five episodes of Season One and all three episodes of the Adventure Pass.

…

Expand
Developer:

Telltale Games

Genre(s):

Adventure

,

Point-and-Click

# of players:

No Online Multiplayer

Cheats:

On GameFAQs

Rating:

E10+
The first season of Minecraft: Story Mode is a good opener of what is to come. Despite a somewhat passive gameplay and some fluidity breaks, this is a pleasant and alluring experience that will appeal to players beyond the Minecraft fan base, with extra points going for the game's excellent voice work.

To enjoy this game you'll need to understand going in that the story is based on Minecraft, but you will not experience any of its free building or open sandbox trademarks. If we simply judge the game on its entertainment value then I can say I had a great time. The story is great, the acting is top notch and Telltale did a great job of capturing the spirit of Minecraft. If you're a fan of the Minecraft universe and enjoy kids movies with humour to satisfy adults then you will enjoy this—what I will continue to call an interactive movie.

In short, Minecraft: Story Mode – The Complete Adventure is a worthwhile ride, though it is a bit inconsistent in terms of the quality of the episodes. If you're a fan of Minecraft, or just want to try out something that feels halfway between a game and a Netflix show, this is a great game to jump on. Though you likely won't be replaying it very much, there's hours of content on offer here the first time through and it certainly justifies the price of admission.

Minecraft: Story Mode – The Complete Adventure is the first adventure game from Telltale to come to the Switch. It is the ultimate package of the narrative-driven take on the famous block-building franchise. With an enjoyable D&D-like story, it is an enjoyable experience, in which your choices seems to matter - at least as long as you allow yourself to play along with the magician trick.

If it was not for the amusing script, well realised Minecraft setting, likeable characters, and moderately engaging storyline(s), then this would have been an unmitigated disaster as Telltale continues to take the point-and-click genre in a direction that no point-and-click fan wants, removing all the enjoyable elements from the classics and awkwardly wedging in action elements instead. Minecraft: Story Mode - The Complete Adventure, thankfully, has enough engaging story content to keep gamers satisfied, some fantastic production values on the voice acting front, and heaps of content packed in thanks to all eight episodes being included. Hopes are high for Season Two to improve upon the shortcomings here.
I honestly love this game from the art to the story. The first game was great and this one was just as great in my opinion.

I seriously don't get the bad ratings. As a minecraft player since 2012, I see this as a great game. People are against this for the dumbest

I seriously don't get the bad ratings. As a minecraft player since 2012, I see this as a great game. People are against this for the dumbest of reasons. We get that Minecraft doesn't have a story but that doesn't mean you should hate on it for the title. And besides, the game isn't about the lore or story of Minecraft at all. it's about the adventure of some lovable characters in a mysterious world, toying with mysterious powers. You could view this as the official minecraft the movie but you get to make decisions and you choose the plot, meaning its even better than a minecraft movie.

Now you guys might be saying, "But you can't change the plot of the story! Therefore it is false advertising and a terrible game!" C'mon. Do you really think that it's possible to make a game where you can change the WHOLE PLOT. Of course it's impossible to dictate the story's direction but your decisions still affect the story in tremendous ways(i.e. choosing to save petra or gabriel or choosing whose armor you take dictating who survives and who dies). Additionally, your choices build a personality for your character which is reflected in later episodes(as seen through the, so and so will remember that). I would know because I've played this game 3-4 times now from start to finish just to see that my choices truly affected the story and they did.

People hate on this game because they are against giving minecraft a story. But in reality, this isn't the story of minecraft, it's the story of a few adventurers in the minecraft world. The creators will remain unknown and big lore details aren't really revealed.

TLDR: User input MATTERS in this game. The characters are GOOD. The story is amazing. The villains are truly amazing. The design and concept is truly original and non-cliche(other than the cast being losers but I'm fine with that). There IS a plot, unlike what many people claim. The characters are LOVABLE if you give them a chance. This game is truly a Masterpiece.

…

Expand

A lot of people thought minecraft story mode was really mediocre. But in my opinion, this is my favorite videogame cartoon ever. This is

A lot of people thought minecraft story mode was really mediocre. But in my opinion, this is my favorite videogame cartoon ever. This is actually a videogame though. A videogame cartoon that is actually a real videogame is awesome. But minecraft story mode is my favorite videogame cartoon of all time. They literally have the voice of Remy from Ratatouille playing Jesse. How cool is that. There are a lot of epic scenes in this cartoon/videogame too. Too bad it's disconnected now because I love this game and I still have to play season 2. My favorite episode is episode six. THEY HAVE DANTDM IN IT PLAYING AS HIMSELF!! Ok, I got a bit carried away but this game is amazing. It brings me back a lot of memories too. I used to play this back in school with my friend a long time ago. Minecraft story mode has amazing voice actors and characters, amazing graphics, really good stories and is literally my childhood. It's sad to see it has been disconnected but I will always remember it. Also at least it's on netflix interactive which is cool but I want season 2 to come to netflix. Anyways that's my review.

…

Expand

El estilo de Telltale Games le sienta bien a Minecraft, pero las historias de esta entrega no son tan dramáticas e intrigantes como el de

El estilo de Telltale Games le sienta bien a Minecraft, pero las historias de esta entrega no son tan dramáticas e intrigantes como el de otras franquicias. Sin lugar a dudas están hechas para niños pero no estoy seguro si el género es muy atractivo para ellos.
La historia es atractiva al principio, pero en un punto no llega a ser memorable. Los personajes no se vuelven icónicos, ni tienen una evolución interesante, pero al menos es una buena introducción al universo de Minecraft para quien desconoce la saga.
A mi gusto la mejor forma de jugar los juegos de Telltale Games es en modo portátil de la Switch, hasta se puede decir que es la mejor forma de jugarlos.

…

Expand

⚠️54%
Season one is great, but I hated season two honestly. Barely any redeeming factors.

Yeah it isn't good. It starded out decently but quickly became boring and unintresting. Action sequences felt random and completely useluss.

Yeah it isn't good. It starded out decently but quickly became boring and unintresting. Action sequences felt random and completely useluss. This game lost my intrest pretty quickly.

…

Expand

I was expecting a lot more than I was given from this game, and I couldn't even get myself to start the 6th chapter. I had simply lost hope in

I was expecting a lot more than I was given from this game, and I couldn't even get myself to start the 6th chapter. I had simply lost hope in the game, and I felt like I was watching a TV show made for 9 year-olds. I'm really not trying to hurt anyone's feelings, but this game truly sucks. I was mostly frustrated because the user input barely mattered, if at all. I wanted a game where your decisions really affect the future, and this game is not at all that. The puzzles they give you have obvious solutions, and I cringed way more than I should have had to. Just a little advice for anyone wanting to purchase who is over the age of 12: Don't. I really wish this game didn't deserve a 0, but I can't bring myself to give it a rating any higher.

…

Expand