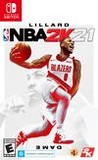 Summary:

NBA 2K21 offers one-of-a-kind immersion into all facets of NBA basketball and culture.
Developer:

Visual Concepts

Genre(s):

Sports

,

Team

,

Basketball

,

Arcade

# of players:

Up to 10

Cheats:

On GameFAQs

Available On:

Stadia

Rating:

E
Please enter your birth date to watch this video:
You are not allowed to view this material at this time.
NBA 2K21 Next Gen vs. Current Gen Gameplay Comparison
With a solid new story mode, a greatly improved MyTeam mode and the same high quality of presentation that 2K now brings to the series on Switch, NBA 2K21 is now the new definitive basketball game on the system. The unwanted microtransaction ogre continues to loom over most of the package, ever encouraging you to fork out more cash to accelerate your progress, but as long as you're capable of ignoring this and have the patience to slowly improve your player and team organically, the results will be infinitely more satisfying.

Overall, one does not have to be a massive fan of basketball to appreciate this game. Being a fan of basketball only adds to the enjoyment. If you enjoy playing sports games and are looking for a good basketball game NBA 2K 21 is undoubtedly that game to add to your collection.

NBA 2K21 is the best basketball simulation game currently on Nintendo Switch. Running at 30 fps, it offers an immense amount of content even taking into account the issue of loading times, its abusive purchases or the poor visual quality of certain menus.

I've enjoyed playing the NBA 2K games on Switch the past few years, but I can't help but feel the move to next-gen could spell doom for this series being fresh and enjoyable on the lower-spec Nintendo platform. It's a shame because once again, the port to Switch is impressive and the amount of things you can do is immense. So much of it just feels like last year's game as we wait for the previous NBA season to finish and next-gen to arrive. Maybe the updated rosters and new schedule for the next season coming down the pipeline will refresh NBA 2K21 on Switch, but maybe it's better to wait and see what that looks like.

Only the novelties of the My Team mode are satisfactory for a forgettable title on the current generation of consoles.

The basketball itself is solid, it alternates between looking really nice and surprisingly dated. The new shot meter will divide people, but it's optional and one of the few changes from last year's game. The microtransactions were previously a sore point with 2K20, and it is even sorer here. For a full-priced AAA game, you should never feel like you have to spend more money to engage with half of the game. If you really want the most up to date NBA game and the MyTeam seasons then 2K21 is the obvious choice. Otherwise, NBA 2K21 is mostly the same game you played last year.
Wow 2K had done it again. This is the most realistic basketball simulation to date and a true must have an any video game collectors

Wow 2K had done it again. This is the most realistic basketball simulation to date and a true must have an any video game collectors collection. This will go down in the books as a hyper realistic Basketball simulator. This will be remembered by the 2K community as a shining beacon we will remember this game in good graces. Nothing else really these devs have done has made me more proud than this I feel like a dad when his son graduates. Truly I am thankful for all the hard working men and women at 2K who could deliver this wonderful experience to the basketball community :)

…

Expand

A decent port that has improved over the last 3 years but its very minimal the graphics are what i expected them to be and the framerate at

A decent port that has improved over the last 3 years but its very minimal the graphics are what i expected them to be and the framerate at 30fps during game time is quite good but the online frame rate is poor and there is alot of pop in and not properly loaded textures in my park mode sometimes the game can get choppy in between playeven even in the offline modes the thing that impressed me the most were the my career cutscenes particularly the first one of the city at the start looked stunning but then it was all down hill from there as microtransactions plagues the game once again and the my career mode besides the college and high school basketball was lacking Thanks for reading my review of nba2k21 on switch

…

Expand

Constant Internet connection required with no temporary saves and am extremely bad net code makes this game one of the worst in the current

Constant Internet connection required with no temporary saves and am extremely bad net code makes this game one of the worst in the current generation if not all time. Gameplay on the court is fine but you often do not get the chance to end the game. Do not pause the game at any time unless you want to loose all your progress. I hope they learn from their mistake in the future but they probably won't.

…

Expand

These games have been horrible since 2K14 but this one is exceptionally terrible. I'd say worst basketball sport game made so far in the 2K series.

Do not waste your time with this piece of **** game. 2k always has been and always will be a poverty sports game. I can not say enough how

Do not waste your time with this piece of **** game. 2k always has been and always will be a poverty sports game. I can not say enough how broken this game is. The shot meter is broken, defense is broken, layups are broken, AI is broken, HOW HAS THIS GAME DECLINED SINCE 2k17 HOW HOW HOW HOW. I CANNOT STAND 2K ANYMORE! I STARTED PLAYING MADDEN AND THE SHOW FOR CHRISTS SAKE.

…

Expand

If I could rate with -10, I would have done it. Every shot in neighborhood is out, even if you have a good release.

The only reason I choose NBA 2k over NBA live is the my career. I understand the NBA now is a shooters league, but that's only in the NBA.

The only reason I choose NBA 2k over NBA live is the my career. I understand the NBA now is a shooters league, but that's only in the NBA. Every other league in the world relies on bigs, positioning, and coaching. With that being the case, this is the 3rd year in a row where its play the meta or go home, and i'm going home.
My build is a 6'8 PAINT beast [red/blue] with max badges and 90 strength but I can't reliably hit post moves, dunk, or even score in the PAINT over non defensive builds, while playmaking shot-creators can make 100% of their fading shots, can spam behind the back dribbles behind one screen for the entire shot clock and green light their shots after the defender gets brick wall'ed 20 times(broken mechanic that has been in the game since NBA 2k19), they can score however they like in transition since chase downs are broken. you gave shooting a hot fix instantly when the babies with no badges couldn't shoot so how about you give the paint back to the builds that require it especially when they are maxed out.

PAINT CAMPING IN THE PARK IS CANCER (only allow the defense to be in the paint for 3 seconds like other game modes)
BRICK WALL SHOULD ACTIVATE 1-3 TIMES PER SCREEN (depending on badge upgrade)
HEART CRUSHER IS BROKEN (1 steal results in the team being cold??)

The moment you guys have competition in the basketball gaming market then i feel these issues will be resolved but this is the last 2k I will personally buy and i'm making my friends and viewers pick up and try NBA live for next gen because any other BS is better that the toxic BS you guys put out year after year

…

Expand