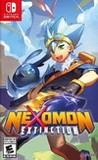 Summary:

Nexomon: Extinction is a return to classic monster catching games, complete with a brand new story, eccentric characters and over 300 unique Nexomon to trap and tame. The world is on the brink of extinction as mighty Tyrant Nexomon fight for dominion over humans and monsters. Join the guild

Nexomon: Extinction is a return to classic monster catching games, complete with a brand new story, eccentric characters and over 300 unique Nexomon to trap and tame. The world is on the brink of extinction as mighty Tyrant Nexomon fight for dominion over humans and monsters. Join the guild of tamers and begin an epic journey to restore balance before all hope is lost

Begin Your Journey
Leave the orphanage you grew up in, choose your first Nexomon and start your life as a Tamer.

Explore a world teeming with Nexomon
Trap and tame over 300 brand new Nexomon from eleven elemental types, with powerful evolutions.

Join the Fight
Tyrant Nexomon roam free and the Guild of Tamers is stretched to the limit, can you change the tide of the battle?

Battle Trainers and Tyrants
Step up and take on would-be challengers and dangerous foes in beautifully animated turn-based battles.

Discover Diverse Regions
From arid deserts to freezing tundra, navigate challenging environments and manage their effects on your Nexomon.

Immerse yourself in the world of Nexomon
Uncover secrets, stumble upon side-quests and encounter a raft of eccentric characters.

Train hard to become the greatest
Dynamic difficulty will see the world around you get more challenging as you progress, as even defeated trainers come back stronger than before and ready to battle again!

…

Expand
Developer:

VEWO Interactive Inc.

Genre(s):

Role-Playing

,

Trainer

# of players:

No Online Multiplayer

Cheats:

On GameFAQs

Rating:

E10+
Nexomon: Extinction stands out for being a great monster-capturing RPG, with a charming art design, a good story loaded with epic moments and humor, a large number of side missions and a large open world to explore with many secrets to discover.

In many ways, your interest in a monster-catching game is driven by whether one focuses on aspects you particularly like. Like competitive play? Or meticulously customizing creatures? But Nexomon: Extinction puts its best foot forward, delivering the most polished version of itself it can offer. And often, polish is what many players miss when exploring outside Pokémon's safe, well-padded confines.

If you've become disillusioned with modern-day Pokemon, then Nexomon is super effective at appealing to your nostalgia. It looks great, the price is stupidly low and while it may feel derivative at times, the quality on display with this capture 'em all experience is on par with Nintendo's top-tier offerings.

Nexomon: Extinction is clearly inspired by Pokémon from top to bottom. While they change up a few mechanics and make some definite improvements here and there, not enough is done to consider this among the elite of the monster-catching RPGs. An interesting title to spend some time in for the right price, Nexomon: Extinction will be something the Pokémon hardcore will want to check out, while everyone else might just want to find a Game Boy and their copy of Blue version.

Given the short number of similar games, it's always good to see the Nintendo Switch catalogue accepting more proposals of less represented endeavours. In the case of Nexomon: Extinction, it features a laudable amount and variety of creatures, appealing art style, and it's fairly simple to get into. At the same time, it's far from a groundbreaking game, though competent, and it feels like it follows its main inspirations a little too close. That said, it's a welcome arrival for those looking for more creatures to capture and collect.

Nexomon: Extinction is a solid take on the monster training genre with some interesting gameplay tweaks on the Pokémon formula and narrative decisions. The higher difficulty saps some of the pace and enjoyment of adventuring, making me hanker for a return to a Pokémon game. Still, if you're after some monster catching and battling, Nexomon: Extinction will do the job.

Nexomon: Extinction could have been a far promising title than it already is. Instead, it relies heavily on the legacy of that other huge monster-capturing franchise, copying names and elements, but not catching up with the gameplay recipe that has been improving for almost twenty-five years.
This is everything I have wanted from Pokemon and more as a long time fan of Pokemon that recently feels distant from the new game. Nexomon is

This is everything I have wanted from Pokemon and more as a long time fan of Pokemon that recently feels distant from the new game. Nexomon is 2D with a likeable art style, Animal (Nexomon) designs are really good don't feel generic, the game is pretty challenging something I have been dying for from Pokemon, the game is well written with humor and 4th wall breaking gags that're entertaining, animations are pretty good. Only 2 negatives I can give it is that there is no multiplayer and I don't think any way to trade Nexomon but this game is solid if you want some old school Pokemon like Ruby/Sapphire days. Last of the 2 negatives is that I wish I could turn off the sound of the text without turning down all of the audio for battles and such.

…

Expand

Love it! I'm a die hard pokemon fan, and I've dabbled in digimon too. This game is a very welcoming experience rooted deep in the vein of

Love it! I'm a die hard pokemon fan, and I've dabbled in digimon too. This game is a very welcoming experience rooted deep in the vein of monster collector/rpg fandom. Beyond worth $20 for all the content and interesting lore/story this game has to offer. If you're a fan of the older pokemon games (especially the ones before the DS) then check you're doing yourself an injustice not checking this out. I'm enjoying the environment and the treasure aspect so much recently with the game that I've put 16 hours total hours in and I'm just a little over halfway through the main story. If you're on the fence, don't waste anymore time debating it. Grab this game!

…

Expand

This is a really good game. This game has a very good story that finds a solid balance between being original and exciting and parodying some

This is a really good game. This game has a very good story that finds a solid balance between being original and exciting and parodying some of the tropes of similar monster-catching games and rpg's.

The gameplay was exciting and refreshing, I enjoyed, learning the different typings and the nexomon

The music in the game is great, the tamer battle theme is a particular standout, I do wish there were more tracks so that some of the story beats could have individual themes but that didn't detract from my enjoyment.

It definitely stands out as one of my favorite monster-catching games that I've played and, consequently one of my favorite rpg's.

…

Expand

Mi review es en español, sin spoiler. El juego tiene muy buenos dialogos, le encanta romper la cuarta pared, no es para los "niños pequeños"

Mi review es en español, sin spoiler. El juego tiene muy buenos dialogos, le encanta romper la cuarta pared, no es para los "niños pequeños" demasiado sensibles, o sin paciencia. Es basado segun mi impresión en los primeros juegos de pokemon, cuando costaba un poco mas levear tus monstruos. Una vez comprendes la mecanica del juego te encuentras con un estilo de juego ya conocido pero con una IA mucho mas inteligente que te pondrá a prueba. Sobre todo el hecho de que no ganes simplemente por tener ventaja de tipos es un gran plus. Les advierto que no se quieran pasar de inteligentes creyendo que solo por ser algunos niveles mayores, se les facilitará. Estoy esperando la secuela.

…

Expand

I had to sign up and post just to counter "VegaVision's" score of 2/10.
They are correct, the game is actually funny. It can be 4th wallI had to sign up and post just to counter "VegaVision's" score of 2/10.
They are correct, the game is actually funny. It can be 4th wall breaking, but not overtly and is done extremely well.
The capture system is well balanced. You can increase your chance of capturing a Nexomon by afflicting them with statuses (eg, sleep, confusion etc). You can feed them to make them like you more. You can poke-like and beat them senseless, but this only nets you about a 25-35% chance of capture. Then there's the mini game/QTE to increase capture chance, which is reasonably easy but not necessary to complete to win the capture.
'There is nowhere to heal'...well thats plain wrong. There are clinics in towns, and medics dotted around the open world. The healing is very quick (unlike Pokemon) and costs nothing. It actually makes it very easy to grind levels when there are medics out in the wilds as you don't need to return to town all the time.
NexoTraps (for capturing) aren't expensive. They are 100 gold each. If you go grinding your levels for 20-30 mins, you'll earn around 3000 gold. So the cost is actually in line. Equally potions are only 50g and are very much optional when there are so many medics around.
It's clear that VegaVision just wanted a hand-holding, Pokemon game and didn't have the patience to play for more than 30 minutes before slamming the game.
'Shadow101' claims the levelling system is 'slow' and 'sucks'. Again, wrong. If you get the pickaxe you can collect shards. If you combine the shards in the FIRST town, you can get EXP boosters. There are 3 levels of EXP boosters (the highest providing more EXP), and you can stack 4 of these EXP boosters on each Nexomon. So by the time you're a few hours into the game you can quickly grind any new Nexomon you catch. I've also had no problem with attacks missing or being unbalanced with status affliction.
This game is genuinely what Pokemon should aspire to. There are interesting character designs, well balanced mechanics and exciting/challenging boss fights against massive Tyrants. Not just dull gym battles that you spam the same attack for 2 minutes.

…

Expand

Love the game, if you're looking for a mature version of the franchise we all know (and wich nintendo continues to dumb down) this is probably

Love the game, if you're looking for a mature version of the franchise we all know (and wich nintendo continues to dumb down) this is probably a game for you. I'm not going to list the positives of this game because overall, what it does right, it just does right. However there are a few things that drag the game down for me to the point of it being somewhat decent instead of it being a serious contender on the market. The first of wich is the absolute lack of audio visual cues. Whenever you level up a nexomon, catch one, enter a building or defeat an opponrnt. There is a distinct lack of any feedback. A simple snapping sound, or the sound of a door opening whenever it opens goes a long way, and it's these things that make the difference between a solid/complete game and a chaotic and unfinished one. Mind you this game does have some great visual effects in places, it's just that they lack in some pretty important areas. My second gripe with this game is the incredibly cheeky sidekick, the constant 4th wall breaking severely negatively impacts the game rather than adding to it. It makes it feel like the developers are just doing whatever without taking the game seriously, and it just takes you out of the experience. My third gripe with the game is the very stale running animation, some weird issues when changing maps, and also the lack of map animation, wich makes the world feel very static. Whilst the game is still transitioning from one map to the other, your caracter can already seemingly walk forward while loading, making you sometimes lose the caracter on screen. This is just very weird and odd, and because you're doing this so often just becomes frustrating after a while, same with the lack of audio-visual cues and the running animation. The things you're gonna be doing constantly in a game should be the most polished, and that is not the case here. Finally my last gripe with the game is the fact that whenever a nexomon faints and i switch to another nexomon, my oponnent automatically gets a free hit on my switched in nexomon. This sometimes ends up in a situation where the oponnent easily sweeps my entire team without me being able to do a anything about it (this doesn't work the other way around btw) wich i feel is an utterly game destroying issue that should be patched out IMMEDIATELY. I have absolutely no idea why this is in the game but it's a big issue in a game that completely revolves around battling.

…

Expand

The game starts of with some funny dialogue, some intro as to how to catch the Nexomon. I IMMEDIATLY noticed the capture system is way too

The game starts of with some funny dialogue, some intro as to how to catch the Nexomon. I IMMEDIATLY noticed the capture system is way too flawed and has too many variables to begin to enjoy it. There is nowhere to heal your Nexomon and the potions are expensive, the capture thingies are aWay too expensive and the first trainer beat my ass what for me was enough to uninstall and refund. Not enjoyable at all. 2/10 for art style but seriously, just play Pokémon, this is not worth your time at all.

…

Expand