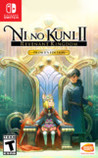 Summary:

Ni No Kuni 2 kicks off with the President of a real-world Earth country transported to a magical kingdom in which every person is also sort of an animal as well.
Is Ni No Kuni II better than the first game overall? It's quite possible — the slight difference in graphics is more than made up for by the improved combat and deeper gameplay, though much of that can also be written down to personal preference. What I know for certain, however, is that if the first game was an impressive achievement, this one is too, and, like it's predecessor, Ni No Kuni II is a worthy addition to any Switch owner's library.

There's little else like Ni No Kuni 2. It might not match the original's sense of wonder, but there's an inescapable warmth and charm in Level-5's sequel wrapped up in a serious fantasy tale. With its improved approach to worldbuilding and combat, this is one Switch RPG not to miss.

The DLC is excellent, and the portability is aces. If you've never played Ni No Kuni II: Revenant Kingdom before, then the Switch's Prince's Edition is a must play for any JRPG fan. My only complaints are about what the game doesn't have. Everything it does have is wonderful. It's kind of worth it for the strange intro alone.

Ni No Kuni II is a true tale, relating the initiation rite of young Evan who learns to become king. Voluntarily naive, he presents colorful characters in an often intoxicating artistic landscape, despite some errors in the course. Its marriage of genres, between J-RPG, management and STR, is a real success, with a mastered interdependence. Kingdom Mode alone can keep you entertained for hours! If the title of Level-5 was more inspired in terms of quests, and especially less easy, it could have really set the bar very high. There remains an experience that we recommend to you without fear.

Ni no Kuni 2: Revenant Kingdom Prince's Edition signals the first coming of the game on Nintendo's hybrid console three years after its original release. It brings together all the magic, all the thrill of Evan and Roland's adventure, and all the content that was released post launch, plus all the technical sacrifices and compromises that should be expected on a weaker hardware. A must for those who haven't played Ni no Kuni 2 before, and only wish to experience this on the go.

Ni No Kuni II on Switch is a good port, but not the best possible. The art and style are still impressive, we can't say the same on the technical side, with drop in resolution and practically no anti-aliasing filter.

It's good to see Ni no Kuni II follow its predecessor and make an appearance on the Nintendo Switch. Technically, however, this port is a mess. The framerate's all-over-the-place and the same can be said about the game's resolution. The gameplay's fine, but this title's shortcomings cannot be ignored.
There are a few things wrong with ni no Kuni 2 on the switch, like slowdown in the over world and I play it handheld so they could have made

There are a few things wrong with ni no Kuni 2 on the switch, like slowdown in the over world and I play it handheld so they could have made it where you could adjust the size of the words on screen, or just made the words bigger. If it's tough on my eyes on the OLED I can't imagine it on the switch lite. Yet the game is so darn charming I can't resist but continue to play it. And it's portable. It has a lot of systems to learn and I originally played the first 15 hours on PS4 but gave up on it because I found it confusing but I do remember wishing that I had instead bought it for the switch. It did sit on my switch wishlist for several months before I took the plunge and I bought it after beating Grandia of the Grandia hd collection and I needed another adventure to go on and Grandia 2 didn't do it for me. Justin and Evan have a lot in common. Young and plucky and full of life setting off on an adventure to save the world or in this case, build a kingdom. I love the gameplay as far as fighting goes, and the graphics, I'm not the biggest fan when it comes to the army battles but I'm intrigued by the kingdom building and character recruiting process. There is a game of delayed gratification the game sinks into where everytime it seems you have a task there are tasks to do before you can actually complete the one you actually set out to do. Ms Boddly I'm looking at you. But I've had a fun time with the game. I find that it's much better than ni no kuni wrath of the white witch which I also bought twice and I look forward to spending more time with young Evan and company. 9.25 out of 10. This switch port doesn't hold ni no Kuni 2 revenant kingdom from being a real winner

…

Expand

Juegazo su sistema de combate es mejor que la primera parte, subarte y banda sonora sublimes

Eins der besten JRPGS die ich je gezockt habe. Fantastische geschichte, super nebenaktivitäten, tolle grafik, tolle atmosphäre.

Majestic.... this game coming to the switch after all these years is just glorious.

I am having lot of fun with Ni No Kuni 2. I am enjoying the story so far (15-17 hours so far) and i dont really run into many of the bugs

I am having lot of fun with Ni No Kuni 2. I am enjoying the story so far (15-17 hours so far) and i dont really run into many of the bugs other reviewers are crying about. Graphics, gameplay and combat are great. Great job Nintendo!!!

…

Expand

This review contains spoilers

, click expand to view

.

Esse jogo é muito bom mecânicas de combates muito boas gráficos bons porque é o mesmo do primeiro músicas boas/medianas porque são remixes das músicas do primeiro mais pra mim são piores pois as músicas do primeiro traziam a suavidade nós momentos certos e a frenesia da batalha mas a do segundo não é traz a mesma sensação mas a coisa que mais decepiona pra mim é que trocaram os familiares por aqueles bichinhos, dava para moudar os familiares para o estilo do jogo, por que não sei você mas eu gosto dos familiares por que eles evoluem e são muito diferentes as formas evoluídas também são diferentes porém os bichinhos tem seu charmes mas eu prefiro os familiares/This game is very good combat mechanics very good graphics good because it's the same as the first one good / medium songs because they are remixes of the first songs but for me they are worse because as songs from the first one brought the smoothness we right moments and battle frenzy but the second one doesn't bring the same feeling but the thing that disappoints me the most is that they changed the relatives for those little animals, you could change the relatives to the style of the game, because I don't know about you but I like the relatives because they evolve and are very different as evolved forms are also different but the pets have their charms but I prefer the familiars I think the 2 best I would think it's better a story based on Oliver's mother the kind she went to the world of the first game like what happened to her about how her counterpart was captured

…

Expand

I don't like this game. really bad soundtrack and very very bad gameplay loop