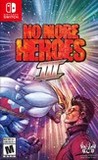 Summary:

Travis Touchdown returns to Santa Destroy after a ten-year absence. There he finds a huge artificial island metropolis floating in the sea, and a mysterious flying object hovering high above. What kind of crazy dangerous assassins will Travis face off against this time?!
Please enter your birth date to watch this video:
You are not allowed to view this material at this time.
No More Heroes III + NMH 1 & NMH 2: Desperate Struggle - Nintendo Switch Gameplay Reveal Trailer
Nintendo Force Magazine

Oct 7, 2021

No More Heroes III is a violent action game, an open-world do-gooder sim, a dorky dad story and a tribute/parody of "popcorn classic blockbusters" all in one. [Issue #55 – October 2021, p. 67]

Credit must go to Nintendo for supporting this project, though. Yes, it might be the "safest" game that Goichi Suda has produced in quite some time, and the energy is just not the same when he's retreading old ideas rather than creating something new. But then Goichi Suda on a flat day is still more creative than 99 per cent of the auteurs out there, and No More Heroes III is still big, colourful, bold and filled with surrealistic humour. With the energy dialled right up to the maximum, it's hard not to love something this brash.

No More Heroes 3 is grindhouse cinema in video game form, with a story that resembles the Saiyan Arc from Dragon Ball Z if it were directed by Quentin Tarantino. It doesn't take the series in any new directions and it has poor visuals and performance issues, but it's still an absolute blast to play.

Travis Touchdown has grown in his "final installment" of No More Heroes. Because of this, the overall game has a different feel than previous entries and might be why it's my favorite game in the franchise. Travis is a much more likeable character with some tangible realizations of action's consequences. Paired with an interesting story, this makes No More Heroes 3 the best entry in the series. If you are a fan, No More Heroes 3 should definitely be added to your library.

No More Heroes III is a wild ride though a psychedelic warzone that begs to be experienced. The technical issues and slog of an open world drag it down at times, but it never stopped me from wanting to see it through. I really wish the game had been released on more powerful hardware as it is clear the team had bigger ambitions than the Switch could handle. Still if you have enjoyed previous entries then this is a no-brainer. Definitely a solid end to the trilogy and one of the most unique games you will play ever.

No More Heroes 3 can count on a funny story, absurd characters, an impeccable direction and very solid fights. At the same time, however, the promise of an open world worthy of this name is betrayed to say the least, with some of the worst levels ever seen in recent years.

If you had a mandate for all of the things a No More Heroes game shouldn't be, "boring" would be near the top of the list, but this sequel frequently is just that. No More Heroes 3 lacks the irreverent charm and personality of its predecessors. Combat picks up the slack, and there's a degree of vivid style to be found there, but the game falters in so many other areas. After an 11-year wait, maybe No More Heroes 3 was always destined to fall short of our expectations. But to end without so much as a touchdown is a mighty disappointment.
Please guys, ignore the low score reviews, this guys don't know what they're saying. NMH is a great franchise.

Love it so much! Its the grasshopper manufacture and i love this kind of game and its open world

This game is amazing! I have no idea what critics even mean anymore with some of these reviews, I sometimes wonder if they even play the games

This game is amazing! I have no idea what critics even mean anymore with some of these reviews, I sometimes wonder if they even play the games they review. This game is best appreciated if you play 1 2 and TSA before hand. I played through them all once again in preparation for this game and I gotta say it's euphoric to see Travis in this game in a true to form sequel to his series. The combat is AMAZING easily the best combat in any game I've played in the past 2 years, it's weighty its satisfying and most importantly it doesn't get old. The story the gameplay the graphic style of the game all fits so perfectly. This is probably the best No More Heroes experience after the first game which is amazing that it was able to recapture the feeling of playing NMH1 for the first time way back when I was a teen. Amazing game and an amazing buy 10/10 this dude Suda is a genius!

…

Expand

I absolutely love No More Heroes as a franchise.
On paper the games make no sense, and you can easily find numerous flaws with the gameI absolutely love No More Heroes as a franchise.
On paper the games make no sense, and you can easily find numerous flaws with the game itself, be it the empty open world or the tedium of the activities containted within it. But none of that matters when it comes to No More Heroes 3. The game just oozes style, to the point where everything and anything I would do would feel delightful.
I don't think it has the musicla score of No More Heroes 2, although some tracks do hold up, nor did I enjoy the gameplay variety as much as I did in NMH2, but it feels as though Suda51 and the team took all their ideas from NMH1, and polished them to perfection before releasing it on a new console.
I will say I certainly recommend playing with motion controls. NMH as a franchise never quite measured up to other contemporary hack n slash titans like Bayonetta or DMC when it came to combo variety and mechanical depth, but it has always excelled at providing a visceral and engaging experience despite that, making up for it with style and flavour, and the act of doing the motions for all of Travis' coolest attacks absolutely accentuated the experience for me.
You're gonna like this game if you like Suda51. If you don't like Suda's games it may not be for you, so I'd advise you do a little research and see if this is the type of thing to appeal to you. Overall a solid experience that didn't quite live up to its predecessor for me, but was absolutely worth playing regardless.

…

Expand

Travis is back in the limelight and better than ever before. Here's my review for No More Heroes 3. Let's start off and talk about the "juicy"

Travis is back in the limelight and better than ever before. Here's my review for No More Heroes 3. Let's start off and talk about the "juicy" part of the game. The Combat: it's quite fun, very fast-paced and intense. The music is very different from the first two mainline games. It's very mordern/futuristic and I like that alot.

The Open World: the open world isn't that great, but it has some charm to it. There's not much to explore and its filled with side-missions and collectables. It's definitely better than NMH1, but not by much. The new mini-games, side missions, and new wave-like missions are a nice touch but aren't all that interesting and fun. The new enemies in this game are very unique and fun to fight against compared to previous games. The new mechanics such as Death chips, Death Glove Chips, and new Full Armor Travis are nice additions. They make the combat insanely fun.

The story is quite shallow and works more like a sequel to Travis Strikes Again: No More Heroes, than to a sequel to No More Heroes 2. It's a great conclusion to the series, but feels a bit rushed at times. But overall, it was a nice conclusion to the No More Heroes franchise.

Nitpicks and some Criticism: many of the plotlines and such felt shoved in at the last moment. Open world is dull and boring, but they tried to make it fun. We were given a bunch of exposition, but it was never explained. Anways! It's a great final entry in this weird series, and I can't believe it's already over.

…

Expand

(Since I am unable to give this a .5 I'll have to leave it at 8, but actual score should be considered 8.5)

Let's get the obvious out of(Since I am unable to give this a .5 I'll have to leave it at 8, but actual score should be considered 8.5)

Let's get the obvious out of the way - the game looks a bit rough, runs a bit rough. Big deal. It's on Switch. This thing can't even handle PS2 era emulated ports at 60 FPS at 720p. And before you go saying "well Breath of the Wild looks amazing and is a much more open world, so it should be doable" don't forget that this is Unreal engine and it's not as flexible as what Nintendo has hidden in their magical development labs. Okay, are we done complaining that performance and visuals are sub-par?

The gameplay is the best in the series, taking many mechanics from TSA. The story starts off strong but near the end I kind of felt a bit disappointed, but overall, it was silly and entertaining shlock and it kept me hooked. Not that the story was the only thing to keep me hooked, the gameplay and mechanical depth (while not as complex as the likes of DMC or the like [although there are triple SSS ranks for some reason and that is hilarious]) serves a variety of flavors almost all of which left me feeling very pleased. Literally only one gameplay segment in the whole game made me say "yeah, that was lame, shouldn't have included that one" out of like a hundred or something. That's a pretty decent ratio.

The reason I wouldn't straight up give it a 9 comes down to the fact that I have some minor gripes here and there when it came to the repetitive nature of encounters and lack of traditional levels + the obvious technical issues. I have no idea why you people are complaining over the open world chugging so much - it works - it works very well in fact ( except for Call of Battle - that map feels like some intern made it [or maybe that's the joke?]).

The soundtrack slaps real hard and I can't think of many tracks that sounded forgettable - maybe the free roaming theme in Call of Battle (which goes toward my theory regarding that whole area being designed specifically to seem like it was made to look and sound bad + be horrible to navigate).

Each boss battle had me on the edge of my seat and they are definitely the highlights of this game. You just keep on getting bamboozled right up until the end and even if you think you know what's going to happen, it doesn't.

The overall style is Suda Ultimate, Unleashed, Unshackled, the dude did whatever he freaking wanted, and it still was better than that last time in 2019 when a certain prolific game making person went haywire proceeding to create the world's most dramatic and pretentious parcel delivery simulator (which unlike No More Heroes 3, wasn't very fun to play. This is.)

So, 8.5's the final score. Worth a buy, honestly, maybe not full price, but if you like fun combat, self awareness brought to extremes, unique and out-there visual designs and straight up sick-boss fights, go ahead and indulge, I know I did.

…

Expand

no more heroes 1 ve 2yi pcye çıkınca çok severek oynamıştım Travis Strikes Again: No More Heroes ise kontrolleri yüzünden bitirememiştim

no more heroes 1 ve 2yi pcye çıkınca çok severek oynamıştım Travis Strikes Again: No More Heroes ise kontrolleri yüzünden bitirememiştim .3.oyun bana nedense kötü geldi izleyip bitireyim dedim oda sarmadı .pcye gelirse denerim belki ozaman beğenirim.

…

Expand