Publisher:

Nintendo

Release Date:

Nov 16, 2018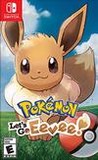 Summary:

Catch Pokémon Like Never Before. The Poké Ball Plus is a Poké Ball-shaped device that can be used to play Pokémon: Let's Go, Pikachu! and Pokémon: Let's Go, Eevee! in place of your Joy-Con. You'll be able to throw Poké Balls in-game with a flick of your wrist! In addition to motion controls,

Catch Pokémon Like Never Before. The Poké Ball Plus is a Poké Ball-shaped device that can be used to play Pokémon: Let's Go, Pikachu! and Pokémon: Let's Go, Eevee! in place of your Joy-Con. You'll be able to throw Poké Balls in-game with a flick of your wrist! In addition to motion controls, the device lights up with a variety of colors, vibrates, and plays sounds. With the Poké Ball Plus, you can also take one of your favorite Pokémon from these games for a stroll as you go about your daily life in the real world. The Poké Ball Plus even works as a Pokémon GO Plus when playing Pokémon GO.

Pikachu or Eevee:
Which Will You Choose?

Pokémon: Let's Go, Pikachu! and Pokémon: Let's Go, Eevee! bring the experience of a classic Pokémon RPG to Nintendo Switch with gameplay that is easily approachable for newcomers to the series, but is also deep enough to keep veteran Trainers on their toes.

The games also have two-player simultaneous play, so you can take the journey with a friend! And there's a deep connection between Pokémon: Let's Go, Pikachu! and Pokémon: Let's Go, Eevee! and Pokémon GO, so fans of the hit mobile game will find even more to enjoy.

…

Expand
Developer:

Game Freak

Genre(s):

Action RPG

,

Role-Playing

,

Trainer

# of players:

Online Multiplayer

Cheats:

On GameFAQs

Rating:

E
Please enter your birth date to watch this video:
You are not allowed to view this material at this time.
Pokemon Let's Go, Pikachu! And Let's Go, Eevee! - Gym Leaders, Elite Four And Familiar Faces Official Trailer
Whether it's your Pokémon entry point or you're returning to Kanto yet again, Pokémon Let's Go is for everyone. The lame motion controls aside, this is adventure perfection, not once feeling jaded after dozens of hours' play.

Nintendo and Game Freak have managed something quite special with Pokémon: Let's Go. It's a game that is so clean and streamlined that it is a near-perfect entry-level Pokémon experience for people new to the series. At the same time, it so perfectly taps into nostalgia that the oldest of old fans - people who really should have moved on, but can't because Pokémon is so damn charming - can find new ways to appreciate their hobby all over again.

Even with all its changes, Pokemon Let's Go still feels very much like core Pokemon Games. The games are fun, unique and serve as both a good entry point to the series for newcomers and a basis for the next Pokemon games on the Switch.

Far from a simple 3D "remodelization" for a more powerful, yet still portable home system, Pokémon: Let's Go not only refreshes the series' very first adventure, but also reflects the long journey since then, by wisely integrating evolutions such as Pokemon Go's capture system or partners in order to improve the modernity, accessibility and conviviality of the formula. A fantastic way to (re)start Pokémon, and a glorious conclusion for Junichi Masuda as director.

Pokémon: Let's Go, Pikachu/Eevee is not a total reboot of Pokémon, nor is it entirely the console experience that many fans have asked for, but it goes a long way to making a very familiar game feel at least momentarily fresh. Most of the mechanical changes are for the better and help make Pokémon a great casual RPG for just about anyone. Most critically, it allows longtime fans a not-too-jarring glimpse into what might be the future of their beloved franchise.

Pokemon: Let's Go offers a new and exciting adventure while the Poke Ball Plus controller is one of the coolest devices that I've played with in a long time. So, if you're a fan of the franchise or just want some lighthearted fun then this pack is worth a purchase.

Let's Go is surprisingly shallow when compared to just about any Pokemon game, despite an appealing presentation that returns players to a popular location.
Great addition to the Pokemon series, it's different but refreshing and is a lovely change of pace fro the main games

I too would give this game a 8 or 9. But want like to counter the people giving it bad numbers even after not playing it. I can understand new

I too would give this game a 8 or 9. But want like to counter the people giving it bad numbers even after not playing it. I can understand new gen trainers not liking this game - but from my sentimental standpoint; it was a real treat. I was obsessed with Pokemon yellow when i was 12/13. I remember my parents taking me to the Grand Canyon, and remember not caring for a hole in the ground - instead i was bent up on beating that god damn league of legends. When i was 16 i tried to bed a girl and lose my V-card, with my Pokemon bed sheets on the mattress. But yes, bringing it back to my review. I loved this game - and it took my right back to my teenage roots (pun intended). It looks beautiful, the battle system is cool and fresh. I didn't think i would be a fan of the new encounter system but i like not getting caught up with a zubat every few steps. I also enjoy the new way of catching the Pokemon - but wish they had kept the battle pre-catch going. It's weird having to grind by catching instead of battling. The game does seem easier - but i tried countering this by never feeding my Pokemon candy. I am 32 now so this was chocked with sentimental value. I think it is a great intro for new players also.

…

Expand

Mejor juego para empezar.
El Remake del mejor juego de la historia en Pokemon :)

Before I start I want to make clear that I´m not a competitive pokemon player so I´m merely looking at the "fun" factor, which definitely

Before I start I want to make clear that I´m not a competitive pokemon player so I´m merely looking at the "fun" factor, which definitely makes this one worth buying even though it is has it´s flaws.

I´ll try to be as objective as I can but bare in mind I´m looking at this game as someone who started playing when Pokemon Blue came out and I played every version except Sun/Moon, but again, never as a competitive player so I won´t say anything about balancing in PvP.

Pros:
-no more HM slaves needed
-no more random encounter frustration, you can now see the pokemon in the grass, helps both with catching what you want and immersion, it was always weird how 3m tall pokemon could hide in a knee deep bush
-flying high makes traveling easier
-definitely more challenging than the last pokemon game I played (which was Y)
-even though I didn´t like Pokemon GO I thought the catch mechanics are surprisingly fun
-characters actually acknowledge you as the champion after beating the elite four
-chain catching pokemon makes the wanted pokemon spawn in a higher rate, making grinding less time consuming
-I personally didn´t like the item holding mechanics of previous games, so I´m glad it´s gone but this is really just my own taste
-graphics (textures, attack effects, models) look more polished and less "cheap 3D" than the last title I´ve played (again Pokemon Y)

Cons:
-even though harder than previous titles it is still way too easy
-shared XP can´t be turned off
-even though flying high is neat it is wonky to turn off and on, you have to press at least 7 buttons and navigate through 2 menus to get your pokemon in and out of the pokeball to start and stop flying high
-having to buy a 20€ pokeball controller to get Mew is kind of an ass move, but it´s not necessary to have Mew to complete the pokedex and get the end game charm so I don´t really care
-master trainers do not provide enough entertainment to really count as end game content
-overall end game content is rather short, after beating the elite four I had to catch/evolve ~50 more pokemon to finish the pokedex and I could do it in two afternoons
-at parts like silph co there are way too many trainers, makes the game feel extremely slow, instead of 6 trainers who fight you with one or 2 pokemon they should have 2 trainers with 6 pokemon, makes the game more difficult and you have to wait through fewer transition screens
-the rival is not a rival, there is no dynamic between the main character and him and no real emotion (more believable characters please)

Overall I had more fun with this game than with any other pokemon game in a very long time, even though some things like the uninteresting rival felt unnecessary.

…

Expand

- motioncontrolls.
- Locked content
- cant do everything in the game if you are not playing in handheldmode. - FPS DROPS LIKE WTF!!! +- motioncontrolls.
- Locked content
- cant do everything in the game if you are not playing in handheldmode.
- FPS DROPS LIKE WTF!!!

+ pokemon

cant play this game mopre than 1 hour. my hand hurts!

…

Expand

Pokemon Lets go can be easily described as the greatest decline in quality the series has ever seen. Instead of advancing on what came before

Pokemon Lets go can be easily described as the greatest decline in quality the series has ever seen. Instead of advancing on what came before or even sidestepping with a new idea Lets Go takes massive leaps back in nearly every department. Tried and tested have been either replaced with terrible minigames or removed entirely. While the other main series games could be seen as beginner level video games with enough depth to entice more mature players Lets go acts as a painfully easy experience that requires next to no effort in order to beat. This game panders to gen 1 fanatics at the cost of everything they're built in the 20 years following red and blue to create a game I can't recommend to anyone.

…

Expand

Ok, first off does anybody even new to the series actually think abilities and items are overwhelming for new players? A simple concept of

Ok, first off does anybody even new to the series actually think abilities and items are overwhelming for new players? A simple concept of innate passives and equippable items present in most rpgs, something as basilar as that is somehow hard for people to grasp? When it worked just fine for over 20 years without seeing kids gouging their eyes out at how difficult the mechanics of baby's first jrpg are? Gamefreak apparently thinks they do. Terribly out of touch and having a track record for not listening to players and removing the features they like this time they're insulting the intelligence of kids and go players alike. Masuda is a delirious hack and should resign, I'm a passionate competitive player and I fear and I quote ''let's go will become the pillar of the franchise for the next 20 years''. that would ruin the competitive scene completely, please sends a message to gamefreak to remind them not only this is unneeded but there's a noticeable competitive fanbase that loves the game as it is.

…

Expand