Publisher:

Nintendo

Release Date:

Nov 16, 2018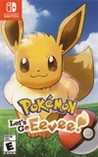 Summary:

Catch Pokémon Like Never Before. The Poké Ball Plus is a Poké Ball-shaped device that can be used to play Pokémon: Let's Go, Pikachu! and Pokémon: Let's Go, Eevee! in place of your Joy-Con. You'll be able to throw Poké Balls in-game with a flick of your wrist! In addition to motion controls,

Catch Pokémon Like Never Before. The Poké Ball Plus is a Poké Ball-shaped device that can be used to play Pokémon: Let's Go, Pikachu! and Pokémon: Let's Go, Eevee! in place of your Joy-Con. You'll be able to throw Poké Balls in-game with a flick of your wrist! In addition to motion controls, the device lights up with a variety of colors, vibrates, and plays sounds. With the Poké Ball Plus, you can also take one of your favorite Pokémon from these games for a stroll as you go about your daily life in the real world. The Poké Ball Plus even works as a Pokémon GO Plus when playing Pokémon GO.

Pikachu or Eevee:
Which Will You Choose?

Pokémon: Let's Go, Pikachu! and Pokémon: Let's Go, Eevee! bring the experience of a classic Pokémon RPG to Nintendo Switch with gameplay that is easily approachable for newcomers to the series, but is also deep enough to keep veteran Trainers on their toes.

The games also have two-player simultaneous play, so you can take the journey with a friend! And there's a deep connection between Pokémon: Let's Go, Pikachu! and Pokémon: Let's Go, Eevee! and Pokémon GO, so fans of the hit mobile game will find even more to enjoy.

…

Expand
Developer:

Game Freak

Genre(s):

Action RPG

,

Role-Playing

,

Trainer

# of players:

Online Multiplayer

Cheats:

On GameFAQs

Rating:

E
Please enter your birth date to watch this video:
You are not allowed to view this material at this time.
Pokemon Let's Go, Pikachu! And Let's Go, Eevee! - Gym Leaders, Elite Four And Familiar Faces Official Trailer
Whether it's your Pokémon entry point or you're returning to Kanto yet again, Pokémon Let's Go is for everyone. The lame motion controls aside, this is adventure perfection, not once feeling jaded after dozens of hours' play.

Nintendo and Game Freak have managed something quite special with Pokémon: Let's Go. It's a game that is so clean and streamlined that it is a near-perfect entry-level Pokémon experience for people new to the series. At the same time, it so perfectly taps into nostalgia that the oldest of old fans - people who really should have moved on, but can't because Pokémon is so damn charming - can find new ways to appreciate their hobby all over again.

Even with all its changes, Pokemon Let's Go still feels very much like core Pokemon Games. The games are fun, unique and serve as both a good entry point to the series for newcomers and a basis for the next Pokemon games on the Switch.

Pokemon: Let's Go, Eevee! is a simple game with a deep combat system which everyone can enjoy.

Pokémon: Let's Go is definitely something fans of Pokémon will have fun with and will also be familiar to newer players who have enjoyed Pokémon GO. However, don't be fooled by the sweet looking presentation, as there is a solid challenge to be had here.

Overall, I did have a blast playing Pokémon Let's Go Eevee. I did like visiting all the cities of the original Pokémon games again and seeing all the original Pokémon. However, I really did not like how they changed how you capture Pokémon and I did not like the setup of the Pokémon boxes. For those who want to play this game for nostalgia reasons, I would recommend waiting until a sale comes out before purchasing. For newcomers to Pokémon, this is a really good introduction into the world of Kanto.

While it's nearly impossible to hate a Pokémon game, Let's Go Eevee doesn't rank with the greats. Rather than forging a new path in the current generation, this quasi-remake relies too heavily on the weak gameplay of the mobile hit and lacks both the strategy and motivation to succeed. Eevee is cute and innocent, but this particular entry has not reached its fully-evolved form.
I hope they keep remaking main games in this style. The new graphics are nice and overworld pokemon is awesome.

I Love the game. Best version of Kanto ever. Red/Blue were my first games and this is a great game for original players who fell off and new

I Love the game. Best version of Kanto ever. Red/Blue were my first games and this is a great game for original players who fell off and new players who have never played before. Maybe not if you spent 100+ hours in the every pokemon game ever,because this game is not as difficult as the last few. But it is way more fun!

…

Expand

A faithful retelling of Yellow, with plenty of extra content. The lack of random encounters and battling wild pokémon is jarring for some,

A faithful retelling of Yellow, with plenty of extra content. The lack of random encounters and battling wild pokémon is jarring for some, but for myself others it is a nice change. No endless Zubats in Mt. Moon, plenty of trainers to battle for experience (as well as getting experience for catching pokémon), and accurate sizes for all pokémon in and out of battle. As a long time fan of the games, I do not see the reason for hate. Next year we will get Generation VIII games, and hopefully that will silence some of the naysayers.

…

Expand

This game is a mile better than the other one for the fact that pikachu sucks and can't learn anything expect for thunderbolt and tackle. I

This game is a mile better than the other one for the fact that pikachu sucks and can't learn anything expect for thunderbolt and tackle. I love fighting the enemies with their stupid lvl 5 stupid idiots that I can one shot with my dope Eevee. The gym leaders are all annoying yet fun and the everyone in Koga's gym can all go kill themselves. I mean, there are annoying parts, like Koga's gym. You can also pet your eevee, for all of the 3 year olds out there. I like that catching pokemon gives more exp, because it gives me a reason to buy pokeballs besides a tm slave and trying to get a shiny weedle. Overall, a good game. You gotta pick this one for all the pokemon fans out there. I would also highly recommend Pokemon White, that game is awesome, not like the one with reshiram, the **** legendary pokemon in the game. So yeah go pick this game up at best buy not gamestop dont give them money

…

Expand

Pokemon: Let's Go Eevee was the third Pokemon game I ever played, and it was a polarizing game for me in the Pokemon franchise, as I did not

Pokemon: Let's Go Eevee was the third Pokemon game I ever played, and it was a polarizing game for me in the Pokemon franchise, as I did not like this game, for I haven't even completed it yet (a year later). I was very excited for this game, as I got the PokeBall Plus, and was super hyped the day it came to my house. I played through the game, it got less and less fun as the game DOES NOT tell you what to do at all. I get some people hate when a game tells you where to go, or puts a marker on a map, like Pokemon SM, and USUM did, but I like that better when it comes to games like Pokemon. The disappearance of wild encounters was pretty surprising, but I got used to it. But so far, the game is SUPER BORING, and is probably the reason why I stopped playing the game in the first place, as I was bored to the high heavens when not knowing where to go. You may say SM and USUM didn't have a good story, and while I think it was, Let's Go doesn't really get you into story driven, or even in small activities to keep your attention span, like SM, USUM. (trials, pretty early on, battling Team Skull and then Illima, the trainer school, and more.) Don't get me wrong, maybe I need to finish the game, but my first taste of Let's Go Eevee was not a good one.

…

Expand

Pokemon Let's Go is a lazy, soulless cashgrab designed to make money off nostalgiabait and people who will buy anything with Pokemon on the

Pokemon Let's Go is a lazy, soulless cashgrab designed to make money off nostalgiabait and people who will buy anything with Pokemon on the box. The game itself is a barebones remake of Pokemon Yellow, with almost no additional content over those games. The remake of this game that was made before 15 years ago on the GBA has more content that this game.
First off, there's only 153 Pokemon in the game, leaving a good 80% of the Pokemon being missing. That lower number of Pokemon doesn't result in more quality animations though, as an example Blastoise only shoots water moves out of its head, while even Pokemon Stadium on the N64 was able to get 2 shots of water moves to come out of its cannons. The models are all reused from the 3DS games too, however one of the few redeeming features is that following Pokemon in the overworld are back, even if it's a cut asset from Pokemon Sun and Moon.
The overworld though is a mess, the maps are just 1:1 recreations of the old Gameboy maps in a similar engine to the 3DS games with an jarring blocky artstyle, it's basically the 3DS games with a HD filter, phone games can put out better worlds than this. This puts shame to other flagship titles on the Switch like Mario Odyssey, Zelda BotW and Xenoblade 2. The world itself does not translate into the game at all. The new wild Pokemon mechanics just make the world feel very cramped on unoptimised maps.
As for wild Pokemon battles, they're gone. You're now thrown into a minigame where all you can do is throw Pokeballs or berries like in Pokemon GO, along with forced motion controls in docked mode, with no option to use the pro controller. Trainer battles still exist, but they're removed a lot of core mechanics such as held items, abilities and most of the old moves to reduce strategy in the game.
The difficulty is far too easy, most trainers now only have 1 or 2 underleveled Pokemon, sometimes not even with four moves, while you have a team of 6 who all gain experience after catching and battling to steamroll the opponent. You can't even turn off all 6 getting experience like in the older games for a bit of a challenge. Bosses in the gyms also have requirements such as grind up to a certain level to challenge the gym, while you easily win with overleveled Pokemon. The game always holds your hand, the starter Pokemon even learns broken moves that trivialise the game. Even the half baked 2 player option makes every fight in the game a 2 on 1 fight to make battling even more mindless.
The above feature also tanks the framerate in playing the game. GameFreak may not be the best programmers ever going off the original Red and Blue's glitches, but this is unacceptable with effectively a 3DS game on vastly superior hardware when far more complex games like the upcoming Smash Ultimate will have 60 FPS at all times.
The game barely adds any new features either while cutting out a load of others. For example in the Game Corner, due to gambling laws this was removed, however in older remakes like Pokemon Heartgold and Soulsilver, GameFreak added in a minigame outside of Japan to replace them, however here the player is just told "We're out of coins", as there's no game. Other features like Secret Bases, Pokeathlon or new areas to explore are completely absent, even the Sevii Islands which were in the Fire Red and Leaf Green remakes of Red and Blue are gone.
Online features are almost nonexistent compared to previous games, here you have to jump through a bunch of hoops to trade and battle with people not on your friend list, and it costs 20 quid a year now to play online, the player is paying for a worse experience. You can't even use the cloud save feature for these games.
The price of the games is not worth your money either, this game is 60 quid, a good 20 over what the handheld games were in the past. A Pokeball joycon costs another 50 quid and is the only way to get Mew, this is pure greed for something which was included with Heartgold and Soulsilver in the past. There's far better value for money in buying a used copy of the originals or remakes or for 10 quid on the 3DS.
After you're done with the bare bones campaign which holds your hand, there's almost no significant post game content which fans have been looking for since the DS games bar a couple of battles with previous characters. The postgame consists of fighting master trainers in 1 on 1 battles with the same Pokemon, this boils down to tediously grinding up every Pokemon in the game to challenge them, and to throw excess Pokemon into the mixer for candy to buff them.
Overall, these games just aren't worth it, and no excuses like it's for kids or it's a spinoff excuse this dumpster fire. This is GameFreak doing as little as possible to make as most money as possible from people buying this for nostalgia or for people who will eat up any rubbish as long as it has Pokemon on the box. If GameFreak gets away with all these problems this is the future of the series.

…

Expand

when you look at it in hindsight, this game was the beginning of pokemon's downfall. many of sword and shield's problems started here