Publisher:

Nintendo

Release Date:

Sep 22, 2017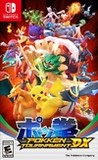 Summary:

The popular Pokemon fighting game comes to Nintendo Switch with added Pokemon fighters and new ways to battle other players. Take direct control of one of over 20 prized Pokemon fighters to defeat other Pokemon in action-packed arena fights. With Nintendo Switch, you can battle at home or on

The popular Pokemon fighting game comes to Nintendo Switch with added Pokemon fighters and new ways to battle other players. Take direct control of one of over 20 prized Pokemon fighters to defeat other Pokemon in action-packed arena fights. With Nintendo Switch, you can battle at home or on the go to become the Ferrum League champion. Master the new fighting styles of Croagunk, Scizor, Empoleon, Darkrai, and the newly added Decidueye. New modes give you the ability to challenge your friends in intense competition. Duke it out with your favorite Pokemon Fighters in Team Battle. Then record and upload your favorite fights with the new replay feature. Take the battle on the road with the portable Nintendo Switch system or find competition online in the new Group Match Mode. Do you have what it takes to claim the title of Pokken Tournament DX champion? There's only one way to find out, and that's by stepping into the battle arena.

* Fight as Decidueye, Darkrai , Scizor, Empoleon, Croagunk, and more
* Stunning Pokemon battles come to life like never before
* Execute powerful Pokemon moves with simple button combinations
* Enjoy an intuitive fighting system for all skill levels

…

Expand
Developer:

Bandai Namco Games

Genre(s):

Action

,

Fighting

,

3D

# of players:

2

Cheats:

On GameFAQs

Rating:

E10+
Please enter your birth date to watch this video:
You are not allowed to view this material at this time.
Pokkén Tournament DX & Ultra Sun/Ultra Moon - Announcement Trailer
Pokkén Tournament DX is a thoroughly enjoyable experience that undoubtedly deserves your time. The game impressed on every level; the core fighting gameplay is superb and incredibly extensive, the customisation options are truly staggering, and the attention to detail is abundantly clear. Not entirely faultless, but very close to it, this game is the Switch's next must-buy.

Yes, Pokkén Tournament DX is essentially exactly the same game as the one on the Wii U that came out one and a half years ago. But the five new characters, the new modes and the mobility of the Switch make this a worthy port, not in the least because the fighting system is simply very cool.

Pokkén Tournament DX is the definitive edition of one of the best fighting games on Nintendo consoles. This port takes advantage of Nintendo Switch's hardware which lets us play on the go and share the experience with anyone. A must have if you didn't own the Wii U version.

Pokkén Tournament DX builds on the original game and improves it in a way that is not revolutionary but gives enough reasons to feature on a good Nintendo Switch collection. Thanks to its simple combat system, an improved visual performance and online multiplayer, Pokkén Tournament DX is the ultimate form of this fighting game that throws Pokémon against each other.

Pokkén Tournament DX is definitely the ultimate edition, but that does not mean that we don't see its lack of contents and does not justify a new purchase for those users of the game on Wii U.

Pokkén Tournament DX may only provide a few benefits for returning fans, but the improved local multiplayer and expanded roster may be enough to draw back the old crowd. Overly simple AI and easy Challenges make the game's single-player mode a breeze, but new players may find that simply playing with their favorite Pokémon is enough to enjoy the fight.

Pokken is a fighting game that while decent could do with understanding that complexity doesn't necessarily equal depth.
Un juego del género de peleas con mecánicas bastante sólidas, mejora la versión de Wii U con añadidos muy interesantes como el 3 vs 3 y la

Un juego del género de peleas con mecánicas bastante sólidas, mejora la versión de Wii U con añadidos muy interesantes como el 3 vs 3 y la facilidad de opciones para el juego competitivo en donde también se notan gráficos ligeramente mejorados.

…

Expand

The definitive version of the wii-u version, this takes a decades old dream (a traditional fighting game with pokemon characters) and turns it

The definitive version of the wii-u version, this takes a decades old dream (a traditional fighting game with pokemon characters) and turns it into reality with good mechanics, insteresting roster choices and even an active competitive community to boot. With all the arcade characters plus Decidueye added in, and also the advantages of the switch, that's certainly the ideal version to get instead of the wii u one.

…

Expand

It's a good port for Wii U that comes with more characters. The switch is the perfect console to play this kind of games, also the multiplayer

It's a good port for Wii U that comes with more characters. The switch is the perfect console to play this kind of games, also the multiplayer has fix some problems that the wiiU port had it.

…

Expand

This game is quite the bit of fun for people who are good with other fighting games like Tekken, Mortal Kombat, or StreetFighter. Those people

This game is quite the bit of fun for people who are good with other fighting games like Tekken, Mortal Kombat, or StreetFighter. Those people will do quite well. I on the other hand suck at all of those and I do decent at Pokken Tournament DX. The major problem with the game is how unbalanced it is. I find that 5 Pokemon - Decidueye, Mewtwo, and Gengar mainly are on the Broken side of that scale. Decidueye can use one combo to get you down to less than 1/4th of your health and then he can chain grab you at the end of said combo to put you down at about 10% of your total health for 1 combo in total. Mewtwo can just spam his midair counter attack and become the god he actually is then when he goes into synergy burst he has no cooldown on his cross map beam of death that will heavily damage you even if you have your block up. Gengar can just keep spamming the shadow ball and Ghost fists ( I don't know what attack it is supposed to be but he summons portals where you currently are and giant ghost fists punch you) moves and keep you away. Then you get mega Gengar which lasts for quite a while and he can just teleport and spam a lazer that crosses the entire arena everytime he fires it, which is about every 0.75 seconds meaning you can't put block down for a single minute moment or you get 1/5th of your health shaved off every time you are hit by it. There are several other unbalanced characters, and they just added Blastoise and Aegislash. Aegislash is beatable but you need to know exactly when to hit because of his damned sheild form. Blastiose has now the highest base attack and highest base defense in the game and is basically unkillable. Most of his normal attacks come out in 3s and will mow down your health but leave him wide open thankfully. But then you perform your strongest moves on him and they do about half to 1/4th of the damage they would do to every other character in the game. Still neither Aegislash nor Blastoise is as broken as the 3 above. Other than these 5 characters the rest of the game is pretty well balanced and quite fun. I still have a ton of fun playing in general. I have beaten all of the Broken Pokemon before but that was only because they were wielded by new players and I still had a hard time. I do believe that they need to go back in and balance all of the characters more fairly instead of most of the online player base using these 5 mainly. Decidueye has died down though so you won't run into those as much now.

…

Expand

Its a good port that adresses some of the pressing problems of the original. The gameplay is still fun and fast paced and the new characters -

Its a good port that adresses some of the pressing problems of the original. The gameplay is still fun and fast paced and the new characters - Decidueye, Empoleon, Darkrai, Scizor ans Croagunk - are a joy to use. Online battles are usually found in seconds so I often find myself falling for the "just one more match" syndrome. Unfortunately they didnt add any relevant single player content (and the original one is pretty much complete garbage) so I have to slash a couple of points.

…

Expand

The premise of this game is a dream come to true to every Pokémon fan.
The roster feels kind empty, if you think there were 800 options theyThe premise of this game is a dream come to true to every Pokémon fan.
The roster feels kind empty, if you think there were 800 options they could choose from.
The daily challenge is nice and all, but the single player mode is really lack luster and it got boring real fast.

…

Expand

I cannot believe how many people like this game.

1. Switch itself to me is a regrettable purchase, I simply CANNOT speak to people I makeI cannot believe how many people like this game.

1. Switch itself to me is a regrettable purchase, I simply CANNOT speak to people I make friends with in games. Switch OS refuses to allow us to make friends and message one another. That I wish qualified me for a refund of the entire console. What a joke.

2. I spent 60USD on the Eshop, quite enjoyed the tournaments and CPU fights.

So I try my luck online, WELL... I got ranked with someone who had 7500 wins, I have 0. Needless to say it was merciless. I then got ranked with someone who had 5000 wins, and they ended up adding me I assume to give me hints and maybe help me. (but I cant TALK to that person because Nintendo is a joke.)

0/10 for 2018 this is a disgusting joke. What a cash grab this entire bullcrap.

…

Expand