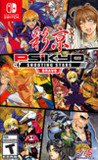 Summary:

Classic shooting games in a retro compliation for NSW.
Includes Samurai Aces, TENGAI, [SENGOKU CANNON/SAMURAI ACES 3], GUNBIRD, GUNBIRD2, and GUNBARICH.
Developer:

Psikyo

Genre(s):

Miscellaneous

,

Compilation

# of players:

No Online Multiplayer

Cheats:

On GameFAQs

Rating:

T
This is an essential buy for all the shoot'em'up aficionados who are in their thirties, and a nice little collection for all the other gamers. It's just a pity that there are no extras of sort included in the digital version.

In terms of the quality of its games, Psikyo Shooting Stars Bravo is a slight notch below Alpha but it's still great to have 6 classic titles in 1 convenient collection. It's just too bad that it's missing any supplementary content.

Psikyo Shooting Stars Bravo gathers the two Gundbird and Samurai Aces series into one friendly compilation. The danmaku genre is much more present here than in the previous Alpha version, which is a real plus for fans. Too bad the game still lacks real display and tutorial options once more.

Psikyo Shooting Stars Bravo follows the footsteps of its predecessor and brings forth a fine collection of six shoot'em up games that bring some good old intense action to the Nintendo Switch. With the exception of the one of the games, that has a rather poor performance, all the other titles included in this compilation rise up to a good level of quality at a good price.

Many of the games across the two-volume library have the potential of chewing away dozens of hours obsessively besting that last high score, or reaching that little bit further – especially under the default and recommended conditions of three lives and two continues. Furthermore, to be able to legally own forgotten treasures such as these so easily from a studio that no longer exists is always both an honour and a privilege.

It's not as good as Psikyo Shooting Stars Alpha, but Psikyo Shooting Stars Bravo is still an interesting proposition for shoot 'em up fans. It's expected, what with this collection launching so quickly after the first, that it doesn't do anything to address its predecessor's shortfalls, but it's still a little disappointing. If you're after yet more shoot 'em ups to add to your ever-growing Switch collection and don't mind the lack of extras, go ahead and jump right in. Most will probably want to wait for a decent sale though.

Both the Psikyo Shooting Stars Alpha and Psikyo Shooting Stars Bravo collections are pretty close in value to one another. While Psikyo Shooting Stars Alpha is perhaps the better of the two due to the consistent quality of the Strikers games, we also harbour a soft spot for the Gunbird series on Psikyo Shooting Stars Bravo, especially Gunbird 2. Sengoku Cannon is so poor it might as well not exist in the collection, but Samurai Aces Episode 1 and Gunbarich are stronger than Alpha's Sol Divide and Zero Gunner 2, so which collection is better is mostly going to come down to preference between the Gunbird or Strikers series. Another constant between them, sadly, is the high level of input lag and lack of bonus material to make the collection really stand out.
Shooting Stars Bravo hat wesentliche Titel von Psikyo unter einem Schirm, u. a. Gunbird 1/2 und federführend Sengoku Blade, nur schön diese

Shooting Stars Bravo hat wesentliche Titel von Psikyo unter einem Schirm, u. a. Gunbird 1/2 und federführend Sengoku Blade, nur schön diese Klassiker spielen zu können.

…

Expand