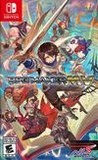 Summary:

An epic journey begins... with YOU! Become a master game developer with RPG Maker MV. With an arsenal of tools at your fingertips, create elaborate, exciting, and memorable video games straight from your console! Then, share your adventures online with other players, who can enjoy your epic

An epic journey begins... with YOU! Become a master game developer with RPG Maker MV. With an arsenal of tools at your fingertips, create elaborate, exciting, and memorable video games straight from your console! Then, share your adventures online with other players, who can enjoy your epic chronicles! The possibilities are endless with the latest and greatest RPG Maker software. With hundreds of assets and an infinite number of ways to create your game, turn your dream tale into the next great video game!

Features:

* Your Next Adventure Begins Here -- A high fantasy tale of knights and dragons? A modern story of high school romance? A chronicle of gods and demons? If you can dream it, you can make it!

* Game Development Made Easy -- Say goodbye to complicated coding! This software provides ease of navigating and development with straightforward world and character creation, overworld customization, and more!

* Make, Upload, Play! -- Enjoy games made by fellow gamers with the RPG Maker MV Player, free for download and play, even without the RPG Maker MV software!

* An Endless Fountain of Customization -- With hundreds of graphical assets and an infinite number of possibilities to create your very own world and story, the sky's the limit!

…

Expand
Developer:

Kadokawa

Genre(s):

Miscellaneous

,

Application

# of players:

No Online Multiplayer

Cheats:

On GameFAQs

Rating:

E10+
I can't recommend RPG Maker MV enough. Not only is it an ideal way for JRPG fans to engage with their favourite genre without needing to go and learn how to code first, but it's also a low-pressure and undemanding way for people with an interest in game development to understand how game developers think and create. The Switch version is less robust than the PC version and you're not going to be producing anything that you can make money with like you can on PC, but as a toy and a sandbox, RPG Maker is a delight. I can't wait to see the kind of creativity that RPG fans come up with (and yes, I will try and upload a game of my own at some point too... if I ever find the time to finish one).

RPG Maker MV on Switch is a stripped back and limited version of its PC counterpart that removes the ability to integrate your own custom elements as well as the use of plugins. There's also very little in the way of help or tutorials and the UI can be clunky and slow to navigate. However, if you can make peace with these limitations, what's here is still a vast, hugely flexible bit of game-making software that provides those with the patience to get to grips with its systems almost limitless potential for RPG-making fun. We can't wait to see what players come up with over the coming weeks and months ahead and the free RPG Maker MV Player means that all Switch owners get to share in the fun and perhaps be inspired to join in down the line. If you're hugely serious about RPG making you may do best to stick to the PC version, but, if you just want to have some creative fun within the limits of the assets provided here, you'll have a blast.

RPG Maker MV for Nintendo Switch is a title that allows you to fully exploit your imagination and creativity thanks to the limited but wide amount of resources and possibilities it offers to build your own video game, although it is limited by its controls, its online mode and its price.

Creating RPG on Switch or editing them is not as comfortable as on PC. Even so, this version of RPG Maker MV offers a correct gateway to the world of video game development. You could ask for more from this port.

This delivery brings a lot of freedom when it comes to customization, as well as a large pool of elements to choose from. Nevertheless, the game's interface, accessibility and lack of assistance to make players feel at ease are strong impediments to make this a more enjoyable, fluid and creative experience. The principle of RPG Maker MV is right, but it needs a much better adaptation to a console format.

RPG Maker MV has everything it takes to make an RPG. However, the complexity makes it unenjoyable and often frustrating, especially for players that are not well-versed in the ways of creating RPGs. It is simply too much effort to create a single map, not because of the work needed to design it, but because of endlessly trying to figure out how to achieve certain goals. While the simple portability of this title, due to the nature of the Nintendo Switch, is definitely a positive, this title cannot easily be recommended to newcomers in RPG creation.

RPG Maker MV provides plenty of tools, but the least possible direction on how to use them. The tutorial is embarrassingly bad, and a help section is nonexistent. Unless you're experienced with this series, skip this Switch port.
So, let me start out by saying, this is the first RPG Maker I have ever used (barring the 3D one released for PS2 back in the early 2000s, but

So, let me start out by saying, this is the first RPG Maker I have ever used (barring the 3D one released for PS2 back in the early 2000s, but we'll just pretend that nightmare fuel of a game didn't happen because yeesh).

I came into this game with really low expectations. I knew it would be very limited compared to PC. I knew navigation of text and events would be cumbersome and require a certain level of fenagling and patience. And I knew I couldn't upload my own art or alter what was provided beyond the limits of the game's programming.

But to be honest, after several hours of gameplay, I could forgive all of that. I was pleasantly surprised by just how much there was to work with and how easy it was to use. And even though I did find the controls a bit frustrating, after a day or so, I was pretty much adjusted to them with the exception of a few blips on my end.

An hour ago, I could have given this game a solid 4/5, with a one star deduction only for the fact that there is no way to make a character faceset without building a brand new sprite with each variation of expression. An oversight, and a bit annoying. But nothing I couldn't work around.

But an hour ago, while working on the aforementioned facesets, my game crashed. Irritating, as I hadn't saved my game in a few hours, but nothing too critical.

Or so I thought.

I reopened the game only to have it force me into tutorial mode. And I mean FORCE. No option around it. No way to skip it. Game opened, and it went into tutorial mode.

The lack of skip option was bad enough, but more concerning was the fact that the tutorial loaded at all. Because this mode only activates upon a player's FIRST launch of the game. Confused and not desiring to complete the tutorial AGAIN, I closed the game and reloaded, hoping against hope that I could still access my project.

The game reloaded, and I was relieved to find that I was not being dumped back into the tutorial. Even more, I was overjoyed when my project file appeared to be intact. However, the joy was short-lived, and it swept swiftly into disappointment upon opening the file and discovering that everything (and I mean EVERYTHING: maps, characters, items, etc) had been overwritten...With the tutorial map and info.

I don't even know how that happened. I didn't save before I shut the program down.

I'm not overly upset. I wasn't so far along in my project that I can't put it all back together, twice as fast, and with a bit more organization. But I am angry at having wasted nearly an entire day only to have a console game, a CONSOLE game, delete everything. I expect this kind of thing on a PC. Not a console And especially not from a game that had its release date delayed for a YEAR.

I want to give this game 4/5 stars. I want to tell you that I find it so charming and fun that I don't care that I can't profit from the games or even make them remotely my own. I want to tell you how much I love it even though I know it's only a shadow of its PC counterpart. And I want to still love it as much as I did an hour ago. But I don't trust it now. What is the point of pouring my time into something if I have nothing to show for it?

In short, until Nintendo addresses this crashing problem (and maybe the game developers look into the faceset limitation because, seriously, how can anyone create a remotely believable game without a way to make the characters emote properly?) I can't in good conscience give this game a higher rating. I want to, but I can't.

TL/DR: Game is decent but unreliable. Crash causes full data wipe and loss of all progress, saved or otherwise.

…

Expand

This version of RPG Maker MV is riddled with bugs. Some bugs will crash the game. One bug disables the controls, even if you close the game

This version of RPG Maker MV is riddled with bugs. Some bugs will crash the game. One bug disables the controls, even if you close the game and relaunch it, forcing you to have to hard reset your Switch. One bug makes things in the system menu disappear when you want to copy them. It's also laggy, especially when testing battles. And the worst part is, there's a poorly implemented swear filter when you upload your game. A sentence like "that's excellent, sir" becomes "that'***cellent, sir" because they are filtering out the word "sex". This product is pathetic. Don't waste your money.

…

Expand

Sweet jesus and mother marry - DO NOT TOUCH THIS GARBAGE. Its almost as buggy as Cyberpunk 2077. STAY AWAY. I am baffled how the heck Nintendo

Sweet jesus and mother marry - DO NOT TOUCH THIS GARBAGE. Its almost as buggy as Cyberpunk 2077. STAY AWAY. I am baffled how the heck Nintendo let it in into e-shop.
And also - its a splendid example of how corrupted the so called "metacritic reviewers" are.

…

Expand