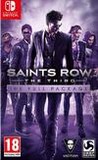 Summary:

Welcome to Steel port Years after taking Stillwater for their own, the Third Street Saints have evolved from street gang to house gold brand name, with Saints sneakers, Saints energy drinks and Johnny Gat bobble head dolls all available at a store near you. The Saints are kings of

Welcome to Steel port Years after taking Stillwater for their own, the Third Street Saints have evolved from street gang to house gold brand name, with Saints sneakers, Saints energy drinks and Johnny Gat bobble head dolls all available at a store near you. The Saints are kings of Stillwater, but their celebrity status has not gone unnoticed. The Syndicate, a legendary criminal fraternity with pawns in play all over the globe, has turned its eye on the Saints and demands tribute. Refusing to kneel to the Syndicate, you take the fight to Steel port, a once-proud metropolis reduced to a struggling city of sin under Syndicate control. Take a tank skydiving, call in a satellite-targeted airstrike on a wrestling gang, and defend yourself against a highly-trained military force using only a sex toy in the most out-laddish gameplay scenarios ever seen, igniting a city-wide war that will set Steel port on fire. Strap it on.

…

Expand
Developer:

Fishlabs, Deep Silver

Genre(s):

Action Adventure

,

Open-World

# of players:

No Online Multiplayer

Cheats:

On GameFAQs

Rating:

M
Please enter your birth date to watch this video:
You are not allowed to view this material at this time.
Saints Row: The Third Remastered - Official Reveal Trailer
It was one of my favourite games of the generation back when it first came out on PS3, and after sinking many, many hours into this version, I suspect it'll wind up being one of my favourite games of whatever generation the Switch falls into, too.

Saints Row The Third is the same riotous good time it's always been, except now you can take it anywhere. Some performance issues hold the experience back, but with any luck the instability will get patched out.

Saints Row: The Third was a sacred moment in time where lunatics reimagined the animus of an open-world crime game. It enabled players to thunderously lead a prestigious gang of miscreants and also turn themselves into a toilet. Eight years later Saints Row: The Third's glut of Content is more difficult to digest, but its outrageous ambience is (mostly) still so sweet.

This is a port only really worth picking up if you missed it the first time, but even then the iffy controls (sprint is the left bumper and the menu wheel is on A, for some reason best known only to Hell's most prolific torturers) and shocking performance issues will leave you wondering what all the fuss was about. 8 years after its original release t's still irreverent fun, though certainly hampered by iffy shooting and iffier driving, but Saints Row has always been one of those series that kind of gets a free pass because it's so endearingly nuts.

My recommendation is decidedly mixed and conditional on how you like to play. If you plan on playing in handheld, you're pretty safe. But if you want to play on the TV from the couch, you'd be better off breaking out your last-gen console to revisit the best Saints Row game. The Third is still a bonkers experience that revels in being FUN above all else. It's just too bad that it struggles so mightily on Nintendo's latest console, which has shown ample ability to handle a game like this in other cases.

Saints Row: The Third didn't age well: the Switch porting is something that only the series hardcore fans will enjoy.

A terrible port of a game that is very much showing its age, and has no business being repackaged at anything close to full price.
Although initially rough in handheld mode and apparently straight up bad in docked, I tought it was doable in handheld day one. Since the

Although initially rough in handheld mode and apparently straight up bad in docked, I tought it was doable in handheld day one. Since the patch (which was supposed to be day one but took a bit) I've actually played it in docked for a few days and it's working great now. Better than easily most 3rd party (and some first party) big titles I've seen on Switch so far. The game itself remains great, it's full of crazy action, ludicrous humor and insane weapons, the story is quite long and enjoyable.

Never played Saints Row The Third? Very easy to recommend. Played it but haven't touched in years like me? Still easy to recommend. I wish more games like this came out TODAY. Sure, the graphics are a bit dated, but the game's a blast. I'm very glad they released this and I wouldn't mind SR IV following suit.

Sidenote: people who expected this to be 60fps on the Switch (which is not that powerful) are borderline psychotic and need help ;-)

…

Expand

Ok...I basically just got this. So I don't know about the bug ridden version that it was at launch (from what I hear). But this game is just

Ok...I basically just got this. So I don't know about the bug ridden version that it was at launch (from what I hear). But this game is just awesome. To me this is a MUST HAVE open world title on the Switch. Yes, I stopped playing the Witcher 3 for this. Loads of whacky fun. The game play feels really smooth, if GTA ever comes to Switch and feels and looks like this I'm happy. But you know what? I don't need GTA anymore, I want THIS. I will say that it is a GTA clone...do I like copycats? Usually I don't. But here, I have to make an exception. It might be to whacky for some, but to me GTA V was a little too stale besides trying to be over the top. The map is big, but not omg, ineedanotherlifetogetthroughthis big. It's jsut right. I really, really like the graphics, the gameplay from driving to shooting feels excellent. Another gem. To me! I sure hope you like it too!!!

…

Expand

I'm having a blast with this game. I don't understand the negative reviews. Maybe I'm just not seeing the issues. I'm very happy with my purchase!

Good fun game let down by a lack of polish. Visuals are a little dated but it's still just as silly and fun to play as ever.

This game seems to be really fun... but the performance at day one seems to be very shocking on Switch, considering this is the same machine

This game seems to be really fun... but the performance at day one seems to be very shocking on Switch, considering this is the same machine that's running Doom2016@30fps or MK11@60 along with other current generation games at perfectly playable rates then it's shocking to see a game from the X360 era running so poorly on the Switch, there is a promise of a patch coming to fix some issues but it's not available right now and really... there is no way the game should be performing as it is right now.

That said.... the game is really great for what's there, tons of content and loads to unlock and do, the only issues again is performance right now isn't where it should be, so this feels like a 8-9 game, but the way it's running right now, this is a 6 at most, also if you have picked it up go into the controller settings and turn your X/Y sensitivity up to at least 65/70 to allow you to properly aim against the games strong (unalterable) autoaim.

…

Expand

Played the game already multiple times and it's a blast, no issues with the actual game I give it 9. Different story on the Switch however,

Played the game already multiple times and it's a blast, no issues with the actual game I give it 9. Different story on the Switch however, smooth performance is the foundation to any successful game and this port is all over the place. Was it too much to expect 60fps from a 2011 game? Can't even hold 30fps properly in its current state, that is pathetic!

…

Expand

You know what, it's a real damn shame about the Switch port of Saint's Row 3 because it could have been possibly one of the best ported titles

You know what, it's a real damn shame about the Switch port of Saint's Row 3 because it could have been possibly one of the best ported titles but it's ruined by input lag and that dumb little aim acceleration that they somehow don't allow you to turn off (same goes for auto aim)

RESPONSIVE controls are very important. Part of being able to enjoy a game is being able to control things smoothly in a way that doesn't feel like I'm constantly trying to thread a needle. Which isn't too hard, but granted it's still not easy (or fun, for that matter).

Don't get me wrong. The game IS playable, but issues with sprinting, soft-locking in the menus, and as I've mentioned the input lag/aim acceleration do not make this enjoyable for me. I've played Saints Row 3 on 3 platforms so far and even compared to the xbox 360 versions, this port has to be on the lower rankings of which port is best.

…

Expand