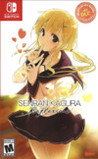 Summary:

Can you feel it? The beating of her heart... In a classroom after school, learn the ways of "Reflexology" by syncing with her heart and body. SENRAN KAGURA combines with HD Rumble on the Nintendo Switch. She called you into the classroom after school. She's waiting there for you. But she

Can you feel it? The beating of her heart... In a classroom after school, learn the ways of "Reflexology" by syncing with her heart and body. SENRAN KAGURA combines with HD Rumble on the Nintendo Switch. She called you into the classroom after school. She's waiting there for you. But she might not be her usual self... Delve into intimacy by massaging her hands and helping her relax. Explore her many daydreams to see her in different lights. Get to know her as an energetic admirer, an experienced warrior, a curious classmate...and much more.


…

Expand
Developer:

Honey Parade Games

Genre(s):

Action

,

Adventure

,

General

# of players:

No Online Multiplayer

Cheats:

On GameFAQs

Rating:

M
Please enter your birth date to watch this video:
You are not allowed to view this material at this time.
Senran Kagura Reflexions - Launch Date Announcement Trailer
No matter how salacious things may get, Reflexions never loses sight of the sweetness at the game's core – fundamentally, this is a game about a girl attempting to overcome her shyness and tell a boy how she feels about him. While I'll be happy to get back to battling demons and ninjas when the next full entry in the series is released, I won't say that this is a waste of the franchise or a disrespectful use of its main character – just the opposite, in fact.

Senran Kagura Reflexions is an Ecchi dating sim game that in reality is a touching and squeezing simulator. The gameplay feels pervy at times, and gets repetitive and boring fairly quickly. There are no visual issues, and motion controls make things more interesting, but it unfortunately isn't enough to make it entertaining.

Reflexions is not great. There's not much content, there aren't enough massage mini-games, there aren't enough dress-up options (at least, not yet), and the voyeuristic tone is creepy. And then there's the fantasy involving Asuka being your little sister, which almost makes me want to nuke the game from orbit. For the Senran Kagura superfan, it's probably required reading but everyone else can just wait for Peach Beach Pinball.

It's a pretty denigrating game. In addition, HD vibration and motion controls have to learn a lot of eroticism yet. If they wanted perversion they could have gone to the extreme, and not stay in the bikinis with small moans and "senpais".

It's hard to recommend Senran Kagura Reflexions to anyone at all. Rather than a game, this is more like a collection of screens that test the accuracy of the Joy-Con movements and at that, it does work. Unfortunately, it fails at everything else and it simple does not provide the content, the sense of purpose and the structure necessary to call this a fun interactive experience.

Senran Kagura Reflexions has actually done a lot of damage to the series.

Senran Kagura games have always revelled in the fan-service, but they have weaved it into titles that are fun to play. An element of the game… Sometimes a large element… but, not the focus. Senran Kagura Reflexions feels like the extra features bundled into one of the full Senran Kagura entries. At £8.99, this feels massively overpriced, too, even for those who can see value in it. There's certainly not that much value, though, as it's basically a pervy tech demo.
Great game, the characters are lovable and the story is heart wrenching

Not for soyboys or SJWs (probably why critic ratings are trash)

I don't have much to say about this game except that it's super fun and really funny and something else if you know what I mean

As this is the series' first entry into the VN genre, the efforts from the developer are highly commendable.

The facial animations areAs this is the series' first entry into the VN genre, the efforts from the developer are highly commendable.

The facial animations are top-notch, cel-shading on point as usual. Most VNs only have static images, but this has full 3D effects. Voice-acting is great and soothing to hear.

The only disappointment I've had is that not all the characters are available at launch.

…

Expand

This game is a masterpiece. The audio, the visuals, the gameplay and the characters. The dialog made me cry. I've played this game twice

This game is a masterpiece. The audio, the visuals, the gameplay and the characters. The dialog made me cry. I've played this game twice already and both times I had a completely different experience. It's beautiful, and I will continue playing this game until the end of me. I bought a whole new gaming PC, two GTX 1080 TIs, an i9 7900X, 128 gigabytes of RAM, making sure I can play this wonder at 8k 144 FPS. I don't just recommend this game, I'm telling you to play it. If you don't, you are missing out on the reason humans exist. Every single person should play this game. I will fight wars to make sure people can continue playing this game. I have stayed in my room since this came out, which is the day I wrote this, and I haven't talked to anyone except the NPCs in this game. I think this is the next step in human evolution. We will eventually all be plugged into a machine, like in the movie, "The Matrix", where this beautiful masterpiece will be our life. Every day, we will wake up in heaven. Every night, we will go to sleep on the copy-pasted textures on the ground. That soon will be the glorious reality, the reality we are meant to be in. Download this game right now, it should only take you a second, and play it. Enjoy it. Live it.

…

Expand

This game is da bom. This game isnt for people who dont like tiddies, senran kagura and Visual novel games. This game is a mix max of that and

This game is da bom. This game isnt for people who dont like tiddies, senran kagura and Visual novel games. This game is a mix max of that and doesn't fit the american general public.

This is true uncensored asian novel style. And it probably wont fit many prude western people.
This is what most asian novels are, any one who play's those know to not expect more then what the game is supposed to be.
The only difference between thing and other asian novels, are the visuals and interactions.

This game better fits the EU and asian market.
Really, if this isnt your type of game.. like literally you dont like asian novels and such, just dont bother. It doesnt have what you are searching for.

…

Expand

There is no other game like it, If you are a fan of the Senran Kagura series you will no doubt enjoy this 1 on 1 time with your favorite Sk

There is no other game like it, If you are a fan of the Senran Kagura series you will no doubt enjoy this 1 on 1 time with your favorite Sk babes game. With the amazing HD rumble that literally gives you the Thigh jiggle feel, and the classic Japanese anime Highschool love story style writing. the game really needs the right group of people to play it and review it, or not, because User score is enough to persuade. Just look at NBA2K19's score.

…

Expand

I really enjoy the Senran Kagura series and their boldness to admit it's all about fan service. It's rare to see a game company tell SJWs that

I really enjoy the Senran Kagura series and their boldness to admit it's all about fan service. It's rare to see a game company tell SJWs that if they don't like the game then don't buy it.

I love the bouncing **** but this visual novel (because that's really all it is) just feels ... pathetic. I almost feel like the devs are mocking people who love the girls in this series and are just trying to score some easy money. They just reused art and visuals from past games and added a really cliche storyline. If you thought the Toast in Mouth Cliche was overdone, this is beyond that.

Grouping Asuka so you can advance the story and then having her say a line like 'I don't know if I can keep being a ninja (because I love you so much)' is more cringe inducing than seeing Melonpan making love to a Asuka dakimakura.

The creepy factor is just too much a part of the game for me to enjoy it. The reactions to you touching her just take it that one step past creepy and into pathetic 'forever alone' territory.

…

Expand