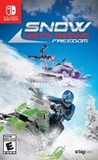 Developer:

Zordix

Genre(s):

Racing

,

Arcade

,

Other

# of players:

Up to 8

Cheats:

On GameFAQs

Rating:

E
If you are looking for a snow moto arcade experience to play wherever you are and you can forgive its faults, this title can satisfy you. We not recommend it for an only full dock experience.

Snow Moto Racing Freedom is another scrappy, challenging and rough-around-the edges extreme sports racer from Zordix. It's not going to win any technical awards, and it takes real patience to master its awkward handling and unforgiving physics. For those who crave something different from the racing genre norm, a little perseverance will yield a surprisingly entertaining arcade experience for one to four players, albeit one that could leave some feeling cold.

Ultimately, like Aqua Moto Racing Utopia, Snow Moto Racing Freedom just feels very unrefined. Even if the framerate was actually tolerable, the core game is pretty basic and gets boring rather quickly. The one thing going for this game is that there's currently a lack of racing titles on the Switch and so far this is the only one dedicated to winter sports. Even so, despite there not being much else to choose from, I wouldn't bother with this in its current state. If the framerate issues are ever addressed, then perhaps it might be fun for younger gamers, but even then it just doesn't have much lasting appeal.

This game was always going to be paired alongside Aqua Moto Racing Utopia - after all, the two games basically the same and came out on the same day. Looking at it on its own, though, it is fun arcade-style action, but it's not going to be winning any racing game awards any time soon.

Snow Moto Racing Freedom may not have much competition on the Nintendo Switch catalogue but that doesn't make it a groundbreaking game alone. Due to its unrefined gameplay and visible technical issues, this is not a game that will please everyone.
I love racing games and I never played one with snowmobiles before so I bought this not really knowing what to expect. Turns out I had much

I love racing games and I never played one with snowmobiles before so I bought this not really knowing what to expect. Turns out I had much more fun with this than I thought I ever would. The feeling of driving a snowmobile is totally different from the car racing games that I normally play and I must say that it's a nice change of pace to be driving in a snowy landscape.

…

Expand

Interesting game from Zordix studio, I really like it. I love playing racing games and its well suitable for Switch console.

Developer Zordix has released their game Snow Moto Racing Freedom on Switch and it's a blast to play. The core of the game consists of

Developer Zordix has released their game Snow Moto Racing Freedom on Switch and it's a blast to play. The core of the game consists of snowmobile races in two different fashions. One where you are racing from checkpoint to checkpoint in an open (huge) world. The other mode lets you race on a carefully placed racetrack with tight turns and jumps. This is called Snocross and this race-form exists in real life as well. As is common in racing games you have a championship mode and a single race mode. In the championship mode you start out like usual with two weak snowmobiles and easy opponents. By getting good placements you advance to higher leagues and more snowmobiles. There is also both local splitscreen and online multiplayer for the players wanting some pvp races. If you feel inclined you also have a leisure mode where you can explore any of the game's gigantic 3 open world maps set in different locations around the world. This is definitely the best snowmobile racing game out today!

…

Expand

If you're willing to look past the terrible framerate-drops, there's moments of fun to be had here. Yes the graphics are below average, but I

If you're willing to look past the terrible framerate-drops, there's moments of fun to be had here. Yes the graphics are below average, but I only paid 3.19 for it, so I quite enjoy it for that price. Would feel very different if I'd paid full price.

…

Expand