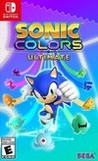 Summary:

The evil Dr. Eggman has built an interstellar amusement park – but he's powering it with a captured alien race called "Wisps." Use Sonic's speed to free the Wisps and gain their amazing powers as you explore six colorful unique worlds.
Please enter your birth date to watch this video:
You are not allowed to view this material at this time.
Sonic Colors: Ultimate - HD Updates Spotlight Trailer
A content-packed game that really shows the essence of Sonic, specially in the 3D sections. Switch version is not the most spectacular of them all, but it's really enjoyable nonetheless (and you can do it outside).

Sonic Colors Ultimate is well-executed revisit of a high point in Sonic's long career. Most of the quality here stems from the content of the original, rather than the new additions and tweaks for this re-release. Things like the Jade Ghost and extra customization options are welcome, but not game changing, and the musical and graphical improvements are minimal. At the end of the day, though, this is still a well-performing, portable version of a classic and that's arguably all that it needs to be. We'd give this one a recommendation, then, to anyone who has yet to experience Sonic Colors, as this is certainly the best and easiest way to try it out. If you're a fan of the original, we'd still say it's worth a punt — you'll still love the game on Switch. Just be aware that this isn't a massive overhaul of what came before.

This classic Sonic game offers some really fast-paced courses to run through, but the port can be very glitchy. It also looks and plays like a dated game. Unless you're a major Sonic fan, you might want to stay clear.

I'd say there's a great Sonic game here, and newcomers will find plenty to love. But if you own it already, maybe wait for a sale.

At the end of the day, Sonic Colours Ultimate does offer a decent Sonic adventure. Everything you'd expect from a modern Sonic game is here: speeding through different acts, alternate pathways, hidden collectibles, great design, and, yes, unbalanced gameplay and a couple of bugs. If you're a hedgehog diehard, Sonic Colours Ultimate is most definitely worth a look, but if you aren't, then take this one with a blue grain of salt.

I had re-played a bit of Sonic Colors on Wii recently to reaffirm how much I enjoyed it, and this remaster simply does not feel like an upgrade. At its best it feels just like the Wii game, and at its worst it's an obvious step down. There is some minor added content like cosmetics that are unlocked through new collectibles, but they simply can't outweigh all the problems introduced in this version. The original version of this game is a personal favorite to this day, but Sonic Colors Ultimate on Switch is just a disgrace that only succeeds at worsening Sonic's already poor reputation.
I'm having fun playing sonic! I love these characters! Saludos de Argentina!

This review contains spoilers

, click expand to view

.

クアに鞘速さ湯なさや早々早々浜ばさやさやさなさやさや早々早ぽま?まゃまかまかまさやはやはわはわはわはやはやさやはやかまかまさまかまがはやはやはやはやはやさやさやさやさやさや

…

Expand

This review contains spoilers

, click expand to view

. So i had the original Sonic Colours on the Wii played on my Wii U and i loved it back then! And when the remaster still makes me think the same about this game and i really love the new visuals Sonic looks very shiny with the bloom applied and the new additions are cool as well the new customization and the rival rush is really fun!
Now sadly im stuck with the switch version and its visuals were stripped down all other versions have 4K 60fps while the switch version only allows for 720p 30fps but it still looks great.
Now the bugs are kinda annoying but i didnt run into too many but you may have a buggier experince so be warned also the seizure bug to avoid it dont switch maps too fast too often as the game get confused wich to textures to load in so it loads in a flickering mess.
If you have paitince wait for patches if you wanna play it now dont get the switch version so ill give this game an 9/10 still as good as it was.

…

Expand

El juego es bueno pero la versión de Nintendo Switch tiene un rendimiento un poco malo.
Es una remasterización un tanto floja que pudo haberEl juego es bueno pero la versión de Nintendo Switch tiene un rendimiento un poco malo.
Es una remasterización un tanto floja que pudo haber sido mas, el modo carrera esta muy vacio y la customizacion es muy extraña ya que hay pocas opciones a escoger

…

Expand

i wanted to give this game a second chance but....
i never understand that people call this the best 3d sonic game while this game is a 2di wanted to give this game a second chance but....
i never understand that people call this the best 3d sonic game while this game is a 2d game with 3d sections lets be real. and you have games like adventure 1 and 2 heroes unleashed and generations
this game has block like level design and the wisps arent fun to use [maybe drill is but]
this game isn't really a good boost game there is so mutch stop and go platforming that just doesn't work if they wanted to make it good they should have done what sonic lost world did if they wanted stop and go platforming. sure unleashed and generations has some platforming but you can boost through them with timing and there not that long.....

ultimate made the game even worse with al these glitches and i get so annoyed that people are defending this but still bashing 06 this game is more broken than that.. 06 only had physics stuff and random jank moments but this game has a ton of lighting glitches and overal is just broken . like safe file's getting corrupted

remix soundtrack is okay although the original tracks are better
cosmetics are neat altho nothing special they shouldd have done things like soap shoes or chips bracelet. but its okay

rival rush is just a time trail so nothing that cool i wish you could play as metal sonic if u finished all of them.

AT THE END OF THE DAY if u enjoy this game thats fine i guess i mean games like unleashed aren't going anywhere so il just stick with those i guess i just have to accept that this game isn't for me

i guess if u like bland blocky platforming this isn't the worst out there

…

Expand

Sonic colors on Switch is definetly one of the most buggiest ports of the console, due to the inconsistent frame rate, poor drawing distance,

Sonic colors on Switch is definetly one of the most buggiest ports of the console, due to the inconsistent frame rate, poor drawing distance, múltiple colission glitches and the poor graphics makes the Game just not fun to play

…

Expand

In terms of video games, how to be a happy Sonic Fan post Generations.... you can't.

Since the first trailer this game had already many redIn terms of video games, how to be a happy Sonic Fan post Generations.... you can't.

Since the first trailer this game had already many red flags:Over excessive use of bloom, darks are darker, lights are lighter, the assets were ripped from the wii version, Sonic animations in game are broken, and the use of "Tails Saves". And a later trailer showed off the "Ultimate" version next to the Wii version, either SEGA or Blind Squirrel purposefully made the Wii version look like trash to boost people's interest. Non of the issues present in the trailers have been fixed, even worse is that people's saves are being corrupted and for switch users, seizure inducing glitches. Granted the player has to go out of their way to trigger this visual melt downs. Sometimes the Switch version dips under 15fps. Don't know why the team decided to use a new open source Godot engine for this project. This is supposed to be an ULTIMATE version of a **** Wii game. If you really wanted a better experience for Sonic Colors, play it on Dolphin with 60fps boost. Any modern PC or Phone can run it. SEGA, either put one of your owned studios to work or find a capable company that can deliver on quality. **** hell...
Listen, going off tangent here, I've been a Sonic fan since 1991, we had our ups and hard downs. But I'm exhausted of SEGA or **** Iizuka lying to us fans. If SEGA hadn't released Maina, that would've been it for a majority of fans. Unleashed was a breath of fresh air, Colors stabilized the foundation, and Generations put the building blocks of what a good Sonic game can be.

Graphics: Cataract and Glaucoma simulator
Controls: Sonic is literally slower in this version
Sounds: Too loud
Music: Originals are 100% better
Story: Didn't age well
Added Content: Don't even bother its trash

I paid way to much money for this game, and that's coming from a guy who paid $9 for Forces on launch date.

…

Expand