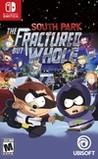 Summary:

From the creators of South Park, Trey Parker and Matt Stone, comes South Park: The Fractured but Whole, a sequel to 2014's award-winning South Park: The Stick of Truth.

Players will once again assume the role of the New Kid, and join South Park favorites Stan, Kyle, Kenny and Cartman in aFrom the creators of South Park, Trey Parker and Matt Stone, comes South Park: The Fractured but Whole, a sequel to 2014's award-winning South Park: The Stick of Truth.

Players will once again assume the role of the New Kid, and join South Park favorites Stan, Kyle, Kenny and Cartman in a new hilarious and outrageous RPG adventure.
In South Park: The Fractured but Whole, players will delve into the crime-ridden underbelly of South Park with Coon and Friends. This dedicated group of crime fighters was formed by Eric Cartman whose superhero alter-ego, The Coon, is half man, half raccoon. As the New Kid, players will join Mysterion, Toolshed, Human Kite, Mosquito, Mint Berry Crunch and a host of others to battle the forces of evil while Coon strives to make his team the most beloved superheroes in history.

…

Expand
Developer:

Ubisoft San Francisco

Genre(s):

Role-Playing

,

General

# of players:

No Online Multiplayer

Cheats:

On GameFAQs

Rating:

M
Please enter your birth date to watch this video:
You are not allowed to view this material at this time.
South Park: The Fractured But Whole - The Farting Vigilante Trailer
South Park: The Fractured but Whole captures the very best of South Park. The creators have woven irreverent and offensive humor seamlessly into an outrageous and entertaining RPG adventure. By making the leap to the Switch, the Coon and Friends can now be played on the go, but at the cost of slower load times. Even so, this is a raunchy superhero epic no fan should miss.

If you're a South Park fan, this is a no-brainer. South Park: The Fractured But Whole may not be the best RPG ever made, but it is so crazy and packed with so much fan-service that a fan can't pass on it.

The Fractured But Whole is an unexpectedly fun casual RPG that's really easy to pick up and play.

South Park The Fractured But Whole is like a 20-hour episode of South Park. A satirical take on superhero films, it looks, sounds and feels the part - for the good and the bad. Essential for fans of the show, not for those that are easily offended. And absolutely not for kids!

The switch version of South Park: The Fractured But-Whole is a great conversion and it shows once and for all that even Nintendo consoles can have games with adult content.

South Park: The Fractured But Whole on the Switch is a flawed game with bugs, small performance issues, and long loading times. While the game is a fun but weaker successor to The Stick of Truth, it doesn't look great in its current state. Even with its flaws, it's still an enjoyable journey, but it's not worth the high price tag until most of the performance issues are addressed in an upcoming patch.
me gusto mucho y lo mejor son las voces en latino
- me gusto mas el sistema de combate de la primera entrega
-me gusto ver a casa bonita enme gusto mucho y lo mejor son las voces en latino
- me gusto mas el sistema de combate de la primera entrega
-me gusto ver a casa bonita en el dlc (muy entretenido)
-recomiendo este juego se divertiran mucho
-( las voces en latino son las originales de la TV)

…

Expand

The game is super fun and very well made. I love south park and having the game on switch makes it easy for me to play. Tho I wish there were

The game is super fun and very well made. I love south park and having the game on switch makes it easy for me to play. Tho I wish there were more jokes and funnier levels. Overall a must buy !

…

Expand

For this price this is absurd. But if you wanna pay this much you will have a fun with this game.

Gameplay is interesting and fun.For this price this is absurd. But if you wanna pay this much you will have a fun with this game.

Gameplay is interesting and fun. Framerate is steady. Graphics are excellent.

…

Expand

I'm not really into South Park, but I found in this game a really well made RPG with great mechanics in a funny setting. Without DLC, it took

I'm not really into South Park, but I found in this game a really well made RPG with great mechanics in a funny setting. Without DLC, it took me close to 30 hours to end the main story and most of the optional quests.
Some loading times are tedious and I found some hiccups. There were some critical glitches (that I never encountered) that were solved in a recent patch.
Recommended if the absurdly heavy political incorrect humor doesn't turn you down.

…

Expand

So much fun. Both gameplay and story. Loving all pop-cultural references. Really well done.

me llamaba la atencion y no lo habia comprado. el juego mantiene toda la escencia de south park. lo que desanima mucho es que tiene muchas

me llamaba la atencion y no lo habia comprado. el juego mantiene toda la escencia de south park. lo que desanima mucho es que tiene muchas ventanas de carga, tiene un glitch en una parte del juego que no me deja hacer una mision con la escort. el juego es muy facil en general. me desanimo que no trajera el stick of true como las otras versiones. en lo general buen juego.

…

Expand

This is a shameless cash grab.

The comedy isn't edgy. It reminds me more of Rug Rats than South Park. I played it for about an hour. MaybeThis is a shameless cash grab.

The comedy isn't edgy. It reminds me more of Rug Rats than South Park. I played it for about an hour. Maybe two hours... I couldn't bear to continue any longer than that... If this was a season of South Park, it would be the worst season.

The game is full of fetch quests. The combat is awful. The map is incredibly boring. Every house looks exactly the same. And, maybe that's part of the joke. But, if so, this particular joke makes the game boring.

Trey Parker obviously has no respect for his creation.

I'm a fan of the show, but it hasn't been great for at least five years. After reading the reviews, I expected this to be higher quality than the past couple of seasons... It isn't.

Having said all that, I'd probably sit through it if it was a show. Same with West of Loathing, which is a much better game... But, I just couldn't be bothered with all the filler in video games any more. Games should be games, which means gameplay. There is no gameplay here. It's just a virtual version of South Park, the town. And, while I get a bit of a thrill interacting with Randy, it's not worth 20+ hours of my time that mostly consists of tedious side quests. It's too long, for the amount of good material in the game. 20 hours: that's like 60 episodes... Fractured doesn't have anywhere near that amount of good material... This is watered down South Park... If they cut it down to one season I might watch it.

Bugger this game. I'm going to download the new Mario & Rabbids Donkey Kong DLC.

…

Expand