Publisher:

Nintendo

Release Date:

Sep 18, 2020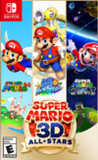 Summary:

Play three of Mario's greatest 3D platform adventures—all in one package. Play three classic games at home or on the go—all in one package on the Nintendo Switch™ system! Jump into paintings in Super Mario 64™, clean up paint-like goop in Super Mario Sunshine™, and fly from planet to planet

Play three of Mario's greatest 3D platform adventures—all in one package. Play three classic games at home or on the go—all in one package on the Nintendo Switch™ system! Jump into paintings in Super Mario 64™, clean up paint-like goop in Super Mario Sunshine™, and fly from planet to planet in Super Mario Galaxy™.

Run, jump, and dive with ease!

Make Mario move using the Nintendo Switch system's Joy-Con™ controllers. You can also pass a Joy-Con controller to a friend to play the Super Mario Galaxy game in Co-Star Mode! Mario's movements are as smooth as ever with HD resolution for each game, while still retaining the look and feel of the originals.

Listen to timeless Super Mario tunes

Listen to a total of 175 iconic tunes from all three games! Whether you want to get up and dance or take a minute to relax—this collection has music to fit your mood!

Discover (or rediscover) three of Mario's most iconic 3D platform adventures, all in one package, available on the Nintendo Switch™ system. Experience Mario's first foray into 3D platforming in the Super Mario 64™ game, originally released in 1996. Wall jump, backflip, and even fly as you explore paintings and collect Power Stars to save Princess Peach!
Soak up the sun in the Super Mario Sunshine™ game, originally released in 2002, and spray the goop away with your water-spouting pal, FLUDD! You'll need to collect Shine Sprites and clear the picturesque Isle Delfino of pollution—just look out for Bowser Jr.
Defy gravity as you explore space in the Super Mario Galaxy™ game, originally released in 2007! Help Rosalina restore her ship by collecting Power Stars and save Princess Peach. Gently shake a Joy-Con™ controller to activate Mario's Spin ability or pass a Joy-Con controller to a friend for some extra help in Co-Star Mode*.
Even when you aren't playing, you can enjoy the sounds that these worlds (and galaxies!) are so famous for. With three games, modern upgrades, and music-player mode, this collection is filled with fun for both new players and 3D platforming Mario masters. Super Mario 3D All-Stars will be available as a limited-run retail edition and a digital edition that is available for a limited time until the end of March 2021.


…

Expand
Developer:

Nintendo

Genre(s):

Miscellaneous

,

Compilation

# of players:

No Online Multiplayer

Cheats:

On GameFAQs

Rating:

E
Please enter your birth date to watch this video:
You are not allowed to view this material at this time.
Super Mario 3D All-Stars - Official Announcement Trailer
Super Mario 3D All-Stars represents the pinnacle of platforming goodness and with perfect ports, as well as top notch optimisation for the console, it's a must-buy. For newcomers, they are getting the chance to experience the timeline of how Nintendo first experimented and mastered the 3D platformer, all the way up to it improving on the formula with each iteration. For stalwarts, it's a great excuse to dive back in and revisit a childhood hero in all his hat-wearing, moustache-twirling glory. Each inclusion has perfect character and level designs, as well as an ever-increasing level of innovation that simply cannot be matched by any other gaming company in the platforming genre. To sum up Super Mario 3D All-Stars in one word? Unmissable.

Super Mario 3D All-Stars is an amazing retrospective that shows us the first few steps that the series took going into three-demensional space. Even in this original form the trilogy easily stands tall among most modern games with it's timeless game design. All we can do now is just appreciate this masterpieces and celebrate Mario's anniversary together.

A collection of 3 marvelous, timeless titles, that could be improved upon a bit further, but still stand strong, defying the test of time. While the price should ironically be more like 35 instead of 60 and the availability should not suffer a six months long deadline, these are still one of the best Super Mario games of all time and nothing can change that. If you can get it - get it.

It is undeniable that Super Mario 64, Super Mario Sunshine and Super Mario Galaxy are 3 titles that border on excellence. However, as a compilation, Super Mario 3D All-Stars is far from perfect.

The three games it encompasses are fantastic, so Mario 3D All Stars is still worth buying. However, Nintendo is, ultimately, coasting off of the back of some amazing work it did more than a decade ago to sell what is ultimately a disappointingly barebones, facile celebration of gaming's most important icon who truly deserves better.

Ninty Fresh Magazine

Dec 21, 2020

Super Mario 3D All-Stars is three masterpiece games in a lacklustre package thanks to poor upgrades, contrived control choices and barely any extra content. [Issue #2, p. 72]

The standalone games themselves of course deserve higher scores, but the way this bundle is published seems very frugal, especially considering the 60 euro price tag that comes with it. In that manner, Nintendo could learn from the honorable and generous ways in which companies like Activision re-release their classics.
I know some people saz its pricy but as someone who didnt plaz this games in full i like all of them are masterpieces so a big 10 from me now

I know some people saz its pricy but as someone who didnt plaz this games in full i like all of them are masterpieces so a big 10 from me now dont mind me going to get a few more stars

…

Expand

This review contains spoilers

, click expand to view

.

I really love, it look like the original games format, but with a difference, now you can enjoy them with a pro controller, a new more easy way to enjoy this classics❤️

…

Expand

Great purist ports of some of the most important and fun platformers of our time.

Compré este juego el dia de lanzamiento en formato físico y en cuestion de gráficos se ve hermoso tanto en handheld cómo en TV, pero a Mario64

Compré este juego el dia de lanzamiento en formato físico y en cuestion de gráficos se ve hermoso tanto en handheld cómo en TV, pero a Mario64 le faltó un ajuste panorámico a la pantalla, fuera de ahí todo lo demás me gustó, en especial los controles que se sienten tan naturales como jugar con el control de la n64.
Jugué muy poco sunshine pero me encantó que en esta colección adaptaran el stick derecho para girar la cámara y galaxy se ve increíble, no lo jugué en la wii asi que no oiedo hacer la comparacion. Faltó el galaxy 2 para considerar completa esta colección. Tanto el menú como la galería para la música/soundtrack de los 3 juegos es de facil acceso y visualmente es genial. Sobresaliente a mi parecer

…

Expand

I made an account to give the score I think it deserves, and hopefully warn people before they buy it that I think its mostly half baked. If

I made an account to give the score I think it deserves, and hopefully warn people before they buy it that I think its mostly half baked. If it wasn't for mario 64 before competent with its texture upscale and being as fun as it was all those years ago it would be average. That doesn't excuse the low effort the put into this. These games don't feel like they are running natively because they use so much power for their age. Why does my switch get hot when I play sunshine...? 64 I wish at least fixed the camera and some controls, it should have higher resolution and run at 60 fps, and why the heck are the additions from 64 DS not here? Are we supposed to forget about that, I know nintendo doesn't expect us to forget about galaxy 2. It needed that game to make it feel worth the asking price. Temporary digital window is seriously scummy, but I can understand the value of the physical copy might not exist if they didn't but these games exist as ports on other systems anyway so it doesn't make sense.
Sunshine is frustrating as hell, even though its good and I was able to see it through, making a lot of sprites mandatory made it way less appealing though. Sunshine even has a bug that existed in 64 where mario gets stuck on an edge. Galaxy also has a bug where he runs in a circle until you stop moving. Its not about preserving them how they are, these are flaws that should be fixed. Make them run natively and 60fps full screen pls Nintendo and include galaxy 2 as a free download, I won't pay extra for it. I also refunded 1 game from you and the customer service is atrocious to me so that's why in light of this release Nintendo really need to pull their heads in and make it up to consumers.

…

Expand

3 solid games, but Nintendo continues to show their greed. They really should learn from Activision when it comes to caring about their

3 solid games, but Nintendo continues to show their greed. They really should learn from Activision when it comes to caring about their classic games. I hope they will remake the Metriod Prime Trilogy in the respectful way, and not like this lazy cash-grab. AGAIN

…

Expand

Scalpers paradise, i cant enjoy the game cause all of the stress i had to deal with scalpers GOD