Publisher:

Nintendo

Release Date:

Feb 12, 2021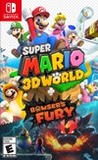 Summary:

The cat's out of the bag, Super Mario 3D World is on to the Nintendo Switch system. Pounce and climb through dozens of colorful stages! Mario (and his friends) can use power-ups like the Super Bell, which grants catlike abilities, like climbing and scratching. Work together locally or online

The cat's out of the bag, Super Mario 3D World is on to the Nintendo Switch system. Pounce and climb through dozens of colorful stages! Mario (and his friends) can use power-ups like the Super Bell, which grants catlike abilities, like climbing and scratching. Work together locally or online with up to three other players to reach the goaland to see who can get a high score. The Super Mario 3D World + Bowser's Fury game features the same great co-op gameplay, creative levels and power-ups as the original game, but also so much more.

…

Expand
Developer:

Nintendo

Genre(s):

Action

,

Platformer

,

3D

# of players:

Up to 4

Cheats:

On GameFAQs

Rating:

E
Please enter your birth date to watch this video:
You are not allowed to view this material at this time.
Super Mario 3D World + Bowser's Fury - Official Overview Gameplay Trailer
This combo package is unskippable. All Switch owners: Own this! [Issue #51 – March/April 2021, p. 69]

To be clear, I'd still wholly recommend this version of 3D World even without Bowser's Fury.

Super Mario 3D World shows why Mario is an ageless franchise, with the seven-year-old game providing fresh fun and a delightful experience. Bowser's Fury is the exact opposite, showing just how exciting and experimental the series can be.

Near-perfect platforming, gorgeous visuals and a joy-filled soundtrack make Super Mario 3D World + Bowser's Fury one of the best Mario titles of all time, and an essential purchase for all Switch owners.

The online multiplayer still leaves us with some doubts, but at its best moments (and they are frequent) 3D World offers an experience difficult to replicate on other platformers, and both the base game and Bowser's Fury make sure all fans find something tailored for them.

Game World Navigator Magazine

Apr 9, 2021

Mario games still set the bar high for all 3D platformers, and Super Mario 3D World + Bowser's Fury is a good remaster of an already excellent game, which will please both newcomers and old-time fans. [Issue#252, p.64]

Super Mario 3D World + Bowser's Fury packs a tonne of engaging gameplay, but neither component comes together as elegantly as it might have done. This is a solid option if you're craving more Super Mario for your Switch, but it's not the moustachioed must-play I was hoping for.
Nada más que decir el mejor juego de Mario en 3d que hay y mi hablar de la belleza del bowsers fury

I love super Mario 3D world Plus Bowser fury it's such a good game I love that they took it from the Wii u and added a new part to the game so

I love super Mario 3D world Plus Bowser fury it's such a good game I love that they took it from the Wii u and added a new part to the game so we can have another game to play and I really like that they called it Bowser's fury I really like what they did to it I really like how they added it with the super Mario 3D world wiiu

…

Expand

A luxurious and high-caliber platform game that has no competition except for other Mario games. The game is already luxurious since the Wii

A luxurious and high-caliber platform game that has no competition except for other Mario games. The game is already luxurious since the Wii U. However, there are impressive improvements such as team play, improving the walking shape of the characters (animation ), adding cooperative play in the missions of captain toad, and the most importantly wonderful addition, which is the two facts of the game Mario is completely independent. It is the addition of the Bowser's Fury game to the very huge world of cats, all of which confirms that it is a good bargain

Sorry for my language

…

Expand

A well done port with new elements + original content in Bowsers Fury. Great game !!!

Bowser's Fury is a Mario Fans dream with a massive open Sandbox of a level to play in (Probably the size of five of the kingdoms from Odyssey

Bowser's Fury is a Mario Fans dream with a massive open Sandbox of a level to play in (Probably the size of five of the kingdoms from Odyssey rolled up into one.) And over 100 thought out Cat Shines to collect. It also puts the Platforming back in Sandbox Mario titles unlike Odyssey that was probably 90% Mindless Collectathon and 10% Platformer. Honestly one of the best Mario experiences I've had in years. As for 3D world, they increased the running speed, added improvements to the game over all, and added a four player online mode for the entire game which is a big deal for Nintendo. There are also some new Captain Toad stages. Giving the Game a 9 because there is also a Death Counter that appears on the main menu of the game after you beat it as a way to say "Hey you beat the game but you died this many times!" To me that feels like a punishment over a reward, I don't want to be reminded of how many times I died in a game every time I boot up the start menu.

…

Expand

Super Mario 3D World è un bel gioco, ma non è al livello degli altri Mario 3d del calibro di Mario64, galaxy o Odissey, sembra una versione

Super Mario 3D World è un bel gioco, ma non è al livello degli altri Mario 3d del calibro di Mario64, galaxy o Odissey, sembra una versione più ispirata di New Super Mario Bros. Detto questo, rimane un buon gioco ma non è assolutamente il miglior platform 3d di sempre, ha molti livelli con buone idee, ma la bassa difficoltà e longevità degli stessi livelli li rende immediatamente dimenticabili. Bowser Fury invece è la vera sorpresa della cartuccia di gioco, per quanto sia una piccola espansione da 4 ore per il 3D World, l'ho trovato molto più divertente e creativo. Per tirare le somme, Super Mario 3D World + Bowser Fury è un buon pacchetto completo che mi ha divertito e sorpreso per diverse ore di gioco.

…

Expand

Super Mario 3d world was my child hood and I loved the game back then and with the enhancements is even better than I remember. The graphics

Super Mario 3d world was my child hood and I loved the game back then and with the enhancements is even better than I remember. The graphics still hold up and just 3d world alone is a master piece but holy **** a moly Bowsers fury is just a whole other "beast". Bowsers fury is a great add on and I feel that if Nintendo were to create a stand alone game similar to bowsers fury but on a larger scale I feel it would be the best Mario game yet. bowsers fury is amazing from the sound track to the gameplay but my only 2 complaints with this port is the price at 60 dollars and the fact that bowsers fury is just a bit too short. Other than that its a masterpiece.

…

Expand