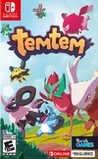 Summary:

Every kid dreams about becoming a Temtem tamer; exploring the six islands of the Airborne Archipelago, discovering new species, and making good friends along the way. Now it's your turn to embark on an epic adventure and make those dreams come true.

Catch new Temtem on Omninesia'sEvery kid dreams about becoming a Temtem tamer; exploring the six islands of the Airborne Archipelago, discovering new species, and making good friends along the way. Now it's your turn to embark on an epic adventure and make those dreams come true.

Catch new Temtem on Omninesia's floating islands, battle other tamers on the sandy beaches of Deniz or trade with your friends in Tucma's ash-covered fields. Defeat the ever-annoying Clan Belsoto and end its plot to rule over the Archipelago, beat all eight Dojo Leaders, and become the ultimate Temtem tamer!

…

Expand
Developer:

Crema Games

Genre(s):

Role-Playing

,

Trainer

# of players:

Massively Multiplayer

Cheats:

On GameFAQs

Rating:

E10+
Please enter your birth date to watch this video:
You are not allowed to view this material at this time.
Temtem - 1.0 Release Date Trailer
If Pokémon it's youir thing, Temtem carries the formula a little bit further, with new elements in combat, MP or a higher level of challenge. It doesn't have the refinement level of Pokémon in certain areas, and it's "always online" component, makes impossible to play it on portable on Switch if the place doesn't have Wi-Fi.

Temtem may look like Pokemon on the surface, but a deep battle system and engaging PvP elements make up for the similarities.

Temtem offers a monster-taming title that has enough to tear us away from the king of the genre, with an attention to detail across all elements from monster design to competitive online battles. With a little more charm, and a few quality-of-life improvements to the solo experience and the MMO aspect, this could be the closest the Pokémon series has ever come to a real challenge to its monster-taming monopoly.

Temtem proves that there is still room for competition in the monster catching and battling space. There's also proof here that games like Digimon or Pokemon, while doing a lot well, leave a lot of things on the table and that's where Temtem shines. It's easy to write it off as a copy-pasted clone, but the additional features of co-op battles, deep synergy combat mechanics, and rich endgame content culminate in a real diamond in the rough for those finding the competitors lacking. The main story content can be rote but for those hardcore fans wanting something deeper, Temtem may be what you're looking for. Temtem is both better and worse than the opposition, and I think that's okay.

Heavily inspired by its model, Temtem poses as a solid alternative to Pokémon, but without the same aura.

Temtem isn't just a copycat Pokémon. Incorporating MMO elements and engaging characters into fan-favourite gameplay is an overwhelming success, with an abundance of addicting endgame content. Unfortunately, Temtem suffers from optimisation issues and needs to present its most captivating features at the forefront rather than behind the MMO grind and a slow main story. I can't deny how much fun it is to play Temtem, it just needs more time and polish to be the best there ever was.

Temtem is enjoyable, pretty, and has cool combat, but it's hardly amazing. It's not unique, nor is it a real MMO.
The issues the game had at launch (so random crashes) have been fixed for a while. The game is a safe purchase, especially when on sale. It's

The issues the game had at launch (so random crashes) have been fixed for a while. The game is a safe purchase, especially when on sale. It's Pokemon if it was good. Absolutely addicting game with an insanely rewarding PVP aspect. No RNG involved and a lot of mindgames. Plus if you like to theorycraft you can do so much, so many wacky strategies.

…

Expand

This game has mechanics similar to Pokemon but it has better combat system and more complex. There is a lot of sinergies and the storyline has

This game has mechanics similar to Pokemon but it has better combat system and more complex. There is a lot of sinergies and the storyline has a good level of difficult. Finally, you can compete and breed your favorite team for online battles.

…

Expand

It's impossible to review this game without mentioning pokemon. However in my opinion this game beats pokemon in most ways. The battlesystem

It's impossible to review this game without mentioning pokemon. However in my opinion this game beats pokemon in most ways. The battlesystem is more focused on strategy, and there is zero RNG involved in batteling, this is essential for a game that wants to be competitive. Temtem has a unique and pleasing design, and most of the creatures look awesome. A small handful of creatures look a little too i spired from pokemon though, but I'd say over 90% of them are totally unique in design. The story is very interesting, and the endgame is huge! There's also alot of humor and charm in this game.

I hope this game sells well, so that the team can get the funds to keep developing their ideas! The only thing I wish to see in future games or updates is better battleanimations, they use very similar animations as pokemon. However this is to be expected with a indie budget.

…

Expand

While I like the game overall, I feel hard pressed to take away a few points for mostly three specific reasons.

1. Balance is sub par,While I like the game overall, I feel hard pressed to take away a few points for mostly three specific reasons.

1. Balance is sub par, overall there are around 30 Temtem that are strong while the rest are either bad in all situations or useful only in specific situations/encounters. I expect that since the full release is here, the dev team may work on balancing what is mostly specific Temtem that may need some help with their kit synergizing with available skills.

2. Right now the game is a bit of a buggy mess on the switch. It will crash on average once an hour and I will get one out of a variety of bugs around every half hour. None of this is all that gamebreaking as I have still been able to play, it just gets annoying.

3. The story is overly obsessed with pronouns and falls completely flat in just about every way. This would have made me reduce my review even more but they included a skip button so I can just ignore all of it and enjoy the rest of the game. It still does make it for a tedious grind however where story level after a point in the game ends up completely out of sync in terms of level where some "trainers" are 20 levels over the content in the regions while others are two levels under it.

Overall, if you are looking for a pokemon alternative, this game is fine. On the other hand if you are on the fence on spending for this game or saving for the next pokemon game, I would suggest you save your money until a lot of the bugs and a bit of the balance get patched out.

…

Expand

Temtem is a mmo "gotcha monsters" rpg with good ideas, and makes real strategic differences with it's core rival. Creatures have good design

Temtem is a mmo "gotcha monsters" rpg with good ideas, and makes real strategic differences with it's core rival. Creatures have good design and the lore (history, geography, cultures, politic, economy...) is impressive and makes the universe pretty credible in some way.

But the game (in french) is also a big gender theory propaganda. In the first minute of the game, you meat your rival, an agender person that everyone will design with the pronoun "they" (iel in french) and for that, it's already a red card for me. Plus, the economic model is just to greedy. The game is totaly unplayable offline (here is the second red card for me) and you have to pay the game + monthly online subscription. And the only way to """unlock""" some cool visual stuffs is to buy a season pass + microtransaction for daily and weekly overpriced others visual stuffs (ex : ~10€ for an avatar animation).

More specificaly about the Switch version, the game is totaly broken. I play the game in cooperation and we experience a crash every 30 min plus there is a lot of framerate drop. Also, maybe it's the Switch screen fault, but colors turn in an ugly yellowish ton.

The game is cross save, so you can continue your progression on all the platform you want if you buy it on the platform you want to play (no cross buy). But you have to choose what platform will be the "main platform" and what will be the "secondary platform". So your progression will be attached at the first platform. I choose the Switch for the "main platform" and I regret it, but no change is possible now.

In conclusion, there was so much potential, but dev's have to keep their ideological convictions at home and get out their hands of my wallet. I can't advice to buy the game for kids.

…

Expand

Did not enjoy the grinding in this game compared to similar titels. Does not feel respectful of the players time. But the battle system is

Did not enjoy the grinding in this game compared to similar titels. Does not feel respectful of the players time. But the battle system is really enjoyable

…

Expand

It's Pokémon but worse and MMO. Which means it has all the problems of being an MMO rpg, and being an online game on a portal console. It's a

It's Pokémon but worse and MMO. Which means it has all the problems of being an MMO rpg, and being an online game on a portal console. It's a decent game, but because of like pokemon and it being online only there isn't a single reason to buy it on switch. Buy it on PC, buy it on PlayStation. If you want a Pokémon experience off Nintendo consoles this is the game to get, but on Nintendo Consoles, you should skip this one.

…

Expand