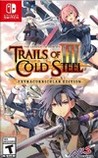 Summary:

The end of the civil war led to the turning point of a new era for the Erebonian Empire. Centering on Rean Schwarzer as the Ashen Chevalier, the young man who came to be seen as a hero within the country, a new story of young heroes will unfold.
Developer:

Falcom, Engine Software

Genre(s):

Role-Playing

,

Japanese-Style

# of players:

No Online Multiplayer

Cheats:

On GameFAQs

Rating:

T
Please enter your birth date to watch this video:
You are not allowed to view this material at this time.
The Legend of Heroes: Trails of Cold Steel 3 Dungeon Gameplay On Switch
For those willing to invest in playing through or reading into the first two entries, Trails of Cold Steel 3 is an unmissable experience. RPG fans of all kinds are sure to fall for this love letter to the genre. Meaningful side-quests, an engaging combat system, and a story that makes something amazing out of what could easily be a simple routine: these elements represent only a fraction of Cold Steel 3's achievements. The performance isn't flawless, but portability and lengthy RPGs go hand-in-hand, making this a must-own title on Switch.

Despite some hiccups, the Switch port of The Legend of Heroes: Trails of Cold Steel III is an overall solid version of a wonderful RPG experience. The more people who get the opportunity to try the Cold Steel series out as a result of this Nintendo Switch port, the better!

The Legend of Heroes: Trails of Cold Steel III is one of the best JRPGs ever made and this Thors Academy Edition is a wonderful treat for fans of the franchise so if you enjoy adventuring with Rean then you'll treasure this very special package.

Trails of Cold Steel III is another great port to add to Nintendo Switch's library, but if you haven't played the previous two games (not available on Switch), you can miss important story details. If that's not the case, be ready for a long adventure that will leave you wanting more... and in the middle of an interesting cliffhanger.

Trails of Cold Steel III is a very ambitious game in terms of plot and lore but it really couldn't be no other way in this series. If the fans will be delighted to mire in the game's content, improved interface and combat system, it's also not any less true that Trails of Cold Steel III can feel intimidating for players unfamiliar with the series, and as such they might not enjoy this effort as much as long-time fans, who will find a long-lasting work to wrap themselves with.

Besides some shortcomings on the technical side, this port for Nintendo Switch is an excellent opportunity to recover a long-lived and engaging title, certainly not suitable for all palates, but a perfect transition between what has been and what the saga will be.

As a mid-chapter of a long-branching narrative, The Legend of Heroes: Trails of Cold Steel III doesn't really slow down for new players. If you're patient with the game's unique passing, tough, you may find an engaging combat system and tons of content to enjoy.
This is a good PS4 to Switch port. Framerate is stable with only minor graphical adjustments (aliasing). The game itself lends itself well to

This is a good PS4 to Switch port. Framerate is stable with only minor graphical adjustments (aliasing). The game itself lends itself well to portable play, which is how I prefer to experience these games after playing the first two on PS Vita.

…

Expand

This is a complete experience for JRPGs fans, the combat system, quests, history and characters are all awesome, but the graphics isn't worth

This is a complete experience for JRPGs fans, the combat system, quests, history and characters are all awesome, but the graphics isn't worth of this current generation, and the switch version has many problems. Despite of this is a must have for any fan of the JRPG genre, and one of the best games of nintendo switch.

…

Expand