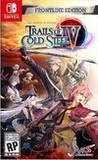 Summary:

The Erebonian Empire is on the brink of all out war! Taking place shortly after the ending of Trails of Cold Steel III, the heroes of Class VII find themselves against the full force of the Empire in an attempt to stop its path of total domination. Further, the hero of the Erebonian Civil

The Erebonian Empire is on the brink of all out war! Taking place shortly after the ending of Trails of Cold Steel III, the heroes of Class VII find themselves against the full force of the Empire in an attempt to stop its path of total domination. Further, the hero of the Erebonian Civil War and Class VII's instructor, Rean Schwarzer, has gone missing. Now, the students of Class VII, old and new, must unite with heroes from all over the continent to create the only chance the world has to be spared from total destruction.

…

Expand
Developer:

Falcom

Genre(s):

Role-Playing

,

Japanese-Style

# of players:

No Online Multiplayer

Cheats:

On GameFAQs

Available On:

Stadia

Rating:

T
Nintendo Force Magazine

May 17, 2021

As a finale, Trails of Cold Steel IV sticks the landing on almost all fronts, and shows Falcom's dedication and ambition in weaving an overarching narrative throughout the Trails games. [Issue #52 – May/June 2021, p. 75]

The Trails of Cold Steel saga has gradually become a mainstay of the JRPG genre. This last chapter concludes the series in an intelligent, sumptuous and hilarious way, as per tradition.

The Legend of Heroes: Trails of Cold Steel IV is massive. It's massively fun and massively rewarding. Fans of JRPGs can get delightfully lost in its deep story, its numerous characters, and its battle system that provides a ridiculous amount of options for customization. Just make sure you've played Trails of Cold Steel III (and have at least read up on I and II).

The only real flaw of the title is the inability to fully understand the complex and exciting story told by Nihon Falcom without first completing the previous eight episodes of the saga. A problem that on Nintendo Switch is further aggravated by the non-publication of the indispensable Trails of Cold Steel I and II.

A long game, with a lot of investment on its plot and an improved combat system, it may not look the best but its simple visual outlook won't be an issue for longtime fans. Although not all its elements are essential, those who were looking forward to the conclusion of the series will be more than satisfied with Trails of Cold Steel IV.

Overall, Trails of Cold Steel IV is a great portable experience but a subpar one docked. Having experienced Trails of Cold Steel I and II originally on PS Vita before replaying them on PS4, I'm glad that fans of portable gaming can now play the entire Trails of Cold Steel saga on the go. Trails of Cold Steel IV brings Falcom's massive JRPG to a portable for the first time offering a great experience when played in handheld mode and it is easily one of the best JRPGs on the system.

Series fans will enjoy this game no matter what. But if you are a series fan, I'm assuming you've already played it on PS4. If you're looking to buy it on another platform, the evidence stacks up in favour of the PC version because of the Switch's downgraded graphics and lack of achievements unless you really want that handheld portability. If you're not a series fan yet, then go back to page 1 and start at the beginning. This game will not make a lick of sense to you.
Game drags on for too long and dialogues are repetitive, gameplay hasn't improved from the previous games and is easier than ever even on the

Game drags on for too long and dialogues are repetitive, gameplay hasn't improved from the previous games and is easier than ever even on the highest difficulty

…

Expand