Publisher:

Nintendo

Release Date:

Sep 20, 2019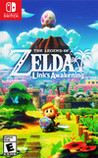 Summary:

[*Reviews will go up on September 19 at 5am Pacific] 26 years after its original release on Game Boy, The Legend of Zelda: Link's Awakening will be reborn as a new experience on Nintendo Switch. Buffeted by a storm, Link washes ashore on the mysterious Koholint Island. In order to return

[*Reviews will go up on September 19 at 5am Pacific] 26 years after its original release on Game Boy, The Legend of Zelda: Link's Awakening will be reborn as a new experience on Nintendo Switch. Buffeted by a storm, Link washes ashore on the mysterious Koholint Island. In order to return home, Link must overcome challenging dungeons and battle against fearsome monsters. This new version of the classic adventure includes many unique elements that appeared in the original Game Boy release, such as 2D platformer-style rooms and appearances from characters outside of The Legend of Zelda series.

…

Expand
Developer:

Nintendo, GREZZO

Genre(s):

Action Adventure

,

Open-World

# of players:

No Online Multiplayer

Cheats:

On GameFAQs

Rating:

E
Please enter your birth date to watch this video:
You are not allowed to view this material at this time.
The Legend of Zelda: Link's Awakening Remake - Official Announcement Trailer
I found playing through a modern imagining of this classic to be almost perfect. While it doesn't reinvent the franchise or break convention, it never acts like it wants to. There's something comforting about returning to a world like this: to know its every corner, to recognize its colorful cast, to feel truly lost in the experience.

When I go to give Link's Awakening to someone else, would I recommend this version? Is this the game I want my kids to play? And yes. It is. Absolutely.

Slight gripes with the new engine and the old source aside, this is still Link's Awakening: one of the best Zelda games to date.

The Legend of Zelda series is known for its quality across both consoles and handhelds, with the latter often standing out for their uniqueness within the franchise as a whole. The Legend of Zelda: Link's Awakening was a shining example of that on the Game Boy and once again proves why it deserves to be talked about among the best in the series with its remake on the Nintendo Switch.

The Legend of Zelda: Link's Awakening is a loving remake of a decades-old game remake with just enough modern touches to make it worth playing again. Graphical overhaul aside, it's perhaps a little too faithful to the original, while additions like the dungeon-builder are a bust. Newcomers get to experience one of the quirkiest games in the series, but for those who've played through it multiple times, there's little reason to play other than nostalgia or adoration - both of which are perfectly good excuses to return to Koholint.

A game that feels like its 20-year old predecessor, but with improvements and additions that truly make a difference. Despite a constant sense of déjà vu, the shortcomings of the game's newest playable mode and the framerate issues, Link's Awakening is a game coming straight from our dreams.

Unless you find this one on sale, do yourself a favor and grab Link's Awakening DX instead. You'll have the same game, minus the Chamber Dungeon, and updated graphics and still have plenty left over to get some other excellent titles.
Siendo un super-fanático-enférmo de PlayStation, debo reconocer el gran trabajo de Nintendo creando este Remaster, sin duda una gran obra.

Es is ein echt cooles game was einfach nur Spaß macht. Perfekt fürs mehrfach zocken.

Simplesmente maravilhoso, encantador, fascinante.
As horas voam quando se vai de cabeça no game, assim como décadas atrás.
Jogo sofre comSimplesmente maravilhoso, encantador, fascinante.
As horas voam quando se vai de cabeça no game, assim como décadas atrás.
Jogo sofre com quedas de frames, é verdade, normalmente em transição de telas apenas no mundo superior, mas não tira o charme que esse Zeldinha tem!
Jogar com um fone de ouvido, coloca a coisa toda em outo nível, onde se poder ver o trabalho maravilhoso da trilha muito bem ambientada.
É um jogo obrigatório pra todos os donos de Switch!

…

Expand

The game is awesome.. I played it today I'm really excited to play some more... my daughter and I are enjoying it

グラフィックがフィギュア調で可愛くやってて飽きない作品でした。 フレームレートが変わるのはちょっと気になりましたがよく出来てた作品です。任天堂にはこのグラフィックで他のリメイクを作って欲しいです

グラフィックがフィギュア調で可愛くやってて飽きない作品でした。 フレームレートが変わるのはちょっと気になりましたがよく出来てた作品です。任天堂にはこのグラフィックで他のリメイクを作って欲しいです

Overall, great remake of the classic gameboy game. My only gripe is they kind of went overboard with the cutesy looking art style -- that and

Overall, great remake of the classic gameboy game. My only gripe is they kind of went overboard with the cutesy looking art style -- that and the overly ostentatious violins (really? violins?) make the repetitive overland theme even more annoying than usual.

…

Expand

Es sin dudas uno de los remakes mas flojos que he visto en la saga Zelda, el estilo artístico es horrendo y parece una maqueta de plástico, la

Es sin dudas uno de los remakes mas flojos que he visto en la saga Zelda, el estilo artístico es horrendo y parece una maqueta de plástico, la duración del juego es incluso menor que la del juego original siendo uno de los Zelda's más cortos, además de las continuas y molestas caídas de frames que arruinan la experiencia, A Link Between Worlds es un mejor remake sin duda, este me ha decepcionado.

…

Expand