Publisher:

Nintendo

Release Date:

Jul 16, 2021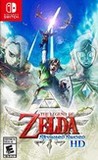 Summary:

Take to the skies, draw your sword, and experience the earliest story in the Legend of Zelda series. Join Link in his high-flying quest to save Zelda, a childhood friend who must confront her destiny. Soar between floating islands and descend to the treacherous surface world in this updated

Take to the skies, draw your sword, and experience the earliest story in the Legend of Zelda series. Join Link in his high-flying quest to save Zelda, a childhood friend who must confront her destiny. Soar between floating islands and descend to the treacherous surface world in this updated HD version of the Legend of Zelda: Skyward Sword. Master realistic swordplay that matches your movements. Swing your sword and angle your slashes to uncover and break through opponents' defenses using intuitive motion controls. Link will match the angle of each strike you make with the Joy-Con controller, creating immersive swordplay that relies on strategy and accuracy. Movements feel smoother and more immediate thanks to the Nintendo Switch system's increased processing power and HD graphics. Take advantage of the newly-added button only control scheme—perfect for playing in handheld mode or on the Nintendo Switch Lite system.

…

Expand
Genre(s):

Action Adventure

,

Open-World

# of players:

No Online Multiplayer

Cheats:

On GameFAQs

Rating:

E10+
Please enter your birth date to watch this video:
You are not allowed to view this material at this time.
The Legend of Zelda: Skyward Sword HD - Overview Trailer
The Legend of Zelda: Skyward Sword HD improves on the original in every conceivable way. The visual and performance upgrades make it feel like a new game, and the motion controls feel much more responsive, thanks to the Switch's Joy-Cons. But the new button controls are the biggest improvement; instead of fighting against the motion controls, players can now savor the satisfying combat and genius level design. What was once the outcast of the 3D Zelda games now stands tall as one of the best in the series.

For those who didn't enjoy Skyward Sword because of the motion controls, it's worth picking up to experience the title in a much more enjoyable control scheme. This isn't even to mention the overall fantastic gameplay, characters and story that make it well worth getting for those reasons along. The Legend of Zelda: Skyward Sword HD is not only the best way to enjoy this title, but hopefully will be remembered more fondly thanks to welcome adjustments and improvements that make an already wonderful entry in the long-running series even more wonderful.

An improved technical aspect, new features that make it easier to play, new contents and hours of fun are the main points to take into account to get a game that will please both fans of the saga and those who want to get started.

I understand that $60 for a remaster of a 2011 game is a big ask. But this is the definitive version of a flawed yet fun adventure that should be part of any Zelda rotation.

While not every design choice has aged as gracefully as its gorgeous art style and incredible dungeons, the implementation of a wide range of improvements ensures The Legend of Zelda: Skyward Sword HD remains a memorable adventure worth experiencing on the Nintendo Switch.

Skyward Sword HD gives one of the most misunderstood Legend of Zelda games a second chance. It's an under-appreciated gem, one that finds the space to really breathe with a more reliable and relaxing method of control embedded within it. Skyward Sword has its fair share of problems, but it makes up for many of them in moments of true brilliance and defiance against established series conventions. Say what you will about Skyward Sword, but it's good to be out on an authored adventure with Link again – saving Hyrule one inventive dungeon and challenging boss battle at a time.

No reviewer on earth enjoys scathing a Zelda-game. More often than not they are grand cru-games players are willing to wait years for. Ever since BOTW we've been given crumbs while waiting for the much awaited sequel through remasters and remakes. 'Link's Awakening' scratched that itch. Skyward Sword HD does not. Spoler alert: in the year 2021 motion controls are still horrible.
Unfortunately ports are a target for review bombing so the user score probably won't be that reliable as people who haven't played the game

Unfortunately ports are a target for review bombing so the user score probably won't be that reliable as people who haven't played the game will just give it a 0.

I'm a few hours in and really enjoying the game though. The art style really holds up and this is such a great version of Zelda (the character I mean). I love her design and she's quite funny. The quality of life features make the experience noticeably better.

I also really appreciate that I can use a gamepad. Joycon drift is a big headache so I just couldn't handle playing with joycons.

Having tried the original version on wii just a few months ago I can definitely say this is hands down the best version of the game. Better control options, less annoying tutorials/pop up messages, visually it's far nicer (the old wii version looks awful on modern tvs), autosaves, camera controls etc. It really is a massive improvement.

Is it better than breath of the wild? personally not at all. botw has a lot more to offer but skyward sword is full of charm and it's a fun adventure. I'd definitely recommend it.

…

Expand

A great Zelda game! Has everything that a fan of the series will love. Great world, great music, funny npcs, rewarding sidequests,

A great Zelda game! Has everything that a fan of the series will love. Great world, great music, funny npcs, rewarding sidequests, collectables! Amazing dungeons. Really nice story. This Zelda has it all!

…

Expand

10 years ago The Legend of Zelda: Skyward Sword released to typical critical acclaim from the media, but an unusually mixed fan reaction for

10 years ago The Legend of Zelda: Skyward Sword released to typical critical acclaim from the media, but an unusually mixed fan reaction for the series - and it has been the fan reception that has stuck with this game in the years since. That was mostly fair, there were definitely a number of issues with this game such as a very prolonged intro, no option to not use motion controls, a broadly empty sky world which seemed like it could have been so much more, and a particular annoying repeated boss, to name a few. Furthermore, the game was unusually linear for a Zelda game, with very little focus on exploration and more on environmental puzzle solving for progression, with the surface world areas essentially playing like dungeons in themselves. This felt like the opposite of what the fanbase wanted at that time - a large-scale exploration-based game with less of an emphasis on motion controls, as the craze about these had died down. Skyward Sword seemed like a dated game on release, rather than a groundbreaking game in one of their most beloved series.

One important thing has happened in the Zelda series since Skyward Sword, and that is of course the release of Breath of the Wild, the Zelda game of many's dreams. With this game, pushing firmly opposite to the direction proposed by Skyward Sword, the future of the Zelda series as an open-world adventure rooted in exploration seems secured.

And so we come to Skyward Sword HD. With this game clearly not indicating the direction of the series, we can perhaps view this game in its own right. The critical praise of Skyward Sword did not come from nowhere - there was always a lot right with this game:

- The dungeon design was the best in the series, with some interesting ideas such as a dungeon which you largely traverse on a large boulder floating through lava, and general novel puzzle solving.
- The dungeon design was helped by an interesting set of items including the return of some classics (e.g. bombs, bow and arrow etc.) and some new ones (e.g. a mechanical beetle that you obtain early on). Included are some new ways to use familiar items, such as the ability to roll bombs like a bowling ball, which add a few fresh puzzle and combat ideas.
- Surface world level design, while linear, keeps focused and you are not running through large areas of empty space often.
- The addition of a stamina wheel allowing you to run faster and climb higher objects than in previous games.
- The ability to upgrade many of the items you obtain throughout the game giving the game more of an RPG-lite flavour than some previous Zelda games.
- Fun sidequests up in the sky area give you some downtime can break up the more linear, focused action on the surface world.
- A story that, while not fantastic, has its moments and is a suitable beginning to the Zelda timeline

And then the HD version has made several key improvements, some of which directly address issues with the game:
- It looks visually pleasing. They haven't done much modelling work so the geometry is jagged but the increased resolution and the more defined textures do wonders, and the geometry isn't particularly jarring in the surreal painterly style of Skyward Sword.
- 60 FPS. People's mileage seems to vary on this, but for me 60 FPS is world's better than 30 and to see Skyward Sword as the first ever 3D Zelda game officially running at this framerate is a big deal for me and dramatically improves the experience.
- The addition of button controls. These are unintuitive at times as ultimately the game was designed to be played with motion controls, but they do the job and provide an option for those who are not interested in motion controls (or want to play handheld, another feature this port naturally adds)
- Several quality of life additions, such as faster text skipping, cutscene skipping, less interruptions from your partner, auto-saving and so on. These serve to greatly increase the pace of gameplay, if you're keen to progress quickly the game is going to stop your flow a lot less now.

Some of the issues of the game are more inherent and have not been addressed, but by improving the overall QoL they are less problematic than remembered. Furthermore, in a world where now we are saturated with open world games, the old-school linear action-adventure gameplay may be refreshing (if it's to your taste), as they really do not make games like this anymore.

The way I see this remake, I think this is a second chance for Skyward Sword. Selected improvements have been made to the experience to enhance it, motion controls are no longer mandatory, and perhaps most importantly, we have the context that the more ground-breaking experience of Breath of the Wild 2 is on its way. With that said, this may be an opportunity to enjoy Skyward Sword for what it is, rather than for what it is not. I thoroughly enjoyed my time with it, and if you have the right expectations, there's a good chance you can too.

…

Expand

The Legend of Zelda Skyward Sword HD est un excellent jeu. Un jeu qui a tout le potentiel de se refaire une seconde jeunesse via cette sortie

The Legend of Zelda Skyward Sword HD est un excellent jeu. Un jeu qui a tout le potentiel de se refaire une seconde jeunesse via cette sortie sur Nintendo Switch.

Le choix d'avoir soit le motion gaming pour jouer comme il a été initialement pensé ou aux boutons, permet à tous d'y joué. Bien que le jeu ait 10 ans, excepté quelques défauts graphiques, ce lissage HD lui fait le plus grand bien.

L'aventure qu'il nous conte, d'une grande importance pour la licence. Narrant la genèse de bien des éléments essentiels de la série. Il offre une très bonne expérience de jeu, via des donjons et des énigmes très les plus travaillé.

Pour ceux qu'ils l'ont déjà fait sur Wii il n'est pas essentiel, mais pour les autres vous pouvez y aller.

Avis complet >> https://www.geekexperience.fr/tag/avis/

…

Expand

There are some things I like, such as the atmosphere, the characters... I guess, but there are also some things I really don't like about this

There are some things I like, such as the atmosphere, the characters... I guess, but there are also some things I really don't like about this game, one of them being the thing that ruins this game for me, the controls, the motion controls make this game tedious and I also really don't like the button controls either, having to do the same boss 3 different times all of them being pretty much the same thing is also pretty lame, there are other things I like and things I don't but I don't really feel like writing them out, the game is OK.

…

Expand

Boss battles are a pain in the a.. even after you somewhat got over the bad control scheme. There is nothing that really prepares you for them.

Messy port with poor controls. It simply doesn't work. Unbearable, **** camera and joycon tracking. I can't take it anymore. For full-price

Messy port with poor controls. It simply doesn't work. Unbearable, **** camera and joycon tracking. I can't take it anymore. For full-price release it's ripoff. Worst Zelda experience ever.

…

Expand