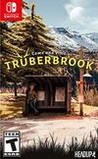 Summary:

Trüberbrook is a mystery-sci-fi adventure game. Enjoy an adventurous vacation to a 1960's parallel universe. A Sci-Fi-Mystery Adventure Game with handmade scenery. Imagine yourself on a vacation to Europe in the late sixties. Now, picture yourself as a young American scientist; Hans

Trüberbrook is a mystery-sci-fi adventure game. Enjoy an adventurous vacation to a 1960's parallel universe. A Sci-Fi-Mystery Adventure Game with handmade scenery. Imagine yourself on a vacation to Europe in the late sixties. Now, picture yourself as a young American scientist; Hans Tannhauser. While you're at it, think of Trüberbrook, a remote village in rural Germany. Because, that's where you end up after hitting the continent. But who cares, you won the trip in a lottery! Or at least, that's how it seems. But don't fear, instead of getting some rest, you could find yourself having to save the world …

…

Expand
Developer:

Merge Games

Genre(s):

Adventure

,

General

# of players:

No Online Multiplayer

Cheats:

On GameFAQs

Rating:

T
Trüberbrook's cast of colorful characters and its presentation are truly a delight, which help to elevate the proceedings. The only problem I had on the gameplay side was, quite frankly, a rather big one. The title's inventory system could use a bit of a tune-up to make it fully come into its own. If you can overlook these problems, Trüberbrook offers up fun moments all the way through.

This game has a few sizable issues that hold it back from greatness. But for genre fans, Trüberbrook succeeds thanks to its sci-fi plot, quirky voice-acted characters, and exceptional aesthetics.

While Trüberbrook suffers from a handful of technical issues and some occasionally sluggish gameplay, the story, atmosphere, and dry humour make for a largely enjoyable experience. However, if you don't already love point-and-clicks, this one won't change your mind.

Trüberbrook only manages to surprise in its visual section, but does not innovate in mechanics or story. Its bugs do not help either.

I wanted to enjoy Truberbrook but mediocre frustrating gameplay can only be helped so much by amazing art. I can only recommend it to people who absolutely love point and click games and don't mind being bogged down by major gameplay issues.

There aren't many games that look as cared for as Trüberbrook, and it would be so nice if you could embrace the game in a way that feels like it justifies the incredible amount of hours that must have gone into it. The unfortunate fact, however, is that this game may have been better served if even a little of the innovation that went into making it had shown up on the gameplay side.

Truberbrook's handcrafted backdrops are strikingly beautiful, and its delightful to see such craftmanship woven into a video game. When it comes to the rest of the experience, though, there's very little to sing praise about. As a point-and-click adventure, this fails woefully. As a story-driven mystery, it tediously chugs along without offering anything of substance. Die-hard point-and-click gamers might be able to find some signs of life, but for everyone else there's little here to admire beyond the handcrafted environments.
Amazing craftsmanship. I didn't experience any bugs. The puzzles made me feel smart!

The game looks great and the story was OK for the genre. However there are problems with controls and movement. Puzzles are sometimes just

The game looks great and the story was OK for the genre. However there are problems with controls and movement. Puzzles are sometimes just guesswork and the game is too short although it contains really long parts where you're just watching the movie. It looks like it was rushed a bit. Maybe their next project will be a better game

…

Expand

"This bucket seems to be hung here for purely decorative reasons" If any piece of dialogue sums up Trüberbrook, it's this one. I desparately

"This bucket seems to be hung here for purely decorative reasons" If any piece of dialogue sums up Trüberbrook, it's this one. I desparately wanted to enjoy this game, as a fan of stop motion and interesting art styles, as a fan of sci-fi and a fan of story driven games. Unfortunately, I can't recommend it. As a game I would score it 3, but I added an extra point for the exceptional art style and lighting.

However, underneath the beautiful visuals there is zero substance. The "puzzles" feel like they belong more in a free to play escape room game, than £35 worth of "Suspence! Mystery! Thrills!" as advertised, and while it claims 7-10 hours of gameplay, really it is closer to 6. And if you manage to get 7+, those extra hours are spent wandering through locations until you click the right thing at the right time. In terms of gameplay, it's tedious guesswork of what click will move the action forward. Ultimately though, the biggest disappointment with this game is the story. Trüberbrook feels like the ambitious project that got rushed to completion, or given up on. While many characters are interesting, relatable and humorous, the plot points and stages feel unfinished, isolated and don't gel together in a believable way. It is as if each location, it's objects and it's NPCs were created before the story was completed, with no idea how they would intertwine. The result is, they don't. The idea and concept was fresh and exciting, the visuals are stunning throughout, however the execution of this as a game failed drastically and made for a overall disappointing experience.

…

Expand