Publisher:

Capcom

Release Date:

May 26, 2017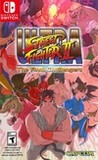 Summary:

Street Fighter II, the game that defined the fighting game genre in the 1990s, is back on the Nintendo Switch. The newest iteration of SFII in nearly 10 years features all of the classic characters, a host of new features, as well as two new fighters; Evil Ryu and Violent Ken. Features a

Street Fighter II, the game that defined the fighting game genre in the 1990s, is back on the Nintendo Switch. The newest iteration of SFII in nearly 10 years features all of the classic characters, a host of new features, as well as two new fighters; Evil Ryu and Violent Ken. Features a stellar line-up of characters, including all the original fighters and bosses, the characters added in Super Street Fighter II, plus new additions Evil Ryu and Violent Ken. Choose between classic pixel-art graphics for a retro nostalgia trip, or enjoy a refined new modern look. Use the Joy-Con to challenge a second player anytime, anywhere. Pull off flashy super combos and show your opponent who the strongest is around. In addition to versus action, you can now team up with a friend to take on a CPU opponent.


…

Expand
Developer:

Capcom

Genre(s):

Action

,

Fighting

,

2D

# of players:

2

Cheats:

On GameFAQs

Rating:

T
Ultra Street Fighter II: The Final Challengers delivers a lot of fun, even if the overall package could stand to have some room for improvement. The Way of the Hado mode is mere filler, but the core game is an absolute blast. Using either the original or revamped art works well, and you can alternate between each style along with changing the music from the original to remixes before a full gameplay session. Controlling it with the regular JoyCon setup on either the tablet or the grip works shockingly well – even though the split d-pad is far from ideal. Using the left stick feels natural, and you don't need to rush out and buy a Pro controller to enjoy the full experience.

The idea of bringing a Street Fighter game on the go is great, specially when you have the possibility to share the experience with someone else. While not perfect it offers a fun an addictive experience while playing with friends.

Despite having few novelties and being the most complete version of Street Fighter II to date, the specific additions for the occasion just do not excite us.

Ultra Street FIghter II is truly the ultimate version of the game. It has a new look, a lot of fan service, tons of modes, and new characters. It is a shame the Switch controller just was not made for fighting games.

There's no argument that the gameplay in Ultra Street Fighter II: The Final Challengers is timeless. It strikes the right balance between technical flash and grounded mechanics to provide an experience that captivates all types of fans, whether they're jumping into fighting games for the first time, stopped playing from Street Fighter III onward, or never stopped playing fighting games. The various extras, however, feel half-heartedly done. From the Buddy Battle mode to the abysmal Way of the Hado, few things feel fully fleshed out, while parts of the presentation fare worse than the work Backbone Entertainment did almost 10 years ago. At least the online works fine this time around, which may be enough to entice some players. With a price tag of $40, the game represents a very steep cash grab, so unless you're adamant about getting Street Fighter II on the Switch, it's best to wait for a sale or a price drop.

The Final Challengers isn't the deluxe reissue that it should've been, but it's still a solid enough version of Street Fighter II that lends itself well to portable play.

The first-person Way of the Hado mode is garbage.
Sí es caro, pero no por eso deja de ser un juegazo. Es el de siempre, con poco nuevo, un online que va bastante fino y un sistema de

Sí es caro, pero no por eso deja de ser un juegazo. Es el de siempre, con poco nuevo, un online que va bastante fino y un sistema de matchmaking bien ajustado. Vicio sin fin.

…

Expand

This game is fun. I was hesitant about paying 40 USD for this game but I was not dissapointed. i don't care about way of the hado or the

This game is fun. I was hesitant about paying 40 USD for this game but I was not dissapointed. i don't care about way of the hado or the dramatic battle part. Those are just OK bonuses.
Fun part with this is to play online. I used the Wii-U USB-lan adapter instead of WIFI and it works tremendously well.
I like the little balance changes since Super Turbo, though Capcom should have a look and do some additional balance changes.
In short buy this game, buy this game. It's a lot of fun

…

Expand

Nostalgia Game Play, cose che Sonary e 2000 non possono capire come lo fu Street Fighter 2 :D ecco che un nuovo capito fa epoca! votare

Nostalgia Game Play, cose che Sonary e 2000 non possono capire come lo fu Street Fighter 2 :D ecco che un nuovo capito fa epoca! votare negativamente questo lavoro è da ciechi. Dopo 25 anni posso staccare il super nintendo dal salotto e sfidare finalmente gli amici ad un picchiaduro degno del nome.

Grazie Capcom! sai fare bene una sola cosa! STREET FIGHTER 2 :D gli altri capitoli sono cacca :D

…

Expand

Cette version Switch est la bienvenue sur une console en manque de jeu de combat, et c'est justement ce qui le sauve car il brille par son

Cette version Switch est la bienvenue sur une console en manque de jeu de combat, et c'est justement ce qui le sauve car il brille par son classicisme. Si les graphismes "remake HD" sont de bonnes factures, le jeu original n'en n'est pas moins inchangé. Les animations des décors quant à elles n'ont pas été retravaillés. Bref, on classera cet énième opus "Ultra aux côtés des Super, Prime, Turbo,etc...

Ce que j'ai aimé (+) :
- LE vrai Street Fighter sauce HD
- Les level soundtracks bien revisités
- Evil Ryu et Violent Ken
- Le mode Online

Ce que je n'ai pas aimé :
- Où sont les Bonus Stages ?
- La musique "remasterisée" lors de la sélection des personnages.
- Les animations des décors, deux ou trois images en boucle... c'est peu en 2018 !
- Les fins toujours aussi médiocre avec 2/3 images fixes...
- La voie du Hado inutile, sans profondeur ni intérêt.

Pour résumer, un jeu qui bénéficie de la pauvreté de la logithèque du genre sur Switch, et surtout de la nostalgie des joueurs Nintendo. Bref, une référence sur Switch qui se fera vite oublier et c'est dommage !

…

Expand

Overall a pretty good game, I'll summarize my thoughts below

positive: You can switch between Classic and HD Visuals and Sound Full ArtOverall a pretty good game, I'll summarize my thoughts below

positive:
You can switch between Classic and HD Visuals and Sound
Full Art Gallery
Option to create custom colors for characters
Arcade mode isn't nearly as cheap as Super Turbo
Joycon works surprisingly well
Training mode is helpful
Online works great
Runs with no issues in handheld mode
Doesn't drain much battery

negatives:
New characters are very unbalanced
Way of The Hado's motion controls barely work
Game costs $40 which is expensive for an SF2 port
Can get boring as it's based off an old Street Fighter engine

Final thoughts:
Maybe wait for a price cut before buying this one. If you're a fan of Street Fighter, especially the older versions of the game, you'll probably love it. This is also great for playing on the go. Happy 30th Street Fighter!

…

Expand

Ultra Street Fighter II no deja de ser otro refrito que pretende ser la definitiva del clásico y genial juego original. Sin embargo, está a

Ultra Street Fighter II no deja de ser otro refrito que pretende ser la definitiva del clásico y genial juego original. Sin embargo, está a años luz de ser la mejor versión.
Switch y su concepto de consola híbrida necesitaban un clásico de los juegos de lucha en su catálogo que logra lo que prometía: volver a echar unas pachangas al Street Fighter y ahora sin necesidad de estar conectados al televisor. Sin embargo y como primer fallo, falta el modo Torneo, un clásico en lo que a juego colectivo se refiere. Hubiera sido un acierto meter el torneo entre las funciones del juego.
Por otra parte, como experiencia individual sigue siendo genial, sin embargo, faltan las fases de bonus, algo que se echa en falta desde luego.
En lo que al balance de personajes respecta, el daño, las debilidades, las potencias... han sido reediseñados para una mayor experiencia y se nota, aunque los ataques de Zanguief y T. Hawk siguen siendo letales en cortas distancias.
En cuanto a la inclusión de nuevos modos, tenemos dos principales. El Modo 'Camino del Hado' es una buena propuesta, pero mal ejecutada. No jugarás más que los 5 primeros minutos de prueba, a no ser que consigas coger el tranquillo al mal control de los joy-con (cosa que no pasa en otros juegos en los que el control es impecable). Por otra parte, el modo de combate dúo que no es más que el Dramatic Battle visto ya en la saga Street Fighter Alpha, nada nuevo.

En resumen: otro Street Fighter II que mejora un par de cosas y se olvida de otras tantas. Hace aguas.

…

Expand

el peor beat em up hasta la fecha no tiene sentido que saquen esto, no es mas que otro refrito sin novedades, para jugar a una recreativa de

el peor beat em up hasta la fecha no tiene sentido que saquen esto, no es mas que otro refrito sin novedades, para jugar a una recreativa de hace 30 años....
el precio es desorbitado 40€ por un juego que no vale ni 1 solo € un timo y veo que nintendo se rie de sus usuarios una vez mas horrible......

…

Expand