Publisher:

Capcom

Release Date:

May 26, 2017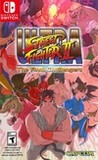 Summary:

Street Fighter II, the game that defined the fighting game genre in the 1990s, is back on the Nintendo Switch. The newest iteration of SFII in nearly 10 years features all of the classic characters, a host of new features, as well as two new fighters; Evil Ryu and Violent Ken. Features a

Street Fighter II, the game that defined the fighting game genre in the 1990s, is back on the Nintendo Switch. The newest iteration of SFII in nearly 10 years features all of the classic characters, a host of new features, as well as two new fighters; Evil Ryu and Violent Ken. Features a stellar line-up of characters, including all the original fighters and bosses, the characters added in Super Street Fighter II, plus new additions Evil Ryu and Violent Ken. Choose between classic pixel-art graphics for a retro nostalgia trip, or enjoy a refined new modern look. Use the Joy-Con to challenge a second player anytime, anywhere. Pull off flashy super combos and show your opponent who the strongest is around. In addition to versus action, you can now team up with a friend to take on a CPU opponent.


…

Expand
Developer:

Capcom

Genre(s):

Action

,

Fighting

,

2D

# of players:

2

Cheats:

On GameFAQs

Rating:

T
Ultra Street Fighter II: The Final Challengers delivers a lot of fun, even if the overall package could stand to have some room for improvement. The Way of the Hado mode is mere filler, but the core game is an absolute blast. Using either the original or revamped art works well, and you can alternate between each style along with changing the music from the original to remixes before a full gameplay session. Controlling it with the regular JoyCon setup on either the tablet or the grip works shockingly well – even though the split d-pad is far from ideal. Using the left stick feels natural, and you don't need to rush out and buy a Pro controller to enjoy the full experience.

The idea of bringing a Street Fighter game on the go is great, specially when you have the possibility to share the experience with someone else. While not perfect it offers a fun an addictive experience while playing with friends.

Despite having few novelties and being the most complete version of Street Fighter II to date, the specific additions for the occasion just do not excite us.

Street Fighter 2 remains a good game, whatever incarnation it appears in, but the new modes add nothing (and are bad) and it's far too expensive. A conundrum, then, and one only you can decide if you're willing to pay out for.

Nintendo Force Magazine

Jun 23, 2017

While I don't think that Ultra Street Fighter II will set anyone's world on fire, I got some enjoyment out of it. [Issue #28 – July/August 2017, p. 73]

It needs to be said once more that Ultra Street Fighter 2: The Final Challengers isn't a bad game – it really isn't. But it's a game that's been making rounds since the early 90's, with a port that feels eerily familiar to a version that first arrived roughly nine years ago on Xbox 360 and PS3. Then there's the price point of $39.99 USD, which feels more like a gouging than anything nearly reasonable.

The first-person Way of the Hado mode is garbage.
Clasicazo donde los haya me recuerda a cuando era un niño e intentaba aprenderme todos los combos de Riu y ahora en Switch, además me lo puedo

Clasicazo donde los haya me recuerda a cuando era un niño e intentaba aprenderme todos los combos de Riu y ahora en Switch, además me lo puedo llevar por ahí y jugar dos y Online...MI MADRE QUE LOCURA!!!

…

Expand

Excelente juego, el hecho de cambiar a los gráficos tradicionales me parece muy bien, el modo online anda muy bueno con jugadores de tu misma

Excelente juego, el hecho de cambiar a los gráficos tradicionales me parece muy bien, el modo online anda muy bueno con jugadores de tu misma región, no he tenido problemas con el mando dock, 100% recomendado para los amantes del juego de peleas.

…

Expand

I love this game so much. It is one of my favorite games on the Switch.

The new graphics are very welcome. It helps this game stand on itsI love this game so much. It is one of my favorite games on the Switch.

The new graphics are very welcome. It helps this game stand on its own and feel like a new experience, while the ability to switch back to classic graphics allows it to be nostalgic as well.

The "Way of the Hado" mode was actually fine. If you hate motion controls, don't play it. It's as simple as that. There is nothing wrong with it, at first, it felt broken and confusing, but once I messed with the settings a bit, things worked wonderfully. Just don't expect this to be a major part of the game. I probably spent 2% of my many hours on Ultra Street Fighter II playing this mode. If this mode is a major factor in your decision to buy it, you are going to be disappointed. If you hate motion controls, don't let that keep you from this game. This should have absolutely nothing to do with your purchase of the game.

The new "Buddy Battle" mode is pretty fun. I found myself playing it at times when I didn't have access to the internet or when a friend was sick of losing to me. Again though, it's not a major factor in the game. I probably spent 5% of my time playing this mode.

Now that that's all out of the way, its time to get into the core gameplay. This game is built off of Super Street Fighter II, the most popular version of Street Fighter II, which came out in the 90's. So, at its core, it's not exactly a "new" game, but closer to a remastered 90's game with a crazy amount of new features. Hardcore fans have long had a problem with how unbalanced SFIITurbo was, but I'm pleased to say that that has been almost entirely repaired for Ultra Street Fighter II. E. Honda's infinite grab loop has been removed, Vega's claw no longer regenerates, and a host of other problems have been removed. The new characters, Evil Ryu and Violent Ken are pretty fun. Sure, they're not that different, but in Street Fighter, it is normal for "new" characters to just be different versions of already existing characters, or characters with very similar move-sets to other characters. I really love Evil Ryu, he is like Akuma, but without the air-hadoukens. Instead, he has two "unique moves". The one I especially like is a jumping kick that can only be blocked while standing. This kind of move is very rare, and very useful. He is also balanced quite differently than Akuma and Ryu. I do have a problem with Violent Ken however. I think he is just too overpowered. He is crazy fast, his shoryuken can be followed up by another shoryuken, a combo that will take away around a third of your opponent's health. His shoryukens also do damage on the very first frame after the command is entered. This means it is nearly impossible to do a reversal against. Being so overpowered, it makes playing online difficult. When the game was new, everything was fine, but now that there are less players online, like %60 of players online are Violent Ken shoryuken spammers, which gets very old, very fast. The controls aren't perfect, but it's not necessarily because there is something wrong with the game, but just that it's Street Fighter. Its controls are so complicated that it's easy for people to blame mistakes and imperfections in their commands on the game. Now, hardcore Street Fighter players have always been picky about controls, and most will tell you that you cannot play with a control stick. I can say however that I have absolutely no problem playing with the joy-con controllers in the grip. It may have something to do with the fact that the joy-con's control sticks are smaller than the average control stick, meaning you can input a direction in a shorter time than with the average control stick. This comes in really handy with Street Fighter. Although, many long-time fans still think that you need a D-pad to play, and the Switch's directional buttons work well enough. If you're a really hardcore player and you feel like you need a D-pad, I would recommend either a Nintendo Switch Pro controller or an 8bitdo gamepad, which are now compatible with Switch.

I understand that many people believe that this game is overpriced at USD $40, but after enjoying it for 125 hours, I can safely say it was worth every single penny. Heck, after getting so addicted to it, $40 dollars was a bargain. For months it was the main game I played, and if I ever have a dry spell of new games I'm interested in, I'll probably go right back to Ultra Street Fighter II. It's an excellent game. Think about it. Street Fighter could very well be the very best fighting game, and many fans will tell you that Street Fighter II is the very best version of Street Fighter. Being the definitive edition of Street Fighter II, it is not at all far-fetched to say that Ultra Street Fighter II is the greatest fighting game ever made.

…

Expand

Cette version Switch est la bienvenue sur une console en manque de jeu de combat, et c'est justement ce qui le sauve car il brille par son

Cette version Switch est la bienvenue sur une console en manque de jeu de combat, et c'est justement ce qui le sauve car il brille par son classicisme. Si les graphismes "remake HD" sont de bonnes factures, le jeu original n'en n'est pas moins inchangé. Les animations des décors quant à elles n'ont pas été retravaillés. Bref, on classera cet énième opus "Ultra aux côtés des Super, Prime, Turbo,etc...

Ce que j'ai aimé (+) :
- LE vrai Street Fighter sauce HD
- Les level soundtracks bien revisités
- Evil Ryu et Violent Ken
- Le mode Online

Ce que je n'ai pas aimé :
- Où sont les Bonus Stages ?
- La musique "remasterisée" lors de la sélection des personnages.
- Les animations des décors, deux ou trois images en boucle... c'est peu en 2018 !
- Les fins toujours aussi médiocre avec 2/3 images fixes...
- La voie du Hado inutile, sans profondeur ni intérêt.

Pour résumer, un jeu qui bénéficie de la pauvreté de la logithèque du genre sur Switch, et surtout de la nostalgie des joueurs Nintendo. Bref, une référence sur Switch qui se fera vite oublier et c'est dommage !

…

Expand

Una buena ocasion para llevar encima uno de los mejores clasicos de la historia de los juegos de lucha. Por lo demas, un juego sencillo que no

Una buena ocasion para llevar encima uno de los mejores clasicos de la historia de los juegos de lucha. Por lo demas, un juego sencillo que no aporta nada más aparte de la nostalgia

…

Expand

Nos guste o no Street Fighter II es uno de esos juegos que se resisten a morir. Un clásico que llega a Switch con una jugabilidad tradicional

Nos guste o no Street Fighter II es uno de esos juegos que se resisten a morir. Un clásico que llega a Switch con una jugabilidad tradicional y la posibilidad de llevarte el juego a cualquier lugar. Con esto dicho, es un juego que no ofrece nada significativo.

Lo Bueno:

- Jugabilidad clásica con un buen lavado de cara.
- Varios modos de juego.

Lo Malo:

- El Way Of The Hado es menos que mediocre.
- Los nuevos personajes son todo menos nuevos.

…

Expand

el peor beat em up hasta la fecha no tiene sentido que saquen esto, no es mas que otro refrito sin novedades, para jugar a una recreativa de

el peor beat em up hasta la fecha no tiene sentido que saquen esto, no es mas que otro refrito sin novedades, para jugar a una recreativa de hace 30 años....
el precio es desorbitado 40€ por un juego que no vale ni 1 solo € un timo y veo que nintendo se rie de sus usuarios una vez mas horrible......

…

Expand