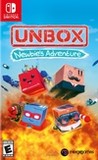 Summary:

Unbox is a 90s style 3D platformer about the ultimate postal service, self-delivering cardboard boxes! Unbox has giant worlds full of challenges, collectibles and boxy boss battles!
Please enter your birth date to watch this video:
You are not allowed to view this material at this time.
Unbox: Newbie's Adventure - Release Date Trailer
If you're a really, really, really, big fan of 3D platforming games like myself, you'll get enjoyment out of Unbox: Newbie's Adventure. But with it, you'll find frustration. I'm not in a rush to come back to it and find everything, despite all of the awesome content it has hidden in the game, purely because I felt the game wasn't ready to be shipped (no pun intended… just kidding, it's impossible to avoid these!). If you're a fan of 3D platformers that are polished to perfection as in the Super Mario series, I don't think you'll enjoy this game. It's got a niche for sure. But it's a nice-looking game. The music is pretty and the worlds are fun to explore for awhile. I think that it's a little short if you're not planning to collect everything, so if you want a quick 3D game to explore, give it a try. Don't expect it to be a package that delivers though.

A nice adventure that has a lot of technical issues and some control problems.

Unbox gets everything right in theory, but fails to actually deliver on the majority of its goals. The character design, the core 'unboxing' mechanic, and the collecting side to the game could have been great but there are just too many problems standing in the way for it to be truly successful. We can't help but feel that the game just needed an extra dose of love and attention on the technical side of things because, if that was at the standard of the creativity and fun of the characters and ideas, it would have been a great experience and a whole lot of fun. As it stands, it might not be quite worth your time.

It's hard to recommend Unbox: Newbie's Adventure on Switch. It's a good game don't get me wrong, but with the Switch Tax in full effect from the Steam/PS4 versions, and with Mario Odyssey just around the corner, it's best to either grab this on another platform, or wait for a heavy discount if portability is a must for you.

Unbox: Newbie's Adventure does have appealing factors, such as a breadth of challenges and large sprawling hubs; however, the game is somewhat let down by poor visuals coupled with frustrating platforming sections that can often go wrong by no fault of your own. Unbox has released in a year where mascot platformers have returned with a vengeance, and unfortunately cannot stand toe to toe with them.

Unbox: Newbies Adventure is a rough 3D platformer which is let down by poor controls and repetitive gameplay, whilst there are charming characters and fun multiplayer, the game's flaws are glaring and hard to overlook. Unless you have an innate hatred for Italian plumbers I can't recommend this game to anyone looking for something to scratch the platforming itch.

There are bugs (because of course there are), and very long loading times, but on the plus side there is a multiplayer mode. On the downside I never managed to actually get someone to play this with me. They took one look at the single player game, with all its misfiring attempts at nostalgic glory, and begged me to play something else instead.
Love the cute box character customisation and funky music. It's a fun game and it's not as expensive as most Switch games!

Cute game, nicely displays on the switch, i really like the graphic it looks like a well made 3d platform game. Its good to explore as well as

Cute game, nicely displays on the switch, i really like the graphic it looks like a well made 3d platform game. Its good to explore as well as play the story. I also let my friend kids have a go and they really enjoyed it. Also a low price which is great as many switch games are very expensive, there needs to be more cheaper ones.

…

Expand

Unbox: Newbie's Adventure is a lackluster 3D open world platformer on the Nintendo Switch.
Unstable framerates and poor controls combine toUnbox: Newbie's Adventure is a lackluster 3D open world platformer on the Nintendo Switch.
Unstable framerates and poor controls combine to make it nearly unplayable. There isn't really any engagement with the player, so despite what seems to be a variety of things to find and do, I have zero desire to find or do them.
If the Switch store offered refunds, I would have requested one.

…

Expand