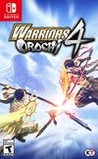 Summary:

A collaboration starring heroes from DYNASTY WARRIORS and SAMURAI WARRIORS. A roster of 170 playable characters! Five new characters - Zeus, Athena, Ares, Perseus, and Odin join the battle. Introducing "Magic" to the series, you can now experience even more thrilling and intense Musou Action.
Warriors Orochi 4 is a celebration of Koei Tecmo's Warriors series, and it's a great game to pick up for those interested in some good old hack-and-slash goodness. With its record-breaking roster of characters and some new gameplay mechanics, this is one adventure that is divinely entertaining.

Warriors Orochi 4 has an incredible character diversity, easy to understand gameplay, good mechanics and an intriguing story. Unfortunately, the Nintendo Switch version has performance issues, affecting the whole package.

Warriors Orochi 4 is ambitious and it's directed at fans of the Dynasty Warriors and Samurai Warriors series. This is where Warriors Orochi 4 stands out the most, as it gives fans an enjoyable and competent gameplay and an immense amount of content to explore. Pity for the visual disappointment, as the game is not living up to its full potential on the Nintendo Switch and it's also not very beginner-friendly, as it can put off those who do not follow the series.

It's not for everyone, but Warriors Orochi 4's multitudinous hordes can be pleasurable to sweep through, despite the game feeling by-the-numbers in many ways. This is simply more, and while fans might be able to forgive the bland presentation, we'd wager that non-devotees would have a much better time with the Zelda or Fire Emblem spin-offs – with the characters, settings and accoutrement you know and love helping to temper the monotony when you're not quite 'in the zone'.

A disappointing entry that proves itself incapable of overcoming the issues of its forebears - Warriors Orochi 4 is, simply put, a relic.

While the massive roster will please fans, the similarities between characters, the convoluted story, the barebones RPG elements, and the technical issues make Warriors Orochi 4 a low point in an otherwise fun series. There's so much potential with Warriors Orochi 4; unfortunately, the latest installment misses the mark on so many of the shots that it takes.

Omega Force touts a fresh story, new mechanics, and a massive cast of characters but this is yet another Warriors title that succumbs to the series' repetitive hack 'n' slash formula despite signs of passion from its developers.
For people new to the Musou/Warriors series, this is a good installment to start with. It contains almost every Dynasty Warriors and Samurai

For people new to the Musou/Warriors series, this is a good installment to start with. It contains almost every Dynasty Warriors and Samurai Warriors character. The samurai characters have their full hyper-attack which gives them a big advantage in mobility and power, especially as you start adding elements to your weapons.

Unlike Dynasty Warriors, there is no weapon switching so if you don't like Daqiao's twin rods you won't even want to play as her. The new characters are a decent addition but all play like Dynasty Warriors characters and so fail to measure up to the samurai. The story is fair, but with such a large cast nobody really gets a chance to shine.

Note that while you can customize your weapons with elements, you have to find the powerful 'gold' ones and weapon fusion is gone. All characters' musou attacks have been shortened and weakened, and the samurai lose the window of invincible action they got in previous games. The addition of magic attacks alleviates this somewhat, but feels incomplete. If you haven't played the other games in the series you won't mind, but if you have you will regret the number of small things that are no longer there.

I played it until beating every mission and unlocking every character, but went back to playing Warriors Orochi 3 Ultimate because that game felt like it had better staying power. This is a good action game, but other games do most aspects better and the story fails to measure up to Orochi 3. It plays fine on the Switch, but gamers with a PS4 will want to buy it on that because frame-rate is higher, the computer spawns more and slightly more aggressive enemies.

…

Expand