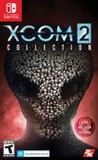 Summary:

Ignite a global resistance and reclaim Earth from alien occupation in XCOM 2 on Nintendo Switch. The XCOM® 2 Collection includes the award-winning strategy game XCOM 2, four DLC packs (Resistance Warrior Pack, Anarchy's Children, Alien Hunters, Shen's Last Gift) and the War of the Chosen

Ignite a global resistance and reclaim Earth from alien occupation in XCOM 2 on Nintendo Switch. The XCOM® 2 Collection includes the award-winning strategy game XCOM 2, four DLC packs (Resistance Warrior Pack, Anarchy's Children, Alien Hunters, Shen's Last Gift) and the War of the Chosen expansion all in one package. Activate any of the additional content (DLCs and the Expansion) or just play the base game.
XCOM® 2:

Aliens rule Earth, promising a brilliant future for mankind while secretly hiding a sinister agenda. As the leader of a guerrilla force facing impossible odds, you must ignite a global resistance to eliminate the alien threat and save the hum race from extinction.
XCOM® 2: War of the Chosen:

This expansion adds extensive new content in the fight against ADVENT including new Hero classes, powerful new enemies, as well as new missions, environments and increased depth in strategic gameplay.

FOUR DLC PACKS:
Resistance Warrior Pack: Customize your squad of resistance fighters with a set of bonus outfits and head gear, as well as custom armor and face camo.
Anarchy's Children: This rebellion-themed content pack introduces more than 100 new exotic customizations for the entire arsenal of armors available to your XCOM soldiers. These options are purely cosmetic and do not alter the stats of a soldier.
Alien Hunters: Transform the soldiers of XCOM into an elite alien hunting squad with impressive new weapons and armor to face off against new alien Rulers that will pursue your squad across an entire campaign. Additional cosmetic upgrades to soldiers and the Avenger are included, as well as a new epic mission where Central Officer Bradford leads a squad with the guidance of an old friend.
Shen's Last Gift: Investigate ADVENT's "Lost Towers" facility where Chief Engineer Lily Shen accompanies your squad in search of her late father's secretive final project. Discover a unique new soldier class complete with powerful new combat abilities, strategy mechanics, and customization options.

…

Expand
Developer:

Firaxis Games

Genre(s):

Strategy

,

Turn-Based

,

Tactics

# of players:

No Online Multiplayer

Cheats:

On GameFAQs

Rating:

T
The world's best turn-based tactical game makes its way to the Switch mostly intact, ready to entertain and frustrate fans once again, this time on the go.

XCOM 2 Collection is bursting with a treasure trove of awesome content that you can enjoy the fantastic SRPG gameplay within. Also, although it suffers from some performance issues, being able to play it portably is a welcome treat.

XCOM 2 on the Nintendo Switch is the complete package, including all DLC and the War of the Chosen expansion. Tactical gaming on the go will cost you a little graphical fidelity and a few frames, but in the war against the Elders, it's a small price to pay.

XCOM 2 is a great option for anyone looking for an entertaining turn-based strategy game on Nintendo Switch today. Mind you, it is a challenging game, which is why perhaps less experienced players can go through some issues while playing the main campaign.

The XCOM 2 Collection on the Switch is an OK port of a great game and its expansion. If you can look past the mediocre performance, what lies underneath is undoubtedly excellent and fun. Since any XCOM game can be a time sink, the ability to have it available on the go can be a mighty strong draw. If you're a fan of the game or genre without other means to play it, this is certainly a solid way to do so. If you are able to play it elsewhere, you should decide if the downsides of this port outweigh its portability.

XCOM 2 on Switch is a functional, enjoyable port that falls prey to some of the weaker hardware offered by Nintendo. If you can look past all the performance issues and long-ish load times, XCOM 2 continues to be one of the best strategy games ever published.

XCOM 2 is a wonderful strategy game, but the Switch version makes it frustrating to play what can already be a pretty stressful campaign in the best of circumstances. It felt like I was spending more time waiting for the game to load or process than I was actually playing, and eventually I just ended up with a strong urge to redownload it on Steam and play it there instead. Since XCOM 2 is entirely turn-based, the poor performance doesn't really have an effect on the gameplay, so if you can put up with it then the game is still just as good as it ever was. I couldn't really put up with it, though, so sadly this is one Switch port that really drags down an otherwise excellent game.
Simply the best. the technical issues are overall minor, and mostly involve a kind of slow load that isn't really that slow at all.

amazing game if you're into turn-based stuff. i am so i love it.
the switch version doesn't run perfectly, there is some pop-in and otheramazing game if you're into turn-based stuff. i am so i love it.
the switch version doesn't run perfectly, there is some pop-in and other glitches, but nothing game-breaking. load times are comparable to the ps4 version if not slightly better (it might just be wishful thinking, the point is it's bearable, at least ca. 10 hours in). framerate drops are very frequent, especially in the more "crowded" missions - if that bothers you then the rating should be appropriately lower for you.

…

Expand

This is XCOM 2 on a handheld. That alone is worth the price of admission. Let alone the bargain of War of the Chosen on this as well. If you

This is XCOM 2 on a handheld. That alone is worth the price of admission. Let alone the bargain of War of the Chosen on this as well. If you enjoyed Mario and Rabbids then this is way more intensive. So many bells and whistles in XCOM it'll make your head spin. Highly recommend for any Fire Emblem and M+R fan.

Only two things take away from this experience. Loading times and frames. Yes the graphics are heavly downgraded as this is a current gen game after all. But the frames still dip massively during cutscenes. Which is weird as they are prerendered so it shouldn't dip like that. It is most likely loading in the background and taking a hit while it does this. So it does take away from the "moment" when these scenes happen. Hopefully a patch comes out to fix it?

The biggest sacrifice is the loading times. Sooooooooo looong. If you loaded up a mission and started reading this review. I'm sure it'll still be loading by the time your done. Fastest I've seen is 40 seconds and that's rare. Close to 2 mins on average for each mission. Granted this is on handheld and not on the dock so maybe it's faster. This game isn't for everyone. If you're not a turnbased guy run away. This is literally turn based: the game. It's tactical like Fire Emblem/M+R. But if you didn't like those this won't change your mind. It's way more advanced (in my opinion) than the other two games mentioned so this won't convert people. But for those who love this style you are in for hours and hours and hours of gameplay and massive amounts of replayability. I've clocked in around 200 hours on steam and soooo happy it's out for Switch. I'm fine with the frame dips and contempt with the loading times. As this is XCOM 2 on the go

…

Expand

What a great game on a console that sorta doesn't fit it. I can't tell if it's a problem with the console or the game port itself because I

What a great game on a console that sorta doesn't fit it. I can't tell if it's a problem with the console or the game port itself because I know XCOM is a well-regarded game that's tough but enjoyable and fun. I love the game itself but it's hard to get past the parts that impede gameplay genuinely.

But I didn't know that it came with so many memory leaks that apparently have still never been resolved. If you think the devs even tried to look at this before bringing it to the switch, you'd be wrong , it seems.

Some PC players say if your computer is strong enough, it shouldn't take too much of a hit but you notice the glitches on the switch pretty quickly -- options disappearing, bodies shifting or being misplaced, load files being corrupted, crashes, etc.

This is something I definitely should have waited to see reviews before buying but I got too excited and ahead of myself.

Literally made an account just for this review. Shell out some extra money on PC. It's worth it there, maybe some mods can help save the leaks and glitches.

…

Expand

My biggest fear was that the Switch would not be able to handle XCOM 2, let alone with all of its DLC and the War of the Chosen expansion. I

My biggest fear was that the Switch would not be able to handle XCOM 2, let alone with all of its DLC and the War of the Chosen expansion. I have the PS4 version and it's problematic--Ironman is non-functional and the game constantly crashes. Yet it's one of those things I've put up with for years because you really can't get an XCOM experience anywhere else (no, not even with Final Fantasy Tactics, Fire Emblem, or Mario + Rabbids). Unlike other turn-based strategy games, XCOM is an arms race against the enemy--it does not allow you to grind your levels until you are ready, and if you are unprepared, the game will punish you for it harshly, yet the game is extremely simple and easy to grasp. No other game (outside of maybe Civilization, which is made by the same people) has given me a comparable experience.

I'm happy to report that the Switch version of XCOM 2 is far more stable than the PS4 version, enough so that I would feel comfortable starting an Ironman campaign. It has a few graphical downgrades (lighting and textures), but I can't imagine anyone plays XCOM for its graphical fidelity. Load times on Switch are far shorter than on other consoles, although I notice that people are still upset by the load times--obviously, this isn't going to run like a high-end PC on Switch, but I assure you it's far better here than on the PS4. I've played 20 hours so far and I've only had one crash (my save game was not deleted, as it often was in the PS4 version after a crash, hence why Ironman was unplayable). The worst problem I've had is that the saved character pool gets deleted whenever you start a new game, which I'll admit is a big issue as I like to populate my XCOM game with friends and family.

Really, the biggest draw is that you're playing XCOM 2 handheld. There are occasional bugs and framerate dips, and the graphics are downgraded, but all of the content is there in full. If you require a stable FPS and a pristine coat of polish, your best bet is the PC game, but as far as console versions go, the Switch version feels much better optimized than the PS4 version.

EDIT: I have confirmed that the Sharpshooter class has a bug with the Squadsight ability not activating unless you save and reload the game. This is a passive ability that comprises the entire purpose of the Sharpshooter class, and it's frankly an inexcusable issue. I've reduced my score from a 9 to a 4 in light of this bug--I still recommend XCOM 2 on Switch for people like me that will put up with bugs to play their favorite games, but this particular bug needs a patch ASAP. I'll put my score back to 9 if and when the bug is patched.

…

Expand

This is one of my all time favorite franchises but there are a couple massive bugs that are inexcusable for a release. The worst being the

This is one of my all time favorite franchises but there are a couple massive bugs that are inexcusable for a release. The worst being the custom character creation which is a massive part of what makes xcom special.

If you create custom characters only thr name and nationality will save after your next load up. I made 30 characters which are all useless thanks to this issue.

The other major issue is that far site doesn't work on snipers rendering the class next to useless. I hope a patch comes out quickly as this game is currently broken in my eyes.what a shame.

Performance is acceptable for those curious. Much of the charm also remains intact.

…

Expand

The game is functional but the frame drops were horrific for me. Load times are excruciating too. I beat the entire game and any time any

The game is functional but the frame drops were horrific for me. Load times are excruciating too. I beat the entire game and any time any character is moving or your camera is moving, frame rates dip. I'm not complaining about like a sub-30 framerate; I mean sub *ten* frames. It's a persistent frustration throughout the whole game that makes it impossible for me to recommend.

…

Expand