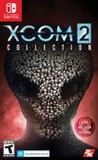 Summary:

Ignite a global resistance and reclaim Earth from alien occupation in XCOM 2 on Nintendo Switch. The XCOM® 2 Collection includes the award-winning strategy game XCOM 2, four DLC packs (Resistance Warrior Pack, Anarchy's Children, Alien Hunters, Shen's Last Gift) and the War of the Chosen

Ignite a global resistance and reclaim Earth from alien occupation in XCOM 2 on Nintendo Switch. The XCOM® 2 Collection includes the award-winning strategy game XCOM 2, four DLC packs (Resistance Warrior Pack, Anarchy's Children, Alien Hunters, Shen's Last Gift) and the War of the Chosen expansion all in one package. Activate any of the additional content (DLCs and the Expansion) or just play the base game.
XCOM® 2:

Aliens rule Earth, promising a brilliant future for mankind while secretly hiding a sinister agenda. As the leader of a guerrilla force facing impossible odds, you must ignite a global resistance to eliminate the alien threat and save the hum race from extinction.
XCOM® 2: War of the Chosen:

This expansion adds extensive new content in the fight against ADVENT including new Hero classes, powerful new enemies, as well as new missions, environments and increased depth in strategic gameplay.

FOUR DLC PACKS:
Resistance Warrior Pack: Customize your squad of resistance fighters with a set of bonus outfits and head gear, as well as custom armor and face camo.
Anarchy's Children: This rebellion-themed content pack introduces more than 100 new exotic customizations for the entire arsenal of armors available to your XCOM soldiers. These options are purely cosmetic and do not alter the stats of a soldier.
Alien Hunters: Transform the soldiers of XCOM into an elite alien hunting squad with impressive new weapons and armor to face off against new alien Rulers that will pursue your squad across an entire campaign. Additional cosmetic upgrades to soldiers and the Avenger are included, as well as a new epic mission where Central Officer Bradford leads a squad with the guidance of an old friend.
Shen's Last Gift: Investigate ADVENT's "Lost Towers" facility where Chief Engineer Lily Shen accompanies your squad in search of her late father's secretive final project. Discover a unique new soldier class complete with powerful new combat abilities, strategy mechanics, and customization options.

…

Expand
Developer:

Firaxis Games

Genre(s):

Strategy

,

Turn-Based

,

Tactics

# of players:

No Online Multiplayer

Cheats:

On GameFAQs

Rating:

T
The world's best turn-based tactical game makes its way to the Switch mostly intact, ready to entertain and frustrate fans once again, this time on the go.

XCOM 2 is, at five years old, a stone cold classic. The XCOM 2 Collection on the Switch may have some technical issues, with framerate and resolution being the most prevalent, but having the ability to play this amazing title on the go far outweighs any problems you might experience. Let's be real; you aren't playing XCOM 2 for the graphics anyhow. All of the strategy, depth and fun is accounted for here. Highly recommended.

The XCOM 2 Collection is a great addition to the Switch library with its strategic gameplay and intriguing storyline. While there are some issues with framerate drops scattered throughout the massive campaign, this is still a title fans of the genre will love to play on the go.

Regardless of your history with the series, the XCOM 2 Collection is an enticing offer for strategy fans. With the game bundled together with its sizeable War of the Chosen expansion, plenty of DLC and the option of playing while on the toilet, this is probably the best way you can choose to play XCOM 2.

If you're looking for a great turn-based strategy title, XCOM 2 Collection is a fantastic option. However, it's a little hard for me to fully recommend the Switch version due to the numerous performance issues I encountered. But if you can look past these, or if you're lucky enough to avoid them altogether, XCOM 2 Collection provides one of the best strategy experiences on the Switch.

XCOM 2 is a challenging and engrossing turn-based tactical shooter, and seeing it running on the the Nintendo Switch is very impressive. However, there are a number of performance issues here, including immersion-shattering frame rate drops and frustratingly long loading times. There's no doubt that XCOM 2 is best played on a PC with a keyboard and mouse, but if the Switch is your only gaming platform then this is still a worthwhile buy, albeit an expensive one.

XCOM 2 is a wonderful strategy game, but the Switch version makes it frustrating to play what can already be a pretty stressful campaign in the best of circumstances. It felt like I was spending more time waiting for the game to load or process than I was actually playing, and eventually I just ended up with a strong urge to redownload it on Steam and play it there instead. Since XCOM 2 is entirely turn-based, the poor performance doesn't really have an effect on the gameplay, so if you can put up with it then the game is still just as good as it ever was. I couldn't really put up with it, though, so sadly this is one Switch port that really drags down an otherwise excellent game.
Simply the best. the technical issues are overall minor, and mostly involve a kind of slow load that isn't really that slow at all.

Since this review is not about comparing the Switch to other hardware, I'll just write down how I feel about this game on Switch.

To me theSince this review is not about comparing the Switch to other hardware, I'll just write down how I feel about this game on Switch.

To me the game was awesome and fun. When the screen was very crowded, the frame rate would drop big time, but since this is not an action game, the impact is none.

I customized all characters to look like my relatives and having none of them killed just increased the fun. Having characters named after my children and brothers made the experience a lot more fun.

The game goes on sale on regular base and is definitely worth the cash.

Definitely a must have for people who like tactics/strategy.

…

Expand

Long load times, and some downgraded graphics / frame rate hiccups. Otherwise, it's still probably the greatest game ever made, and to have it

Long load times, and some downgraded graphics / frame rate hiccups. Otherwise, it's still probably the greatest game ever made, and to have it available portable on my switch is a game changer. Haven't turned my PC (200+ hours) on for about a year

…

Expand

The content is flawless, for a little under full game price you get over 50 hours of one of the beat tactical strategy gameplay. But the

The content is flawless, for a little under full game price you get over 50 hours of one of the beat tactical strategy gameplay. But the technical side disappoints. This is the worst console to Play this title. While framerate during gameplay is great, almost steady 30 FPS the load times arę irritating. Every loading screen takes +40 seconds and this gamę is gard and You willa be spamming Dave/loads. I don't know if IT is obły my idzie but I cannot put this game on internal memory - only SD which slows loading times. So it is great game but the loading times arę so irritating that I cannot recommend this one.

…

Expand

¡Bienvenidos a bugfestlandia!
Tras haber jugado a juegos que emplean el mismo sistema de combate estratégico (mario+rabbids, hard west...)¡Bienvenidos a bugfestlandia!
Tras haber jugado a juegos que emplean el mismo sistema de combate estratégico (mario+rabbids, hard west...) mis expectativas para con este juego eran medianamente altas habiendo leído previamente que el rendimiento del port dejaba que desear.
Sin embargo, este juego esta plagado de tantos. fallos que más que un juego disfrutable, es una bazofia execrable. Y lo cierto es que de estos fallos, solo uno creo que pertenece a la versión de switch, lo que ocurre es que si juegas esto en PC puedes solventar varios de sus bugs toqueteando diferentes archivos del juego... ¿pero eso es realmente lo que es exigible de un juego? Puedo entender que un juego de lanzamiento en PC tenga fallos hoy en día porque estos se pueden ir solventando, pero no el hecho de que no se solventen por los desarrolladores y acabes encima porteando el juego a otras plataformas años después y en el mismo estado.
Dicho esto, algunos de los combates del juego, mapeados y misiones son realmente interesantes y puedo entender el amor que muchos usuarios sienten hacía este juego. No obstante la cantidad de fallos que tiene es abrumadora como bien he dicho:
- Tiempo de carga largos y bajadas de frames abundantes. Esto es realmente un problema porque en muchos combates acabaras recargando la partida bastante debido al comportamiento de los enemigos con respecto al efecto de la niebla que puede destrozarte si descubres un grupo enemigo cuando no toca...
- Faltan tutoriales de mecánicas de juego... XCOM 2 tiene dos partes jugables diferenciadas, las misiones que seguramente todos conocerán, pero también otra parte de gestión de recursos en un tablero tipo "RISK". Esta segunda parte está horriblemente explicada y tarde bastantes meses de juego en averiguar como se realizaban ciertas cosas y en entender que el marcador rojo que aparece arriba es básicamente una cuenta atrás para un game over que te obliga a reiniciar el juego... Además los controles en los menús son horribles (esto último también será parte de la experiencia en consola).
- ¡Los bugs! ¡Vivan los bugs! Existen varios y diversos, pero lo peor es que existen bugs que te rompen la partida directamente. Deje el juego en una misión en la que el juego se bugueaba en el turno del enemigo, quedandose eternamente en él... En consola mi única opción era cargar un archivo pasado y volver a empezar la misión desde el principio, pero ¿para qué? ¿Para qué volviera a ocurrir lo mismo en esta u otra y siguiera en una espiral de tedio sin sentido? Existen también otros bugs que no rompen el juego a nivel sonoro, gráfico y de controles...
- La dificultad de las misiones: Puesto que el juego viene con todos los dlcs, hay misiones de estos que pueden aparecer en cualquier momento, y para los que no hemos jugado el juego, evidentemente no podemos diferenciarlas y eso me llevo a hacerlas realmente temprano (sin absolutamente ninguna mejora y los soldados en clases muy bajas). He de decir que realmente son de las mas disfrutables, pero esta manera de colocarlas no tiene sentido, ya que después de superarlas y volver a las misiones del juego base, estás acaban siendo realmente aburridas en comparación.

He de decir que compre este juego en oferta por 2 o 3 euros, así que no me siento estafado por ese precio, pero no me quiero imaginar quien haya comprado esta desproposito por el precio completo. Lo peor es que se ve claramente que si pulieran todos los fallos, el juego realmente luciria y seria un juego de notable sobresaliente, pero no entiendo a la industria que prioriza antes de eso cosas como "darle voces y doblaje a todos los personajes", ya que si han tenido dinero y presupuesto para algo así, bien podrían haber ordenado mejor sus prioridades con respecto al desarrollo del juego.

…

Expand

What a great game on a console that sorta doesn't fit it. I can't tell if it's a problem with the console or the game port itself because I

What a great game on a console that sorta doesn't fit it. I can't tell if it's a problem with the console or the game port itself because I know XCOM is a well-regarded game that's tough but enjoyable and fun. I love the game itself but it's hard to get past the parts that impede gameplay genuinely.

But I didn't know that it came with so many memory leaks that apparently have still never been resolved. If you think the devs even tried to look at this before bringing it to the switch, you'd be wrong , it seems.

Some PC players say if your computer is strong enough, it shouldn't take too much of a hit but you notice the glitches on the switch pretty quickly -- options disappearing, bodies shifting or being misplaced, load files being corrupted, crashes, etc.

This is something I definitely should have waited to see reviews before buying but I got too excited and ahead of myself.

Literally made an account just for this review. Shell out some extra money on PC. It's worth it there, maybe some mods can help save the leaks and glitches.

…

Expand

Bugged so much, i had to restart first mission three times.
Loading time and frame drops made me drop the game.
One of the worst buys of the year