Network:

Netflix

Series Premiere Date:

Oct 24, 2018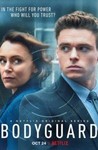 Summary:

War-veteran-turned-police Sergeant David Budd (Richard Madden) is promoted to the protection detail for controversial conservative Home Secretary Julia Montague (Keeley Hawes) in this drama series created by Jed Mercurio.

Genre(s):

Drama
Season 1 premiere date:

Oct 24, 2018

Episode Length:

60
Bodyguard might be [creator Jed Mercurio's] Homeland. ... From its opening sequence, a breathless 20-minute set piece on a passenger train, it's clear that no loyalty will go untested or plot untwisted. [19/26 Oct 2018, p.91]

This show excels at both the daring, gasp-inducing twist and the methodical construction of slower-burning thrills. The finale, for instance, features a lengthy sequence of almost physically painful tension, a bravura bit of television that could only exist on a show in which we've been primed to understand that truly anything can happen.

The story takes wild, violent leaps amid myriad conspiracies, leading to a crazy, nail-biting climax that is both preposterous and wholly satisfying. Some binges feel like a slog. Bodyguard is more of a race, well worth the run. [15-28 Oct 2018, p.9]

Some elements of the series struck me as odd, including what seems an endorsement of the surveillance state, and certain climactic revelations had me talking to the screen. But the action is well mounted and the tension tightly wound; it uncoils, when it does, with a satisfying snap.

The plot is determined to make us change our minds about who could be a mole every ten minutes. Muslim characters are pigeonholed as potential terrorists, although that's a trope that Bodyguard tries to subvert with a modest amount of success. And yet, even on those occasions when it lands exactly where you think it's headed, it still threads a compelling enough needle to keep its audience hooked.

There are several things that work really well in the series' final episode, and could leave the door open for another season, and other revelations that feel like a bit of a letdown. But ultimately, Bodyguard is an exhilarating ride that truly showcases Madden as a major talent.

Madden doesn't do enough to distract us when Mercurio's plot twists veer from reality or his characters refuse to act like rational humans. In Bodyguard, Mercurio's breakneck story feels, at every moment, both carefully constructed and made up on the spot. ... It can also be a blast, if you're all about the mystery and the forward momentum and your requirements for plausibility and psychological realism aren't high.
Madden does such a fantastic job as the lead in this show and is the real highlight of it. This show is definitely gonna be his platform to

Madden does such a fantastic job as the lead in this show and is the real highlight of it. This show is definitely gonna be his platform to become an even bigger star than he already is. As for the show, It reminds me a bit of Homeland but it's shorter and more to the point, There's a lot less filler and sub-plots and that is a major plus. And there's plenty of action and suspense to keep you on edge while the well-written story plays out. What I like most is that it grips you from the first episode and keeps you invested until the very end and they don't do some cheap cop out with the ending either, It's satisfying and wraps everything up.

…

Expand

What would you expect from the writer of 'Line of Duty'? An amazing show.
Completely gripping, beautifully written, acted and filmed.

Overall worth watching. There are probably too many twists, some of which are really hard to accept or believe, but the 6-episode format

Overall worth watching. There are probably too many twists, some of which are really hard to accept or believe, but the 6-episode format really kept the action moving. TV with a finish line is so much better than TV that keeps getting stretched out for endless episodes.

…

Expand

Really good overall. Probably would work better as 8 episodes. Easy recommend.

This review contains spoilers

, click expand to view

.

After two episodes, I'm really enjoying the series. However, I'm extremely disappointed that they wound up in bed together. I mean, how cliched can we get? Didn't seem to need that.

…

Expand

When it's good it's very, very good, and when it's bad it's horrid. It gets an A+ for edgy, and spell binding scenes, but a D when it goes

When it's good it's very, very good, and when it's bad it's horrid. It gets an A+ for edgy, and spell binding scenes, but a D when it goes into human relations. Plenty of plot twists and one big one at the end is bound to make many groan at the screen. They drag out the final big scene which in real life would have ended by our hero getting to the point more quickly. Many of the professionals come across as nitwits, but then that may be because they're not in on the real machinations that viewers are. The last half hour doesn't build as much as let the air out.

…

Expand

As a Brit, utterly confused by this show and its popularity. It's not a patch on Mercurio's Earlier work with Line Of Duty being uniformly

As a Brit, utterly confused by this show and its popularity. It's not a patch on Mercurio's Earlier work with Line Of Duty being uniformly excellent. It goes from po-faced to farcical, with frustratingly stupid character arcs and daft situations. It's like Homeland season one, without any genuine drama.

…

Expand