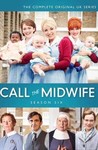 Season 1 premiere date:

Jan 15, 2012

Episode Length:

60
Please enter your birth date to watch this video:
You are not allowed to view this material at this time.
The cast is marvelous, the gritty, post-war set pieces are meticulously recreated and, even with all the warm-water enemas and splattered afterbirth, the story always has its eye on uplift and good cheer.

This immensely absorbing drama is worth any trouble it takes to catch up with its singular pleasures.

This BBC hit is the soppily tender story of '50s midwives in London's East End. [1 Oct 2012, p.38]

Once again, PBS delivers the goods--and while it may be too harrowing at times to describe as a bundle of joy, the heart-tugging Call the Midwife is a delight to watch.

You will laugh, you will cry and if it seems a bit treacly, it is.

Loss is the birthright of every life, and no one can refuse it. Yet we go on, buoyed by hope and love. Not exactly an original message, but it is one that Midwife delivers convincingly.

Midwife delivers enough poignant moments to be worth the investment.
The only thing negative I have on this show is the title. But the characters are engaging and you quickly find yourself cheering for them. The

The only thing negative I have on this show is the title. But the characters are engaging and you quickly find yourself cheering for them. The settings are outstanding as are the costumes and details. A solid drama with just enough small bits of comedy to keep it digestable.

…

Expand

Nothing like it on USA TV. I think little if anything as good on BBC TV either, tho I am neither a big fan nor an expert on BBC fare.
What'sNothing like it on USA TV. I think little if anything as good on BBC TV either, tho I am neither a big fan nor an expert on BBC fare.
What's unique is:
- The scripts. I'm watching on DVDs from my library. In first season and 1/2, not a one plot is recylced form anything else I can think of. The standard good nuns and eccentric nuns are present but I welcome them if my choice is serial killers, ersatz policemen and laughtrack humor,

- The amount of learning thru empathy. No show I can think of can match Call the Midwife for this, I think. Many long shots of characters simply allowing events to move them, visibly move them, internally. Not over-long either, not early dragged-out Bergman. All shots and editing well-timed for modern audiences.

- Most realistic birthing scenes I've seen. These go on but not too long. I cried at one of them recently. If you can imagine being a writer on this show, each new birth has to have a new outcome in the lives of midwives and parents. Not any easy task to write to, even with a real midwife memoir to follow.

Acting, production design are top drawer. If you like Doc Martin, you really should give this a chance, even tho it's not a comedy. It's real life.

…

Expand

This show has really grown on me. The characters are engaging and change during the seasons. The stories tug at your heart. At first, my

This show has really grown on me. The characters are engaging and change during the seasons. The stories tug at your heart. At first, my husband had no interest in watching it, but gradually started sticking around longer and longer, until now he looks forward to each episode like I do. The stories are sometimes tragic, sometimes heart warming, sometimes funny. It may be a little too much for children due to the birthing scenes and some subject matter, but it's definitely worth a try.

…

Expand

Call the Midwife is a very intriguing show. It discusses topics that are hard to talk about in today's society without shoving it down our

Call the Midwife is a very intriguing show. It discusses topics that are hard to talk about in today's society without shoving it down our throats. My understanding of poverty, abortions, and other topics has greatly increased. I would recommend this show for women and teens, NOT for younger audience!

…

Expand