Network:

Netflix

Series Premiere Date:

Dec 1, 2017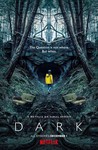 Summary:

The disappearance of two children in a German town leads to secrets of four families and a link to something supernatural in 1986 in this mystery thriller written by Jantje Friese and directed by Baran bo Odar.

Genre(s):

Drama

,

Suspense
Season 1 premiere date:

Dec 1, 2017

Episode Length:

60
Jonas's search for answers offers the pleasures of puzzle-solving, if not profound drama, and if you give Dark a few episodes you may find yourself hooked.

A consistently engaging genre effort in its own right, employing unsettling production values and an enormous cast of well-drawn characters for a narratively splintered investigation into questions of fate and free will. ... Come for the surface similarities to Stranger Things, stay for the unique time-travel insanity.

Even when Dark is clinical in its set-up of these interweaving story threads, there's still an incredible amount of energy coursing through the show.

I grew initially frustrated at how little Dark was showing me about its characters and how little investment I was feeling in them, though the middle of the season produced some sympathy that I can't explain without spoiling the twists.

Like other shows that invite the viewer to try to solve them, Dark suffers a bit in the humanity department. With so many characters, and such attention on how their identities and actions fit into the plot, there isn't much room to truly get to know these people on a deeper level, at least not in the six episodes that I watched out of the ten total.

Where Stranger Things is deft, Dark is heavy-handed; where Stranger Things is well-paced, Dark moves at the speed of a dump truck lost in a bog; where Stranger Things' kids are likeable and funny, Dark's are sullen and sour.

Dark feels strangely one-note, elevated purely by the increasing eccentricity of the plot, which eventually tip-toes into the science-fiction realm when time travel becomes a major element of the story. The less said about that the better.
I don't get why critics do not like this gem of a series; it is written wonderfully and I like that it enters more of a science-fiction realm

I don't get why critics do not like this gem of a series; it is written wonderfully and I like that it enters more of a science-fiction realm than a supernatural one.

…

Expand

Eu gostei bastante, história interessante, personagens bem contruído e um enredo bem interessante.

Perfect example on how critics and viewers often disagree. For me this is one of the best tv shows of the year and of course it is even better

Perfect example on how critics and viewers often disagree. For me this is one of the best tv shows of the year and of course it is even better if you can watch it in German, as the English and Italian dubs (the ones I compared) are awful. The cast, the setting and the grim tones are incredible. The solid sci-fi plot unravels in a very interesting and mature way. The songs of the soundtrack are also very strong and perfect for the moments they were chosen for. The same can not be said for the original soundtrack and the sound effects, which are a bit too intense. A lot of people compared it to Stranger Things which is a bit unfair for both shows, but if I really had to choose which is the best of the two I would vote Dark every time.

…

Expand

review after 4 episodes - There are similarities til Stranger Things, but no where like a copy or rip off. The mood is dark and sinister.

review after 4 episodes - There are similarities til Stranger Things, but no where like a copy or rip off. The mood is dark and sinister. Story interesting, scary and surprising.
Many characters so you need to stay alert or you might miss something. But so far it Works very well.
The soundtrack/score is very well used and fits the darkness very well.
Highly recommend seeing it.

…

Expand

Das even STRANGER things, ja? I liked Stranger Things, but thought I'd like it even more if the young cast was a bit more grown up... enter

Das even STRANGER things, ja? I liked Stranger Things, but thought I'd like it even more if the young cast was a bit more grown up... enter Dark.

Far from an easy show to watch, and there were multiple times I was compelled to pause watching it, in order to draw a web to connect what was going on and with who... though I never actually did. A lot of the fun I had watching this show came from my own realizations while watching it, and the plentiful uncertainty, all the way up to the very last of it.

I also learned that Germans are apparently totally cool with standing in heavy rain while their hair, clothes, and everything else is getting completely soaked. (j/k, sort of)

…

Expand

This show is so close to perfect. It did tail off at the end though. The last two episodes were probably the worst of the whole series. There

This show is so close to perfect. It did tail off at the end though. The last two episodes were probably the worst of the whole series. There just got to be TOO many storylines. However, it did set itself up nicely for a season 2. Maybe I'm just a little sour I have wait another year to see what happens next...

…

Expand

The more I watched, The more I disliked the show. So many sub-plots that make little sense or have any true exploration. So many stupid plot

The more I watched, The more I disliked the show. So many sub-plots that make little sense or have any true exploration. So many stupid plot twists that make no sense or were predictable from the get-go. Dark is the kind of show that starts interesting and then just totally nosedives after the first couple of episodes. I would not recommend it at all.

…

Expand