Network:

Netflix

Series Premiere Date:

Jun 23, 2017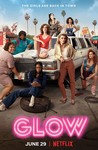 Summary:

The ladies of GLOW welcomes Yolanda aka Yo-Yo (Shakira Barrera) while Sam's teenage daughter comes to live with him.

Genre(s):

Comedy
Season 2 premiere date:

Jun 29, 2018
It's the rare series that tries to have it all and succeeds. It's topical and fun; it's exciting and poignant; it's got long episodes and a short episode total; it's got a standalone episode told from one viewer's perspective and fully drawn supporting arcs; it's inclusive from every angle, addresses issues of inclusivity, but doesn't define its minority characters by those issues.

Showrunners Carly Mensch and Liz Flahive again manage to zigzag between the lowbrow silliness of the show-within-the-show and the higher-brow hijinks behind the scenes without giving the impression that the series has a split personality. ... Perhaps best of all, since Season 2 is so emotionally brutal, when we get a break that's not of the heart variety, it doesn't feel like a present, it feels earned.

The female wrestlers are a splendid ensemble, both in their silly show, and in GLOW. But they're always individuals. ... The 10 episodes in GLOW Season 2 go by so fast, they'll leave you wanting more.

It unpacks the tropes and cultural markers of the era and fondly repackages nostalgia by celebrating the enchantment of performance and the giddy adventure of amateurism.

As a bonus, the finale closes this latest run in a manner that nicely sets the stage for season three. For a show that occasionally felt as if it was precariously perched on the top rope in its first season -- leaving doubt as to how long "GLOW's" light could stay flickering -- this second match pretty impressively outshines its debut.

It's a show that works on a few different levels, but it's never better than when it goes to giddy workout montages and thrilling ringside action.

Season two mostly focuses on Ruth, Sam, and Debbie. In doing so, GLOW avoids the bloat of other ensemble shows--including that of producer Jenji Kohan's other Netflix dramedy, Orange Is the New Black. The storylines involving the secondary characters never feel out of place and are typically played for laughs. ... At the same time, you may wish that some of these subplots were less hastily assembled. ... Luckily, we're also afforded a few richly intimate close-ups with some of GLOW's side players.
This is a great TV show. I'm not into wrestling, but those two first seasons just got me hooked. Brillant cast, fast pace, endearing

This is a great TV show. I'm not into wrestling, but those two first seasons just got me hooked. Brillant cast, fast pace, endearing characters, good musical score. And after all, it's not about wrestling as much as it is about the (life) combat of those women and men's in the '80s. Brilliant ! Can't wait for the next season !

…

Expand

Great continuation of the quality from S1. Feels like the screenplay evolved naturally telling each characters story. Again Glow does a great

Great continuation of the quality from S1. Feels like the screenplay evolved naturally telling each characters story. Again Glow does a great job in not wasting your time with filler episodes. One particularly fantastic episode was dedicated to a full meta 'GLOW episode'! Genius stuff. I have fallen in love with the characters and setting, after such a great run with S1&S2 I sincerely hope this show keeps the same staff and maintains this exceptional quality.

…

Expand

I watched Season 1 and love it and anyone I recommend it to felt the same. Season 2 was equally enjoyable and I was pleasantly surprised by

I watched Season 1 and love it and anyone I recommend it to felt the same. Season 2 was equally enjoyable and I was pleasantly surprised by their ability to keep it feeling fresh.

…

Expand

Every bit as entertaining and funny as season one GLOW continues to mix outlandish humour with drama concerning very real issues and largely

Every bit as entertaining and funny as season one GLOW continues to mix outlandish humour with drama concerning very real issues and largely gets the balance spot on.

…

Expand

A great continuation of the first season, it was bigger and better. Season 2 gives the characters much more depth, I loved it.

wish more people would watch this show. the character dynamics are very good. looking forward to the next season.

Hate to say it but this is one of the most overrated TV series of all time. I watched all of season 1 and now season 2 and am bored to tears.

Hate to say it but this is one of the most overrated TV series of all time. I watched all of season 1 and now season 2 and am bored to tears. None of the characters are at all enjoyable and the story is almost non existent. It's pretty obvious why it's being reviewed so highly but if I type it out I'll be labeled a sexist. Don't waste your time with this.

…

Expand