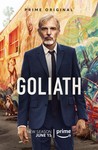 Summary:

The David E. Kelley legal drama co-written with Jonathan Shapiro focuses on alcoholic, down-and-out attorney Billy McBride (Billy Bob Thornton) who sees a chance for redemption with a wrongful death case against an aerospace company represented by his former law partner (William Hurt) and

The David E. Kelley legal drama co-written with Jonathan Shapiro focuses on alcoholic, down-and-out attorney Billy McBride (Billy Bob Thornton) who sees a chance for redemption with a wrongful death case against an aerospace company represented by his former law partner (William Hurt) and the law firm he co-founded (and was fired from).

…

Expand

Genre(s):

Drama
Season 1 premiere date:

Oct 14, 2016

Episode Length:

60
Please enter your birth date to watch this video:
You are not allowed to view this material at this time.
In "Fargo," Thornton's character was pure evil, but in Goliath he's just flawed--despicable at times, but with a good heart that shows often as he pursues justice against his old law firm and partner. This one's quite bingeworthy.

After a strong pilot episode, Goliath felt like it was starting to find its rhythm in episode two. The series moved to the courtroom and McBride's legal acumen was on full display. It was impressive albeit familiar ground.

Unlike many streaming dramas, each episode of Goliath has a satisfying internal structure, and the series exudes a notable sense of forward movement. This allows the stellar cast to wring evocative moments of intensity, pathos, and sly humor from the solid spine constructed by Kelley and his writers.

What keeps Goliath watchable, and it's certainly quite watchable, is the superlative ensemble cast, particularly Billy Bob Thornton, whose gift at taking predictably quirky characters and making the beats of that quirkiness slightly off-kilter is close to unmatched.

With the exception of some added F-bombs, Goliath plays like a reasonably decent prime-time legal mystery circa 1998, not a modern drama revelation.

Keep your eyes on Thornton and the shading he brings to his work--because most everything else in Goliath, the title included, is so on-the-nose it could make you cringe.

Even great casts have their limits, and in the case of Goliath, they give this shaggy drama just enough electricity to keep interest without offering a genuine reason to care about what's going on episode to episode.
Great show. Has all the best ingredients - compelling plot, characters you can root for and plenty of humour. Really hope this gets a second

Great show. Has all the best ingredients - compelling plot, characters you can root for and plenty of humour. Really hope this gets a second season and the attention it deserves!

…

Expand

It is a pretty decent show. Billy Bob Thornton and William Hurt are excellent, although William Hurt is essentially playing a campy

It is a pretty decent show. Billy Bob Thornton and William Hurt are excellent, although William Hurt is essentially playing a campy supervillain in the show. If you enjoyed Damages, you will enjoy this show - although it has a lighter tone and is more humorous.

…

Expand

Goliath consegue te convencer do primeiro episódio ao último da primeira temporada.Alguns episódios de fato são melhores que alguns outros,

Goliath consegue te convencer do primeiro episódio ao último da primeira temporada.Alguns episódios de fato são melhores que alguns outros, mas o destaque aqui é o elenco que se encaixa perfeitamente em cada cena. Convencemo-nos no núcleo principal da história.

…

Expand

Billy Bob Thornton is very compelling and the show certainly doesn't disappoint. It could have been better though but it is still one that is

Billy Bob Thornton is very compelling and the show certainly doesn't disappoint. It could have been better though but it is still one that is interesting enough to keep going for some seasons.

…

Expand

This is a series that has everything, great actors, wonderful productions values, an interesting story.
But the simple truth is it fallsThis is a series that has everything, great actors, wonderful productions values, an interesting story.
But the simple truth is it falls short.
It is disjointed and pretentious. Big things happen for dramatic affect when a smaller event using a bit of finesse would of worked much better.
The big failure was the writer, it is like they were trying to hard, wanting to tick every box.
Not the worst TV you will watch. I have rated it 6, it should have been better and I wanted it to be better.
But it is not. The production lacked finesse !

…

Expand

A show that veers between the sublime and the ridiculous.The sublime is the ever watchable Thornton who brings his ageing slacker persona to

A show that veers between the sublime and the ridiculous.The sublime is the ever watchable Thornton who brings his ageing slacker persona to the small screen but somehow remains believable with it.
The bad- who wrote and directed this show? the script and direction are redolent of an afternoon tvm, and the great acting talent incorporated into the show takes turns to phone in their performances.
whoever came up with the arch villain character played by William hurt needs to reassess their screenwriting skills.

…

Expand

Season I was good enough to warrant an investment in season II or so I thought. Season two was a cluster f--k, replete with salacious

Season I was good enough to warrant an investment in season II or so I thought. Season two was a cluster f--k, replete with salacious characters and plot lines . The writers seem to have dug deep in the recesses of some pornographer's mind to find their ideas. Poor Billy deserved better.

…

Expand