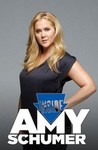 Summary:

Steve Buscemi, Selena Gomez and Lin-Manuel Miranda are some of the the guests on the comedy series' fourth season.

Genre(s):

Comedy
Season 4 premiere date:

Apr 21, 2016

Episode Length:

30
Please enter your birth date to watch this video:
You are not allowed to view this material at this time.
Fans will be happy, but you newbies have been warned--the vulgarity will blow your hair back, or right off.

Between Seasons 3 and 4, Schumer became a bonafide movie star, but instead of treating "Inside" like a day job, she's continuing to use it as a platform. Sometimes she strikes out, but she's still got a hell of a swing.

[Amy Schumer] remains a potent original, torpedoing gender inequality and smartly dissecting cultural and sexual norms. And yet, Season 4 of the show also unconsciously struggles with heightened expectations.

There are jokes about what it means to be an everyday woman, but they're sprinkled in among jokes about what it must be like to be Amy Schumer, and it messes with the voice of the show.

Inside Amy Schumer has returned with the same blend of gross-out humor, wryly subversive musical numbers, and bluntly graphic man-on-the-street interviews, but its star's growing celebrity has undeniably robbed the show of much of its edge.

The half-hours made available for review contain some clever lines and concepts, but not as many laughs as last season.
It was a bad first episode. Perhaps it will get better. The yogurt was funny. Shawn937 seems to be reviewing another product, or there is

It was a bad first episode. Perhaps it will get better. The yogurt was funny. Shawn937 seems to be reviewing another product, or there is an Amy Schmer game.

…

Expand

Being Fat his a healht problem, not some proud way off living. Used to like amy, first couple off seasons, random humor, fresh look for easy

Being Fat his a healht problem, not some proud way off living. Used to like amy, first couple off seasons, random humor, fresh look for easy comedy, after she become someone, she turned on the crazy feminist direction, and never got out.
Found last season to be horrible, and unless she stops being so pretentious, probably will never whatch this again. Back to Louie lol

…

Expand