Network:

Netflix

Series Premiere Date:

Sep 21, 2018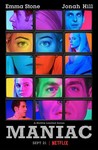 Summary:

Jonah Hill and Emma Stone undergo a drug trial that goes awry in this adaptation of a Norwegian comedy series of the same name.

Genre(s):

Comedy
Season 1 premiere date:

Sep 21, 2018

Episode Length:

30
Netflix's Maniac is a fascinating, brilliant show, and one of my favorites of 2018. We should expect no less from the creative voices behind "The Leftovers" and "True Detective," but this show still found a way to surprise me episode after episode. ... Maniac plays with genre and dramatic expectations to gain insight into the human condition in ways that other programs can't touch.

Don't let the weird tag scare you off; Maniac is the boldest, most unique, flippin' strange masterpiece of 2018.

Mostly--and occasionally despite itself--Maniac is just fun, at points raucously funny. ... Dive in, don't think, enjoy. You most likely will, by the way.

There's a fusion here between modern melancholia and those romps where potential lovers keep encountering one another in skips through time, which sounds tedious but works somewhat splendidly, once the series gets going. ... Hill and Stone are both terrifically capable at conveying the series's many moods, while Theroux looks especially grateful to be hamming it up after so much deeply-furrowed frowning in "The Leftovers."

Maniac is inventive and well-paced enough (the episodes clock in at a welcome 40 minutes or less) to breeze past its missteps. ... In an age of desiccated puzzle-stories, Maniac puts emotion first, even at the risk of sentimentality. It's a heart-shaped Rubik's Cube, a funny, consistently surprising fable of broken machines trying to reassemble themselves.

Maniac isn't weird enough to really achieve what it wants to, but it does say something--however accidentally--about how reality is already weird enough.

Promising themes dissolve, episode by episode, into something more like forced quirkiness, revealing a buried conventionality, the curse of way too much cool-looking TV. ... Even an unreal world needs characters who make sense, particularly in a series that is as gooily devoted to exploring those characters' inner lives as Maniac turns out to be. On this level, the show is half-baked and inconsistent.
It is amazing and so well-done. The cast is also perfect. It gets more and more exciting every episode. Iconic!!!!

This review contains spoilers

, click expand to view

.

Stone gives a wonderful performance, with odd moments of pause and slightly too much explanation. Hill is underrated in more serious roles and deserves a chance to display an emotion that while some might not understand, is still portrayed fairly accurately when comparing to actual accounts of schizophrenia

…

Expand

A Masterpiece .............................................................

It was a pleasure to watch. Fantastic characters and a nice Story, great set design. High tension from the start. I watched it in 2 days and

It was a pleasure to watch. Fantastic characters and a nice Story, great set design. High tension from the start. I watched it in 2 days and binge watching might be the right thing for that series.
Only the end was so bad that i want it to be unseen. Its **** but might be interesting for people who want a happy end. My suggestion, skip the last episode and enjoy a dark adventure for your brain.

…

Expand

Patrick Sommerville is first, a writer.
And, he wrote for "The Leftovers".
So, if Sommerville creates, writes and produces "Maniac" - I havePatrick Sommerville is first, a writer.
And, he wrote for "The Leftovers".
So, if Sommerville creates, writes and produces "Maniac" - I have expectations of what I am about to see.
And, yes - there is the edgy, silly, over-the-top style I was expecting - and, I don't completely care for. It seems somewhat immature in that regard.
But, the payoff is the intelligence and appreciation of ideas that means I am not wasting my time by watching the series - when I could be doing something more productive.
So, if you like thinking about things worth thinking about - you should watch this series.
I may be a little bit grouchy and cynical - but, OK... some of the silliness made me laugh.
And another payoff is the excellent quality of acting, cinematography, editing, etc which make this a work that can be appreciated from an artistic perspective.

…

Expand

Too ambitious, ambiguous and experimental for what is essentially a really simple story.

Visually it's excellent. The music is also prettyToo ambitious, ambiguous and experimental for what is essentially a really simple story.

Visually it's excellent. The music is also pretty good. Cary Fukunaga's direction is magnificent but I think the narrative is kind of a mess.
Jonah Hill and Emma Stone offer very good performances that don't look like anything they had done before in their careers, but primarily I think this miniseries wanted to be more intricate than it should have been in the first place.

Maniac's story feels like an experiment and I feel that Fukunaga applied that approach to the whole ordeal and he built something intricate and interesting but not necessarily excellent.

For my expectations I'm disappointed, but at least in the general panorama, Maniac it's a solid work and a striking and attractive proposal from Netflix.

Probably it won't become the great show that a lot of people thought it was going to be for the streaming service and although I feel that it shouldn't have been so extensive, I think it deserves the time of any viewer.
You may love it, you may hate but I can assure you, you'll be talking about it.

…

Expand

Full of Annoying. Unnecessary brutal scenes (they just put brutal scenes to avoid boring themselves ), and annoying scenes and sounds. Why the

Full of Annoying. Unnecessary brutal scenes (they just put brutal scenes to avoid boring themselves ), and annoying scenes and sounds. Why the laboratory keeps change light in Red, Green, Blue? am I watching Teletubbies?

…

Expand