Network:

The CW

Series Premiere Date:

Jan 26, 2017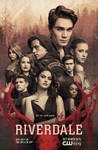 Starring:

Cole Sprouse

,

Luke Perry

,

Mädchen Amick

Summary:

The new school year is haunted by the mysterious death of Jason Blossom, but Archie Andrews (KJ Apa) has his own problems: a damaged friendship with Jughead Jones (Cole Sprouse), the end of his relationship with music teacher Ms. Grundy, and singer Josie McCoy (Ashleigh Murray) doesn't want

The new school year is haunted by the mysterious death of Jason Blossom, but Archie Andrews (KJ Apa) has his own problems: a damaged friendship with Jughead Jones (Cole Sprouse), the end of his relationship with music teacher Ms. Grundy, and singer Josie McCoy (Ashleigh Murray) doesn't want to help him with his music. Betty Cooper's (Lili Reinhart) crush on Archie could be an issue between her new friend Veronica Lodge (Camila Mendes), who just moved to Riverdale. And then there's trouble from Jason's twin sister Cheryl (Madelaine Petsch) in Greg Berlanti's live-action, present-day adaptation of the popular comic series.

…

Expand

Genre(s):

Drama
Please enter your birth date to watch this video:
You are not allowed to view this material at this time.
This is the best young adult cast for any drama in years, and you'll even be able to overlook Apa's horrible dye job.

As predictable, or artificial, as the show can seem, when you take stock of it--even in its dark themes and situations--it is vital and inviting, fundamentally true to its characters and hard to put down.

While you watch--which you will, since this show is addictive--it's as if Riverdale is growing up fast before our eyes, like a clever, winking teenager who's already grown-up enough to know she should keep her deepest secrets to herself.

Riverdale, the CW's new teen drama based on the Archie comics, is an eerie and offbeat take on the high school mythos--both addictive and confusing in equal parts.

There's a lot of appreciate about these early episodes of Riverdale, if not outright adore. There's also tremendous space for improvement, which is true of most series tasked with servicing a large ensemble of characters.

This perversely compelling mystery melodrama has echoes of Twin Peaks and even 90210. [16-29 Jan 2017, p.17]

The joys and subversions of artistry have fallen away, and brand management--combining the appearance of sex and self-awareness, but none of the real thing--is a poor substitute. But if, like Riverdale, you hit all the notes, it can be hard to tell the difference.
Riverdale is the best show of The CW . I hope that will not be quickly removed as ,,The Tomorrow People" , ,,The Secret Circle" , ,,The Carrie

Riverdale is the best show of The CW . I hope that will not be quickly removed as ,,The Tomorrow People" , ,,The Secret Circle" , ,,The Carrie Diariesand" and so on .

…

Expand

Riverdale is my new favourite show and is one of the best new shows i have seen come out lately! It enraptures you and is a show you could

Riverdale is my new favourite show and is one of the best new shows i have seen come out lately! It enraptures you and is a show you could watch for days on end.

…

Expand

Such a great and innovative show for the CW, This drama uses the Archie's comics material in a great way. This show is refreshing, dark, witty

Such a great and innovative show for the CW, This drama uses the Archie's comics material in a great way. This show is refreshing, dark, witty and will grab your attention.

…

Expand

What makes Riverdale so gripping is the everlasting mysteries revolving around the town of Riverdale. Archie and friends feature one of the

What makes Riverdale so gripping is the everlasting mysteries revolving around the town of Riverdale. Archie and friends feature one of the most believable chemistry I have seen on screen. However, what makes Riverdale experience a fair share of sufferage is the fact that, it is, to a certain extent predictable, and espically near the last act of it (aka the last three-four episodes); twists can be seen just around the corner and the final exposé is handled in the most predictable "flash"-y, in your face way I have seen all year. Nonetheless, this is a show I binge watched in a day, I have NEVER done that before (1pm - 4:00am).

…

Expand

Riverdale reinterprets the comic characters very well, making them individual and relatable. The setting tries to be dark, thrilling and

Riverdale reinterprets the comic characters very well, making them individual and relatable. The setting tries to be dark, thrilling and mysterious, often succeeds, but is hindered by a plot that starts off promising yet never quite reaches a climax. The show eventually falls into the same category as "Gossip Girl" and "Revenge": Flawless-looking actors battling out gloomy circumstances in a fun portrayal of American lifestyle - but in the end of the day, these problems don't seem that serious.

…

Expand

Despite on-demo pop culture references, a trendy soundtrack and a game cast (the kid from Big Daddy!), "Riverdale" takes itself way too

Despite on-demo pop culture references, a trendy soundtrack and a game cast (the kid from Big Daddy!), "Riverdale" takes itself way too seriously. It's "Twin Peaks" Lite when it could be Wes Craven meets "Clueless."

…

Expand

THIS IS THE ABSOLUTELY BEST SHOW TO EXIST. I WATCH, TALK ABOUT IT 24/7! LITERALLY. MY FRIENDS AND I WATCH IT EVERY TIME. I ABSOLUTELY ADORE

THIS IS THE ABSOLUTELY BEST SHOW TO EXIST. I WATCH, TALK ABOUT IT 24/7! LITERALLY. MY FRIENDS AND I WATCH IT EVERY TIME. I ABSOLUTELY ADORE THE STORYLINE THE CHARACTERS THE SHIPS AND THE CAST. IT DESERVES EVERYTHING. GREAT JOB WITH WRITING THIS SHOW. It has a good reputation of friendships, healthy relationships, (bughead, varchie) also a good representation of how mental health can take the wrong road if not dealt with. The storyline is itself very interesting and exiting. I hope this show gets more than 10 seasons, I'd still watch every singe episode 100 times. Have rewatched season 1 and 2 more than 10 times. The cast's acting is amazing and so is the cast themselves. In one word this show IS MY LIFE. It helped me through depression IT DESERVES ALL THE LOVE. I wanna personally fight all the critics and users that left a bad review. Go get a life.

…

Expand