Network:

HBO

Series Premiere Date:

Jul 28, 2017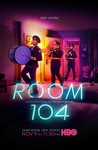 Summary:

The Duplass brothers' anthology series about the various people (Hugo Armstrong, Davie-Blue, Melonie Diaz, Jay Duplass, Veronica Falcon, Adam Foster, Ellen Geer, Keir Gilchrist, Philip Baker Hall, Sarah Hay, Poorna Jagannathan, Orlando Jones, Ethan & Gavin Kent, Amy Landecker, Konstantin

The Duplass brothers' anthology series about the various people (Hugo Armstrong, Davie-Blue, Melonie Diaz, Jay Duplass, Veronica Falcon, Adam Foster, Ellen Geer, Keir Gilchrist, Philip Baker Hall, Sarah Hay, Poorna Jagannathan, Orlando Jones, Ethan & Gavin Kent, Amy Landecker, Konstantin Lavysh, Sameerah Luqmaan-Harris, Keta Meggett, Natalie Morgan, Ross Partridge, Karan Soni, Dendrie Taylor, Tony Todd, Will Tranfo, James Van Der Beek, Mae Whitman and Nat Wolff) who pass through one room in a motel.

…

Expand

Genre(s):

Comedy

,

Drama
Season 1 premiere date:

Jul 28, 2017

Episode Length:

30
Please enter your birth date to watch this video:
You are not allowed to view this material at this time.
Room 104 excels in maximizing an array of voices. Not all of the episodes are outright successes, but they do showcase the new talent brought in to build them.

An often thrilling look at what TV can be when it looks to its past and finds ways to update old formats for the future.

This eclectic series is the answer for those burned out on all the binge-watching. Check in or out when you please. No commitment required.

The variety--particularly if you watch them consecutively--shines through. Because it's such a confined space, directors like Smith have to focus on the acting. The episodes are like little workshops. ... It's like any motel--hit and miss.

The worst thing about Room 104 is that it's completely inconsistent. The most satisfying episodes function like one-act plays, with well-structured narrative arcs and twists and reveals. The most irritating ones feel overly self-indulgent—transparent opportunities for the writers (Mark Duplass wrote seven out of 12) and directors (a notably diverse group) to play around with form. Still, there's something thrilling about a show that's so eager to experiment.

All in all, Room 104 is to be lauded for its adventurousness, but more rigorous attention to quality control could have made it more consistently enthralling.

The series brandishes a consistent lack of imagination when it comes to exploring the troubled woman who falls in with a religious cult or the lonely, lost Mormon boys who feel at a distance from their strict faith. By putting focus on the circumstances they find themselves in over the people they are, the series produces little more than cheap thrills.
With each episode being a different story that takes place in a motel room, it shouldn't be a surprise that Room 104 is wildly inconsistent.

With each episode being a different story that takes place in a motel room, it shouldn't be a surprise that Room 104 is wildly inconsistent. There are some great episodes in the first season, and there are some pretty terrible episodes as well. I'm not even really sure who this show is for, since it's so all over the place. It's quite an experience, though.

…

Expand

My rating is based only on the first two enjoyably dark and twisty episodes.

It does however seem similar in premise and tone to the UKMy rating is based only on the first two enjoyably dark and twisty episodes.

It does however seem similar in premise and tone to the UK series 'Inside No.9', and the remaining episodes will have to go some way to match the consistently inventive plots that No.9 continues to come up with.

Fingers crossed though.

…

Expand

Considering what's available to watch right now, this show is pretty darn good. I've always been a fan of anthologies and short stories,

Considering what's available to watch right now, this show is pretty darn good. I've always been a fan of anthologies and short stories, whether written or in film, but most are a bit one-note (American Horror Story has sadly decayed to that point). I feel the point of the anthology format is to experience as much diversity as possible from one story to the next, and they've achieved that here.

The fact that the stories are rooted in reality and not ghost/vampire/time travel/etc makes it unique, and it's apparently a conscious choice to help differentiate itself. It works well most of the time, by far.

At its best, it takes you on a surprisingly diverse emotional ride within the confines of a hotel room. It's almost enough of a reason to keep HBO after Game of Thrones is finished.

...Almost.

Edit: I came back after the dancing housekeeping maid episode to lower the score. If we wanted to watch mediocre dancing, we'd do just that.

Edit again: I came back (again) to lower the score even more. I'm really confused by the high quality of some episodes and the abysmally low quality of others.

…

Expand

I wanted to hate this show because of the lingering bad taste in my mouth from the Duplass Bros. awful, lazy, rip-roaringly illogical movie

I wanted to hate this show because of the lingering bad taste in my mouth from the Duplass Bros. awful, lazy, rip-roaringly illogical movie "Good Time."

I admit that it's better than I anticipated but still misses the mark. I've watched the first 3 and the only one that was fully formed was The Pizza Guy ... even though the twist at the end was telegraphed.

The others had huge gaps in logic and instead of explaining what was going on we're just supposed to think, "that doesn't make any sense, but it's weird, so it must be cool." But it's not and we don't.

…

Expand

It gets worse every week. I was really interested in the concept and it had so much potential. Not once did I ever say I want to watch someone

It gets worse every week. I was really interested in the concept and it had so much potential. Not once did I ever say I want to watch someone talk to their mom on the phone for 20 minutes on how to work a computer. And now that I have seen that, I never want to do it again. The first two episodes had interesting arcs that had me kept watching, but each week it continues to get worse.

…

Expand

This show just made me want to watch "Four Rooms" again to remember what the "weird **** happening in a hotel room" idea looks like when well

This show just made me want to watch "Four Rooms" again to remember what the "weird **** happening in a hotel room" idea looks like when well executed. None of the episodes so far impressed, but the last one ("The Internet"), was horrible. Just 20 minutes of a kid trying to explain to his mom how to use a computer. It's a bummer because there was a lot of potential in the idea and I really wanted to like it. I suggest they fire the entire staff and reboot. Maybe hire the people who did "Stranger Things" or "Black Mirror".

…

Expand

These shows are poorly written. The first one was of medium interest. The next episode was boring and the third episode was a mess. It was

These shows are poorly written. The first one was of medium interest. The next episode was boring and the third episode was a mess. It was one rung above freshman film project. Who approves these scripts? Fire that person. I sat in a discussion in Austin regarding the filming of Lonesome Dove. The studio was trying to cut costs and the writer (jokingly) suggested, let's use goats instead of cattle to cut the cost. The studio "execs" agreed...the writer said...I was kidding! I created an account just so I could express my supreme disappointment with this show. I'll never watch another episode. "I think I'm gonna barf"

…

Expand