Network:

Syfy

Series Premiere Date:

Jul 22, 2015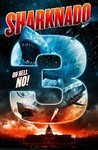 Summary:

Tara Reid, Cassie Scerbo, and Ian Ziering return to fight another shark storm as it hits Washington D.C. and the down the Eastern seaboard to Florida. Michele Bachmann, Ann Coulter, Mark Cuban, Bo Derek, David Hasselhoff, Chris Kirkpatrick, and Jerry Springer also appear.

Genre(s):

Comedy

,

Drama

,

Movie/Mini-Series

,

Science Fiction
Show Type:

TV Movie

Season 1 premiere date:

Jul 22, 2015
S3 cranks up the absurdity level to hilarious proportions.

The first half of Sharknado 3: Oh Hell No! takes itself too seriously with return appearances by minor characters from the first two films and the destruction of Washington, D.C., landmarks that viewers have seen before with better special effects.... But halfway through--right about the time a character loses his limbs one by one while trying to take heroic action--the mojo that makes these absurd movies a hoot kicks in and Sharknado 3 becomes the insane event viewers anticipate.

Sharknado 3 has the look and feel of any satirical concept worn a trifle ragged through repetition. But, again, it's not as if that's going to hurt its Emmy chances. There's still enough bite left in the concept.

Another two hours (minus commercials) of thoroughly mindless entertainment in which lots of celebrities are harmed at the end of their cameo appearances.

If you've seen one shark fall from the sky, you've seen them all. To its credit, in its last five minutes, Oh Hell No! amps up the craziness to a level that should have dominated the entire film.

Sharknado 3 is so tediously lamebrained, it makes the original, and last summer's "Sharkado 2: The Second One," look like "Jaws."
Once, someone said that perfection doesn't exist. Well, he was wrong, and Ferrante proved that it's not the story the most important, but the

Once, someone said that perfection doesn't exist. Well, he was wrong, and Ferrante proved that it's not the story the most important, but the feeling behind each frame of each scene. Every single moment has a secret meaning, and anybody who would say that he understood entierly the movie would be a liar, because it requires so much mind openness and so much time to study the entiere movie, that the only person able to get all the importance is probably Ferrante himself.

…

Expand

More stupid, cheesy fun. It doesn't take long for the action to get started and the absurdity to start flowing. There's nothing going on here

More stupid, cheesy fun. It doesn't take long for the action to get started and the absurdity to start flowing. There's nothing going on here that makes any logical sense. Characters approach situation sin the most nonsensical ways possible. Needless to say we don't watch these movies for intelligence. We watch them to see just what kind of crazy crap the writers can up with, and they deliver the ridiculousness in spades.

Cheesy one-liners, goofy cameos, and plenty of self-awareness are once again present in even more over the top ways. It makes for a very amusing watch. Unfortunately too much dialog and drama are present. The movie is at it's best when it ignores it's plot and just focuses on gory action and self-indulgent jokes. It does have a story to tell, but things just get a little boring when it does actually focus on telling it.

The third Sharknado movie once again proves to be another example of "so bad, it's good" entertainment at it's finest. Just like the previous two movies, this isn't going to appeal to everyone. It's stupid, cheesy, b-rated filmmaking that wants to be nothing more than just that. It's no secret that not everyone is a fan of that. But those that are have a treat in store for them with Sharknado 3. If you are coming for the absurdity odds are you'll find this to be the best Sharknado yet. Those looking for more refined and serious entertainment should look elsewhere. This is strictly for the hardcore fans of cheesy, b-rated entertainment.

…

Expand

The first Sharknado was far from a masterpiece so why would you make a sequel? and even worse,why would you make a third movie of this?It's

The first Sharknado was far from a masterpiece so why would you make a sequel? and even worse,why would you make a third movie of this?It's just a bigger Sharknado who's only purpose is making money and parodying the previous two.

…

Expand

Oh yes! ... I mean "Oh no!" ... I mean "Oh hell no!" They're still back after a few flops here and there. Pretty much that's Syfy logic for

Oh yes! ... I mean "Oh no!" ... I mean "Oh hell no!" They're still back after a few flops here and there. Pretty much that's Syfy logic for you, but why are we getting a fourth one? Don't they already know their franchise is failing?

…

Expand

#sharknado3 is bigger dumber, convoluted and just as greatly (awful) as the first two. This movie is filled with nonstop gusting busting

#sharknado3 is bigger dumber, convoluted and just as greatly (awful) as the first two. This movie is filled with nonstop gusting busting laughs that will leave you entertained until the very end. We officially have one of the greatest trilogies ever crafted. Oh hell no? More like oh hell yes!

…

Expand

There is a time where a Sharknado might actually be interesting. This is not one of those times. Who puts a lightsaber chainsaw in a movie.

There is a time where a Sharknado might actually be interesting. This is not one of those times. Who puts a lightsaber chainsaw in a movie. This movie has zero plot and is all shark. Whenever they want to kill someone they will. Hands down the worst movie I have ever seen.

…

Expand

Sharknado 3 was like if AIDS was a movie.

Bad America, Bad. Stop it now or we're gonna have to take away your deep-fried butter u hearSharknado 3 was like if AIDS was a movie.

Bad America, Bad.

Stop it now or we're gonna have to take away your deep-fried butter u hear me? Do u comprehende?

…

Expand