Network:

NBC

Series Premiere Date:

Nov 30, 2015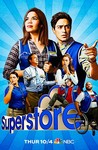 Starring:

Mark McKinney

,

Ben Feldman

,

America Ferrera

Summary:

The workplace comedy from The Office producer Justin Spitzer features America Ferrera, Ben Feldman, Mark McKinney, Lauren Ash, Colton Dunn, Nichole Bloom and Nico Santos as workers at a big-box superstore.

Genre(s):

Comedy
Season 1 premiere date:

Nov 30, 2015

Episode Length:

30
Please enter your birth date to watch this video:
You are not allowed to view this material at this time.
Superstore is a product of "The Office" co-executive producer Justin Spitzer, and like that already classic show, it digs into the mundane indignities of the work experience for its laughs, right down to the company magazine that blasts "Minimum Wage is Maximum Fun."

The show could certainly stand to find some more rhythm to its comedy, as it hammers out the right tone for the tricky comedy of minimum-wage Middle America. It's neither the wildly confident (and brilliant) "Carmichael Show" nor the wildly predictable (and bad) "Undateable," both on the same network. But even its raw edges and sticking points are appealing.

The commercials are funny, but they also have the effect of reducing a charismatic cast to little more than the grinning faces next to dubious deals like trick-or-treating knockoffs and Halloween merchandise repurposed for Thanksgiving.

The sense that everything you see, and every joke you hear, is being recycled--making this less a superstore than a consignment shop. The merchandise isn't terrible; some of it is even fairly nice. It's just that after so many hand-me-downs, you were hoping for something new.

Created by writer Justin Spitzer, Superstore has its funny moments as it alternately mocks People of Wal-Mart types while trying to protect the dignity of the store's employees. It's difficult for the show to have it both ways. Superstore is at its funniest when it's also at its most ruthless and offensive, but those moments are few.
Anyone working in retail will relate to this show. Superstore is one of the most funniest shows on t.v. today. The in between scenes of what

Anyone working in retail will relate to this show. Superstore is one of the most funniest shows on t.v. today. The in between scenes of what the customers are doing in the background are hilarious. This show deserves a much higher rating than 57. Every character works well together to form a perfect comedic relationship. Superstore is not to be missed.

…

Expand

I haven't laughed this hard since power watching all three seasons of Blue Mountain State on Netflix.

Anyone who has ever worked retailI haven't laughed this hard since power watching all three seasons of Blue Mountain State on Netflix.

Anyone who has ever worked retail needs to watch this show! Each character has some traits of people I've worked with during my tenure at Target. Personally, I'm a combination of Garrett (light skinned black guy) and Mateo (gay Filipino guy).

I imagined a show like this during my time at the customer service desk at Target. Dealing with frustrating customers and the clashes in personality of my co-workers (Target Team Mates). It captures the mundane task of restocking shelves and helping indecisive customers choose which product they like. The original stories they come up with are amazing. Much like Seinfeld, this is a show about nothing.

The best part of this show is that each episode is only 22 minutes long and that keeps the quality of the comedy fresh and fast paced. I'm disappointed there were only 11 episodes but this show is all about quality over quantity. I can't wait for season 2!

Thank you NBC for advertising this show while my face was glued to the TV during the Olympics. This show is not to be missed by anyone who's ever worked retail. Finally, someone came up with the bright idea to make a show about how frustrating retail work can be!

…

Expand

ok never really was a fan of work place comedys to me they just were clearly not fun or funny untill i watched this it is everything the

ok never really was a fan of work place comedys to me they just were clearly not fun or funny untill i watched this it is everything the office and others wish it could be i found it hilarious i love america ferrera as always shes just as sweet charming and funny as ever before what more could u ask for i loved it and cant wait to see more of the whole crew

…

Expand

This show debuted around the same time as Eva Longoria's Telenovela. I'm sure network execs are banking on the success of the later but

This show debuted around the same time as Eva Longoria's Telenovela. I'm sure network execs are banking on the success of the later but Superstore is a much funnier show. Of course NBC is giving Telenovela the full run while only ordering limited episodes of Superstore. Just another in a series of boneheaded decisions by this network (I refer you to The Mysteries of Laura)

…

Expand

My initial feeling through the first months of Superstore was that it was cute and watchable but nothing special. But as the series continued

My initial feeling through the first months of Superstore was that it was cute and watchable but nothing special. But as the series continued it became increasingly funny. It's generally sweet but with an edge, and it's a show that makes a serious attempt at diversity that reaches in all directions, giving us a gay asian for progressives and a sweet hard-core Christian for those who feel that constituency is underepresented in Hollywood. And even the characters that seemed the most cartoonish at first have been given increasing depth without losing the basic characteristics they began with.

I like this series more with each passing year. And I don't say that about a lot of shows.

…

Expand

This might be the first new NBC sitcom in a while to really work for me. I like the characters and the setting. I think they've done a good

This might be the first new NBC sitcom in a while to really work for me. I like the characters and the setting. I think they've done a good job with the jokes, and through three episodes it's held my attention. This has the potential to stick for NBC.

…

Expand

I wanted to like this show, but I couldn't. I gave it a 1, because each of the two episodes I watched had exactly 1 joke I laughed at. In

I wanted to like this show, but I couldn't. I gave it a 1, because each of the two episodes I watched had exactly 1 joke I laughed at. In fact, there were times in the show where I actually looked away, as if I was embarrassed for the actors. It was stupid comedy. It wants to be a statement on our politically correct society, but it's not. The characters are not even likable, much less lovable. They are tolerable. I'm shocked the critics have given it these high marks. I suspect a few of them received really nice Christmas, sorry Holiday gifts from the producers.

…

Expand