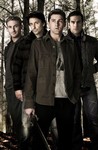 Starring:

Dean O'Gorman

,

Tim Balme

,

Jared Turner

Summary:

On his 21st birthday, Axl Johnson (Emmett Skilton) discovers his family are Norse Gods in this imported New Zealand comedy.

[Originally aired on New Zealand's TV3 on 7 February 2011 - 11 April 2011]

Genre(s):

Comedy

,

Action & Adventure
Please enter your birth date to watch this video:
You are not allowed to view this material at this time.
Johnsons recalls Buffy in its wit, sharp undercurrents (dig the cheeky-deadly female deities questing to end the dominance of dunder-headed patriarchy), and endearingly lo-fi production. Caution, though: accents! [18 Jul 2014, p.60]

It's all strangely compelling and fun, if still a little half-baked, including what's motivating the rival group apparently determined to prevent Axl from completing his mission by trying to kill the poor kid off.

It's difficult to judge The Almighty Johnsons from its pilot episode, but the blend of humor and Norse Gods lore does fit in well with Syfy's penchant for light, fantasy dramas, but those series also tend to be fairly forgettable.
Johnson's takes an old idea and delivers a totally new spin on it. It is very kiwi, and will take some googling to decode the slang here and

Johnson's takes an old idea and delivers a totally new spin on it. It is very kiwi, and will take some googling to decode the slang here and there, but I was never sadder about a show cancellation than I was about this... and that says something, I was and still am sad about Farscape. The budget is low, but the stories are compelling they keep you guessing and very suddenly make you laugh.Just wait till you meet Thor! Hollywood eat your heart out!

…

Expand