Network:

Prime Video

Series Premiere Date:

Mar 30, 2018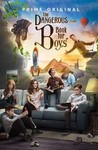 Summary:

The McKenna boys (Gabriel Bateman, Drew Logan Powell and Kyan Zielinski) come to terms with the death of their father (Chris Diamantopoulos) with the help of a book he left them in this comedy from Bryan Cranston and Greg Mottola that was inspired by Conn and Hal Iggulden's book of the same name.

Genre(s):

Comedy
Season 1 premiere date:

Mar 30, 2018

Episode Length:

30
Warmhearted and perhaps imaginary adventures ensue, facilitated by the father's identical twin (played by the always engaging Chris Diamantopoulos). If you like your nostalgia straight up, without "Stranger Things"-style monsters, it might be for you.

There is darkness in the series, but it all bends toward fuzzy good feelings in the end. Actually, it feels pretty fuzzy all the way through, conscientiously warm and mostly predictable. Lessons are learned, right on time. Some viewers, and parents of viewers, will take such qualities as a recommendation, and they're not wrong to.

As a sitcom, Book plays like a tepid Malcolm in the Middle that could use more danger. But Erinn Hayes and Swoosie Kurtz provide emotional and comic balance as the stressed mom and a hippy-dippy granny. [19 Mar-1 Apr 2018, p.13]

The Dangerous Book for Boys is fine enough for the target audience. The problem is the target audience has already seen this so many times. ... Instead of taking the opportunity for true tenderness, real emotions and actual humor, Amazon has created a show in The Dangerous Book for Boys that is just another show, period. Opportunity missed.