Network:

Netflix

Series Premiere Date:

Jan 1, 2016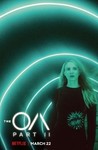 Summary:

In another dimension, OA (Brit Marling) is a Russian heiress and meets PI Karim Washington (Kingsley Ben-Adir), who is looking for a missing teenager.

Genre(s):

Drama

,

Suspense
Season 2 premiere date:

Mar 22, 2019

Episode Length:

60
Please enter your birth date to watch this video:
You are not allowed to view this material at this time.
The OA has always been a show that asks you to surrender, to leave the door open, and Season 2 makes even bigger, bolder asks of its audience. But this time it feels worth it. And it turns out, if you were one of the viewers who believed, who left that door open for The OA all these years, you might have welcomed some bonafide, baffling magic into your home.

It's earnest, self-serious, steeped in spiritual mythology and sci-fi-ish notions about time-jumping and dimension hopping, and heavily focused on the sort of puzzle-solving mystery that lights up Reddit message boards. While watching, I was entranced at times. At others, I thought I was watching the most ridiculous show on TV. Occasionally, I felt both of these feelings simultaneously.

Season two of The OA is both overstuffed and undercooked, a victim of its own commitment to expanding its universe in multifarious ways. Yet the performances are so solid, the commitment to its kooky worldview so earnest, and the smorgasbord of sci-fi curlicues so endearing, sacrificing your expectations of plausibility feels like a worthwhile price of admission to this odd little dimension of the TV universe.

The first seven and a half hours of Season 2 are really striking, both grief drama and haunted-house mystery. But when the story finally gets where it's been going the whole time, you realize that not much of what just happened really mattered; all anyone on The OA needs to do to change the scenery is jump dimensions. Which gives the whole show a dismaying weightlessness.

While cracking the puzzles can be fun, some clues drop out of nowhere It's also not a thoroughly profound drama; there's too much stagnant time in Season 2, and too many leaps of logic. Ultimately, those leaps are what make it stand out, what keep you intrigued, and ultimately what makes The OA a drama to root for.

Remains willfully confounding at every turn and is still capable of conceptual fits so head-scratchingly audacious that I'm able to admire and laugh at them at the same time.
Very well done, well written, well acted complex with an ending that brings everything together accompanied with a rush of ideas as all the

Very well done, well written, well acted complex with an ending that brings everything together accompanied with a rush of ideas as all the pieces are being drawn together. Great concept, new and exciting, Could have done without the gay sex but otherwise an excellent story. Look forward to season 3

…

Expand

Wow. I hardly ever write reviews but for this I have to. OA S1 was a little shaky in spots, and often left me wondering exactly where it was

Wow. I hardly ever write reviews but for this I have to. OA S1 was a little shaky in spots, and often left me wondering exactly where it was going. BUT, the writers kept enough in their back pockets to bring everything together and then some in S2. Actually, having watched S2, I went back to watch S1 again and it makes it a much more rewarding experience, noticing all kinds of little things that you may not have remembered if you saw it when it first came out.

But S2, WOW! I absolutely love it when a show surprises the s**t out of me and forces me to binge. The creators manage to tie everything together with the OA, a missing person case, and some other truly weird stuff that I found it delightful to watch (I actually like the octopus). It all has an air of wonderful weirdness, a bit like watching Twin Peaks. The characters are so well played that certain moments have more emotional impact than you would expect but that is not a bad thing, it just catches you by surprise That is to say, it is not *like* Twin Peaks but it has a similar air of uniqueness of which the viewer loves to be a part.

No spoilers here, except the one glaring flaw is the absolutely HIDEOUS pair of glasses that Dr. Percy wears. Who picked those? A very minor sin, though, and I assume there will be, and I eagerly await a third season. They certainly built it accordingly.

Also not a spoiler, but...THE ROBOTS ARE AWESOME (both big and small)!!!

…

Expand

One of the best Netflix original series so far!! so confusing and mindblowing but still makes me want to see more and more. Can't wait for the

One of the best Netflix original series so far!! so confusing and mindblowing but still makes me want to see more and more. Can't wait for the 3rd season.

…

Expand

excellent season. a lot more action and suspense. glad they got rid of the storytelling aspect of season 1. that was getting boring to me.

excellent season. a lot more action and suspense. glad they got rid of the storytelling aspect of season 1. that was getting boring to me. this is good season.

…

Expand

Almost as good as S1, but not quite. There's a certain excitement in the face of imminent life-changing discovery that's missing here (but I

Almost as good as S1, but not quite. There's a certain excitement in the face of imminent life-changing discovery that's missing here (but I guess it was inevitable - there will never be another OA S1) and some of the fantasy-themed moments here are introduced rather randomly/incoherently. There's less of a sense of direction for the story than in S1, though there still is enough of a direction to hang on to. For me it's still very good, but with the new developments I'm afraid it might become either formulaic or just incoherent next season, throwing around random disjointed elements just to keep an appearance of freshness and creativity. We'll see.

…

Expand

The strangeness gets stranger in Season 2. The twin arc splits into a quadruple thread. The eccentric style doesn't waver. The oddly

The strangeness gets stranger in Season 2. The twin arc splits into a quadruple thread. The eccentric style doesn't waver. The oddly satisfying habit of the opening credits beginning halfway through the episode and varying episode lengths is still there. It's chock full of allegory and symbolism. A whole subculture has emerged online dissecting and interpreting its semi gnostic message. Hidden messages in braille for example. Watching the OA casually is nearly impossible.
The focus switches to California and it feels more invigorated. Even the colour palette has changed to a more brighter warmer hue as we leave Michigan behind. It's still convoluted and complicated but not distractingly so. It's even believable on a certain level. We move into the future with Silicon Valley and we get retro with Karim the P.I. Not everyone's cup of tea but if encountering a telepathic octopus on your quest for esoteric truth feels perfectly plausible then the OA is for you.

…

Expand

This review contains spoilers

, click expand to view

.

they turned a beautiful novelistic exploration of gnosis into the easter egg ending of bandersnatch. you could literally watch the last two minutes of episode 8 and have missed nothing. i gave up halfway through episode 3, where the characters had become unrecognizable, and did just that, relieved i'd saved myself the slog, but ultimately severely depressed at the mutilation of a show that had meant a lot to me.

…

Expand