Network:

FOX

Series Premiere Date:

Dec 17, 1989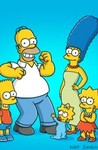 Starring:

Hank Azaria

,

Harry Shearer

,

Harry Shearer

Summary:

Originally created by cartoonist Matt Groening, "Our Favorite Family," has graced the small screen in one form or another for over 20 years. The Simpson family first appeared on television as the subjects of interstitial "shorts" on The Tracey Ullman Show in April of 1987. The Simpsons

Originally created by cartoonist Matt Groening, "Our Favorite Family," has graced the small screen in one form or another for over 20 years. The Simpson family first appeared on television as the subjects of interstitial "shorts" on The Tracey Ullman Show in April of 1987. The Simpsons remained a staple on The Tracey Ullman Show for three seasons until they premiered in their own half-hour series, on December 17, 1989. With the help of Jim Brooks and Sam Simon, Matt Groening's cartoon family turned into an instant success.

Set in Springfield, the average American town, the show focuses on the antics and everyday adventures of the Simpson family; Homer, Marge, Bart, Lisa and Maggie, as well as a virtual cast of thousands. Since the beginning, the series has been a pop culture icon, attracting hundreds of celebrities to guest star. The show has also made name for itself in its fearless satirical take on politics, media and American life in general.

Currently in its 21st season, The Simpsons has piled up over 440 episodes, over 20 Emmy Awards, a handful of music albums, countless endorsements and merchandise, and even made the jump to the silver screen in the summer of 2007 with The Simpsons Movie. And according to Matt Groening, "There is no end in sight."

…

Expand

Genre(s):

Comedy

,

Animation
Creator:

Matt Groening

Season 1 premiere date:

Dec 17, 1989

Episode Length:

30
Please enter your birth date to watch this video:
You are not allowed to view this material at this time.
Easily the the best, cleverest and nuttiest arrival of the 1989-90 season is The Simpsons...It's very small-scale, but perfectly conceived and executed. What we have here from creator Matt Groening is a rare confluence -- delightful writing, pictures and voices fitting like a Matisse. [12 Jan 1990, p.F1]

A hilarious holiday package. [15 Dec 1989, p.3D]

"The Simpsons" is both a challenge and a delight. It's also that rarest of TV fauna, a cartoon show with levels of mirth for every brain and pair of eyes in the family. [12 Jan 1990]

There is, admittedly, a fine line between being hilariously perceptive and just plain, even objectionably, silly. While habitually teetering on that line, 'The Simpsons' has shown a remarkable ability to come down on the right side most of the time.

Groening has created a group of characters whose personalities and motives are more vivid and detailed than the vast majority of sitcoms featuring flesh-and-blood actors.

[The show] has a good deal of savvy wit.... The Simpsons, however, is strangely off-putting much of the time. The drawings are grotesque without redeeming style or charm (characters have big beady eyes, beaklike noses and spiky hair), and the animation is crude even by TV's low-grade standards.
The best cartoon show in the history of television!! It has many things: Funny smart jokes, some stupid jokes but not going over the line,

The best cartoon show in the history of television!! It has many things: Funny smart jokes, some stupid jokes but not going over the line, some racist jokes but not going to far like Family Guy. Love this show! 10/10 period!

…

Expand

I'm not going to review all 28 seasons as that will take forever so I'll write an overall review in season 1. This is without a doubt the

I'm not going to review all 28 seasons as that will take forever so I'll write an overall review in season 1. This is without a doubt the greatest animated sitcom of all-time and in my opinion this is the best comedy the US has ever produced and despite it being criticised in recent seasons I still enjoy it as much as I did 15-20 years ago. I look forward to what the future of this show is whether it ends after season 30 or if it goes on for another 40-50 years.

…

Expand

Best cartoon show ever. It will be difficult for a cartoon to be as popular as The Simpsons. I love the show, it's really funny and it seems

Best cartoon show ever. It will be difficult for a cartoon to be as popular as The Simpsons. I love the show, it's really funny and it seems there is a lot of work behind. Of course, 10 marks.

…

Expand

One Of The Best Shows Of All Time!
The Simpsons Is Still One Of The Funniest Show's Even At Season 24! Damn...

Probably one of the best cartoons ever shown on TV. Memorable characters, hilarious jokes, good premises... and Homer is definitely one of

Probably one of the best cartoons ever shown on TV. Memorable characters, hilarious jokes, good premises... and Homer is definitely one of TV's greatest characters in history.

…

Expand

La serie en general es realmente buena, pero en los últimos 15 años esta se ha ido convirtiendo paulatinamente en basura.

I haven't watched the Simpsons since the evolution of cartoon comedy and boy was I surprised by how dull and stupid the show is. The Simpsons

I haven't watched the Simpsons since the evolution of cartoon comedy and boy was I surprised by how dull and stupid the show is. The Simpsons is simply a cartoon based which lacks humor and entertaining content. You can only watch Homer mess up so many times before it gets unwatchable. I'm sorry but this cartoon is completely crap.

…

Expand