Network:

FOX

Series Premiere Date:

Sep 10, 1993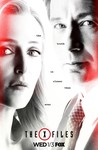 Starring:

Robert Patrick

,

David Duchovny

,

Gillian Anderson

Summary:

The X-Files is a Peabody, Golden Globe and Emmy Award-winning American science fiction television series created by Chris Carter, which first aired on September 10, 1993, and ended on May 19, 2002. The show was a hit for the Fox Broadcasting Company network, and its main characters and

The X-Files is a Peabody, Golden Globe and Emmy Award-winning American science fiction television series created by Chris Carter, which first aired on September 10, 1993, and ended on May 19, 2002. The show was a hit for the Fox Broadcasting Company network, and its main characters and slogans (e.g., "The Truth Is Out There", "Trust No One", "I Want to Believe") became pop culture touchstones. The X-Files is seen as a defining series of the 1990s, coinciding with the era's widespread mistrust of governments, interest in conspiracy theories and spirituality, and the belief in the existence of extraterrestrial life.

TV Guide called The X-Files the Second greatest cult television show and the 37th best television show of all time. In 2007, Time magazine included it on a list of the "100 Best TV Shows of All Time." In 2008, Entertainment Weekly named it Classic Sci-fi and the fourth best TV show in the last 25 years.

This long running FOX drama lasted nine seasons and focused on the exploits of FBI Agents Fox Mulder, Dana Scully, John Doggett and Monica Reyes and their investigations into the paranormal. From genetic mutants and killer insects to a global conspiracy concerning the colonisation of Earth by an alien species, this mind-boggling, humourous and occasionally frightening series created by Chris Carter has been one of the world's most popular sci-fi/drama shows since its humble beginnings in 1993.

So sit back and enjoy the fascinating world of The X-Files.

The entire nine seasons of The X-Files are now available on DVD!

Emmy Awards
2001 - Outstanding Makeup for a Series for episode DeadAlive
2000 - Outstanding Makeup for a Series for episode Theef - Outstanding Sound Mixing for a Drama Series for episode First Person Shooter - Outstanding Special Visual Effects for a Series for episode First Person Shooter
1999 - Outstanding Makeup for a series for episodes Two Fathers/One Son
1998 - Outstanding Art Direction for a Series for episode The Post-Modern Prometheus - Outstanding Single Camera Picture Editing for a Series for episode Kill Switch
1997 - Outstanding Lead Actress in a Drama Series for Gillian Anderson - Outstanding Art Direction for a Series for episode Memento Mori - Outstanding Sound Editing for a Series for episode Tempus Fugit
1996 - Outstanding Guest Actor in a Drama Series to Peter Boyle for episode Clyde Bruckman's Final Repose - Outstanding Individual Achievement in Writing for a Drama Series to Darin Morgan for episode Clyde Bruckman's Final Repose - Outstanding Individual Achievement in Cinematography for a series for episode Grotesque - Outstanding Individual Achievement in Sound Editing for a Series for episode Nisei - Outstanding individual Achievement in Sound Mixing for a Drama Series for episode Nisei
1994 - Outstanding Individual Achievement in Graphic Design and Title Sequences for The X-Files

Golden Globe Awards

1998 - Best TV Series (Drama)
1997 - Best Performance by an Actor in a TV Series (Drama) to David Duchovny
- Best Performance by an Actress in a TV-Series (Drama) to Gillian Anderson - Best TV Series (Drama)
1995 - Best TV Series (Drama)

…

Expand

Genre(s):

Drama

,

Action & Adventure

,

Horror

,

Suspense

,

Science Fiction
Season 8 premiere date:

Nov 5, 2000

Episode Length:

60
Please enter your birth date to watch this video:
You are not allowed to view this material at this time.
All this tension turns out to be great for the show's pulse, which had been fluttering last season. In too many of season 7's adventures, Duchovny and Anderson looked as if they'd been asked to go investigate who shot J.R. Ewing; their boredom was showing. ... [This season's first two episodes discover] a new force field of energy.
Even though its final episodes are white-knuckle intense - enough to please any hardcore fan of the series - season eight still represents a

Even though its final episodes are white-knuckle intense - enough to please any hardcore fan of the series - season eight still represents a dip down in quality, but it doesn't succumb to its wounds either, thanks in part to the overwhelming amount of new faces that are supplied with just the right amount of character development needed to properly introduce them.

…

Expand

Within A-. Without A-. Patience B. Roadrunners B+. Invocation B.
Redrum A-. Via Negativa B. Surekill C+. Salvage C+. Badlaa C+.
The Gift B+.Within A-. Without A-. Patience B. Roadrunners B+. Invocation B.
Redrum A-. Via Negativa B. Surekill C+. Salvage C+. Badlaa C+.
The Gift B+. Medusa B-. Per Manum B+.
This Is Not Happening A-. Deadalive B+. Three Words B+.
Empedocles B-. Vienen B+. Alone B+. Essence A-. Existence A.

…

Expand

Following David Duchovny's decison to only appear in eight episodes of the eighth season the writers were forced to write around his absence

Following David Duchovny's decison to only appear in eight episodes of the eighth season the writers were forced to write around his absence by having his character disappear and introducing a new character to take up the reigns at The X-Files.

That new character is John Doggett, a character that many fans seemed to instantly dislike fearing he was being lined up as Mulder replacement. To be fair Robert Patrick, who is probably best remembered for his iconic role in Terminator 2, does an excellent job of quickly establishing Doggett as an interesting character but his introduction only highlights just how important the chemistry between Duchovny and Anderson is to this show. The Mulder/Scully dynamic had a way of lifting even the most average of scripts to something better and as good as both Patrick and Anderson are as actors that chemistry just simply isn't the same. When Duchovny returns for the final third of the season it's amazing just how quickly he and Anderson are able to find that old groove.

What this eighth season does have going for it however is arguably the clearest overarching plot since the shows inception. Many of the old dangling threads from the 150+ episodes are forgotten with the the first half of the season focusing on the search for Mulder (in amongst the usual stand alone episodes of course) before switching to the mystery behind Scully's baby. As with a few of the previous seasons this could easily have served as a satisfying ending for the show, but that's a discussion best saved for my season nine review......

…

Expand

The eighth season represents a dip down in quality, mostly due to the overwhelming amount of new faces and the lack of character development

The eighth season represents a dip down in quality, mostly due to the overwhelming amount of new faces and the lack of character development needed to properly introduce them. Nonetheless, you'll be highly entertained and spooked throughout.

…

Expand

Even though its final episodes are white-knuckle intense - enough to please any hardcore fan of the series - season eight still represents a

Even though its final episodes are white-knuckle intense - enough to please any hardcore fan of the series - season eight still represents a dip down in quality, and it succumbs to its wounds, thanks in part to the overwhelming amount of new faces that aren't supplied with the right amount of character development needed to properly introduce them.

…

Expand

Even though its final episodes are white-knuckle intense - enough to please any hardcore fan of the series - season eight still represents a

Even though its final episodes are white-knuckle intense - enough to please any hardcore fan of the series - season eight still represents a dip down in quality, and it succumbs to its wounds, thanks in part to the overwhelming amount of new faces that aren't supplied with the right amount of character development needed to properly introduce them.

…

Expand

Even though its final episodes are white-knuckle intense - enough to please any hardcore fan of the series - season eight still represents a

Even though its final episodes are white-knuckle intense - enough to please any hardcore fan of the series - season eight still represents a dip down in quality, and it succumbs to its wounds, thanks in part to the overwhelming amount of new faces that aren't supplied with the right amount of character development needed to properly introduce them.

…

Expand