Network:

Netflix

Series Premiere Date:

Mar 15, 2019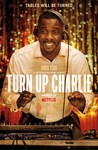 Summary:

Struggling DJ Charlie (Idris Elba) is trying to restart his career while working as a nanny of his best friend's 11-year-old daughter (Frankie Hervey) in this comedy co-created by Elba and TV producer Gary Reich.

Genre(s):

Comedy
Season 1 premiere date:

Mar 15, 2019

Episode Length:

30
As a vehicle for Elba-as-funny-guy, Turn Up Charlie does its job.

The slightness and lightness are soothing, in this quiet-storm remix of a sitcom pastiche. You feel that he has been wise enough to delight in the foolishness of Charlie's situation, and you feel charmed to be let in on his boondoggle.

Turn Up Charlie, like Charlie himself, is admittedly a bit of a mess. As is the case with his 1997 hit "LUV," there is some good stuff in the series. But if it returns, it might need a remix.

There's a dozen better versions of Turn Up Charlie, and, for all it offers its star, the one that exists simply isn't worth hearing.

A thoroughly mild, easily digestible sitcom that unfortunately dips into Disney Channel levels of saccharine too often to merit a recommendation. It's a hard show to hate, but without Elba to anchor it, it'd be so lightweight, it'd disintegrate in the air like a dandelion.

Elba is admirably committed to the drab, sentimental material (written by Georgia Lester, Victoria Asare-Archer, Laura Neal and Femi Oyeniran), and his portrayal is unfailingly gracious and warm. ... One problem, though: He's just not funny.

In other words, not even Turn Up Charlie can totally kill Elba's natural charisma by bludgeoning it to death with a turntable. But as Charlie careens from one baffling decision to the next, it sure seems determined to try.
Loved the show. Charlie and Gab's relationship is the anchor. The parents, David and Sara, are so wrapped up in their own to thigs to see how

Loved the show. Charlie and Gab's relationship is the anchor. The parents, David and Sara, are so wrapped up in their own to thigs to see how they are hurting their child. Charlie as mentor and friend for Gabs was brilliant.

…

Expand