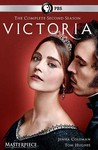 Summary:

The first season of the British TV series follows the young Queen Victoria (Jenna Coleman) from when she takes the crown at 18, dealing with matters of the kingdom with the help of Prime Minister Lord Melbourne (Rufus Sewell) and her eventual marriage to Prince Albert (Tom Hughes).

Genre(s):

Drama
Season 1 premiere date:

Jan 15, 2017
Please enter your birth date to watch this video:
You are not allowed to view this material at this time.
Approach Victoria for what it is--a lavish production with impeccable period details and some impeccable entertainment ones--and you will be pleased. Coleman, who's wonderful here, assures that anyway.

Victoria delivers precisely on two of the most essential elements of making historical fiction work: Is the cast--and particularly the lead--a group you want to spend hours with and does the plot move at a brisk, entertaining clip? That's an emphatic "yes" to both.

Victoria doesn't have the panache or sweeping majesty of that show ["The Crown"], but it will keep house-bound New Yorkers entertained all winter long.

This production seems to strive for a cross between Gossip Girl and Downton Abbey, and is thus an amusing trifle. ... Coleman is very good at portraying both sides of the Victoria depicted here: nervous adolescent romantic, and intelligent, wily influencer of government policy.

If the queen of England isn't enough drama for you, then something is amiss. Victoria gets close to the gold crown and then backs off.

As palace-bound melodramas go, Victoria is perfectly easy to watch, as long as you don't mind that it never for a second feels as if you were watching something that could actually have taken place in the mid-19th century.

Predictable to the bone--and at times maddeningly redundant--Victoria too often feels like a period drama about the making of a period drama, rather than a deep, authentic breath of rarefied air.
"Victoria" cannot compare to "Crown" when it comes to acting and writing, but for a PBS aired series, is isn't that bad. There are some

"Victoria" cannot compare to "Crown" when it comes to acting and writing, but for a PBS aired series, is isn't that bad. There are some British shows that are slow-moving and drawn out: This is not one of those programs. As a mini-series I give it a "thumbs up." At least it is more entertaining than some of the TV shows Hollywood is turning out today.

…

Expand

We have seen so many recreation of young Victoria life and his romance with Albert that it is boring. Making things worse everybody is too

We have seen so many recreation of young Victoria life and his romance with Albert that it is boring. Making things worse everybody is too good looking for their respective roles.

…

Expand