| Maneater | Minecraft Dungeons | Crucible |
| --- | --- | --- |
| | | |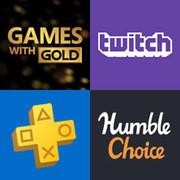 A frequently updated list of free games available from PS Plus, Xbox Games With Gold, Twitch (Free With Prime), Origin Access, Humble, Steam, and other services.
1.

Half-Life: Alyx

Half-Life: Alyx is Valve's VR return to the Half-Life series. It's the story of an impossible fight against a vicious alien race known as the Combine, set between the events of Half-Life and Half-Life 2. Playing as Alyx Vance, you are humanity's only chance for survival. The Combine's control of the planet since the Black Mesa incident has only strengthened as they corral the remaining population in cities. Among them are some of Earth's greatest scientists: you and your father, Dr. Eli Vance. As founders of a fledgling resistance, you've continued your clandestine scientific activityperforming critical research, and building invaluable tools for the few humans brave enough to defy the Combine. Every day, you learn more about your enemy, and every day you work toward finding a weakness. ABOUT GAMEPLAY IN VR: Valve's return to the Half-Life universe that started it all was built from the ground up for virtual reality. VR was built to enable the gameplay that sits at the heart of Half-Life. Immerse yourself in deep environmental interactions, puzzle solving, world exploration, and visceral combat. Lean to aim around a broken wall and under a Barnacle to make an impossible shot. Rummage through shelves to find a healing syringe and some shotgun shells. Manipulate tools to hack alien interfaces. Toss a bottle through a window to distract an enemy. Rip a Headcrab off your face and throw it at a Combine soldier. Extra content for Index owners Customers who have purchased Valve Index hardware by the end of 2019 will have access to unique bonuses starting early next year: * Explore environments from Half-Life: Alyx in your SteamVR Home space * Alternate gun skins to embellish Alyx's arsenal * Special Half-Life: Alyx-themed content for Counter-Strike: Global Offensive and Dota 2 Community-built environments * A set of Source 2 tools for building new environments will ship with the game, enabling any player to build and contribute new environments for the community to enjoy. Hammer, Valve's level authoring tool, has been updated with all of the game's virtual reality gameplay tools and components.

2.

Ori and the Will of the Wisps

The little spirit Ori is no stranger to peril, but when a fateful flight puts the owlet Ku in harm's way, it will take more than bravery to bring a family back together, heal a broken land, and discover Ori's true destiny. From the creators of the acclaimed action-platformer Ori and the Blind Forest comes the highly anticipated sequel. Embark on an all-new adventure in a vast world filled with new friends and foes that come to life in stunning, hand-painted artwork. Set to a fully orchestrated original score, Ori and the Will of the Wisps continues the Moon Studios tradition of tightly crafted platforming action and deeply emotional storytelling.

3.

DOOM Eternal

DOOM Eternal is the direct sequel to 2016's DOOM. Developed by id Software, DOOM Eternal delivers the ultimate combination of speed and power, along with the next leap in push-forward, first-person combat. As the DOOM Slayer, you'll return to take your vengeance against the forces of Hell. Set to an all-new pulse-pounding soundtrack composed by Mick Gordon, you fight across dimensions as you slay new and classic demons with powerful new weapons and abilities. [Bethesda]

4.

Legends of Runeterra

Face off in dynamic, alternating combat full of opportunities to adapt and outplay. Make your move, but be ready to react, because your opponent has a plan of their own. It all comes down to this—can you outwit them and win?

5.

Huntdown

Challenge yourselves in this hard-boiled co-op arcade shooter! Run, jump, and take cover in the mayhem-filled streets of the future. Kill the henchmen, take their guns, and Huntdown the leaders! Collect the bounty, level by level, and make a healthy living by making living unhealthy.

6.

Monster Train

Monster Train is a strategic roguelike deck building game with a twist. Set on a train to hell, you'll use tactical decision making to defend multiple vertical battlegrounds. With real time competitive multiplayer and endless replayability, Monster Train is always on time.

7.

If Found...

If Found... is an interactive visual novel about going home, coming out and erasing everything.

8.

Panzer Corps 2

Panzer Corps 2 is the ultimate Second World War strategy game! Enjoy the time-proven gameplay formula which has been appreciated by millions of players over the years, brought to a whole new level of refinement up to the latest technical standards.

9.

Deep Rock Galactic

Deep Rock Galactic is a 1-4 player co-op FPS featuring badass space Dwarves, 100% destructible environments, procedurally-generated caves, and endless hordes of alien monsters.

10.

Streets of Rage 4

Publisher Dotemu (Wonder Boy, Windjammers 1/2) and developers Lizardcube (Wonder Boy) and Guard Crush Games today revealed Streets of Rage 4, an all-new continuation of SEGA's iconic arcade brawler series known for its radical fights, jammin' '90s beats and dashing sparring gloves and bandanas. Streets of Rage, known as Bare Knuckle (Bea Nakkuru) in Japan, is a trilogy of beat 'em up games developed and published by SEGA in the 1990s. Famously known for its non stop action and electronic dance influenced music - scored by Yuzo Koshiro and Motohiro Kawashima - the series has gained the status of cult classic throughout the years. It is considered one of the best beat 'em up series of all time. After many years, Axel and Blaze are finally picking up the fight where they left. Featuring hand-drawn visuals from the team behind 2017's gorgeous Wonder Boy: The Dragon's Trap remake, Streets of Rage 4 builds upon the classic trilogy's gameplay with new mechanics, a fresh story and a gauntlet of dangerous stages with a serious crime problem. Streets of Rage 4 recalls classic gameplay but it stands as an entirely original arcade-style romp thanks to the expertise of Guard Crush Games and Dotemu. Whether players gang up with a friend or clean up the city solo, Streets of Rage 4 is a skull-bashing, chicken-chomping delight all set to a thumping soundtrack sure to get your blood pumping. Features: * The comeback of the legendary Streets of Rage series. * Beautiful graphics fully hand-drawn animated by the studio behind Wonder Boy: The Dragon's Trap. * Classic gameplay enhanced with brand new mechanics. * Soundtrack by a wide line-up of world-class musicians. * Braised chicken served on a pristine plate.