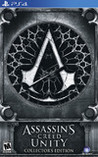 Summary:

Paris, 1789. The French Revolution turns a once-magnificent city into a land of terror and chaos. Its cobblestone streets flow red with the blood of commoners who dared to rise up against the murderous aristocracy. As the nation rips itself apart, a younger man named Arno embarks on a

Paris, 1789. The French Revolution turns a once-magnificent city into a land of terror and chaos. Its cobblestone streets flow red with the blood of commoners who dared to rise up against the murderous aristocracy. As the nation rips itself apart, a younger man named Arno embarks on a harrowing journey to expose the authentic powers behind the Revolution. His pursuit thrusts him into the middle of a ruthless struggle for the fate of a nation, and transform him into a true Master Assassin. From the storming of the Bastille to the killing of King Louis XVI, experience the French Revolution unlike any medium that has come before, and assist the people of France carve out for themselves an entirely new destiny.

…

Expand
Developer:

Ubisoft, Ubisoft Montreal

Genre(s):

Action Adventure

,

Historic

,

Open-World

# of players:

Up to 4

Cheats:

On GameFAQs

Rating:

M
Please enter your birth date to watch this video:
You are not allowed to view this material at this time.
Assassin's Creed Unity - Experience Trailer 1
Unity doesn't just play well, it looks beautiful too. The graphics have a stunning painted quality to them that may be attributed to the way that different materials react to the lighting.

A huge Assassin's Creed episode, with gorgeous visuals and very funny and engaging co-op missions and activities.

LEVEL (Czech Republic)

Jan 5, 2015

An excellent and entertaining game that innovates the series but it is ruined by poor optimization. Splendors of revolutionary Paris are flawed by annoying blunders that have been removed only now by Ubisoft. [Issue#248]

Gamereactor Denmark

Nov 11, 2014

Assassin's Creed Unity improves on the gameplay, the mechanics, the amount of people in the game and the music compared to earlier AC releases - and it even includes a fun co-op mode. Where it falls flat is on the delivery of the open world. It constantly feels like the PS4 is about to break under the pressure of working too hard. Framerate dips, pop up and ins and odd textures will definitely make this a pass for many gamers. We were still able to enjoy the game despite these short comings, but we can't help but feel disappointed.

Playstation Official Magazine Australia

Dec 16, 2014

You'll praise this for its picture perfect Parisian playground, killer co-op and infectious customisation. But you'll also want to baguette out for its aging mechanics and slippy framerate. [January 2015, p56]

Assassin's Creed Unity takes part in revolutionary Paris, but there is no sign of gameplay revolution. Game suffers with technical issues, one can smell the free-to-play principles and there isn't anything fresh. But the game looks beautiful anyway.

Finding enjoyment in Unity requires a great deal of patience, more than anyone can afford. I want to like the game, and I do to some extent, however I cannot ignore that it's broken. And there is no patch that can ever save Unity from its tarnished image.
Even though AC is an yearly release franchise, and to be honest AC IV is not exactly what I'm looking for, I gotta say, AC Unity is freaking

Even though AC is an yearly release franchise, and to be honest AC IV is not exactly what I'm looking for, I gotta say, AC Unity is freaking awesome, and totally fresh. The graphic, the setting, the atmosphere is perfect, the characters is well done, the story, although predictable is still pretty good. And I didn't even experience any frame drop, and hardly any glitches at all. Overall, this is definitely the best AC game ( for me at least )

…

Expand

Não peguei o jogo no lançamento então consegui jogar um game bem mais polido,então não tive tantos bugs quanto no lançamento,joguei e gostei

Não peguei o jogo no lançamento então consegui jogar um game bem mais polido,então não tive tantos bugs quanto no lançamento,joguei e gostei muito do game um dos meus favoritos da série e na minha opinião,depois da trilogiado Ezio esse é o assassin's creed mais assassin's creed dos ultimos anos,a história é legal,os gráficos são lindos e tem o melhor parkour e melhor combate da saga.

…

Expand

I've seen some bugs and gotten a decent way in, but i think the game is all around fun. New improvements and new things tried that all in all

I've seen some bugs and gotten a decent way in, but i think the game is all around fun. New improvements and new things tried that all in all succeed at being fun.

…

Expand

This review contains spoilers

, click expand to view

. I didn't buy this game at launch, so many of the glitches had been patched by the time I got to play the game. I guess the glitches are the main reason, why this game's ratings are terrible.

There were still couple of bugs when I played this, but nothing game breaking. The gameplay is a hit and miss. Climbing mechanics are one of the worst of the series. The "controlled descending" was nice, but rest of it was bad. The combat system is pretty average. It is more unforgiving than in the previous games and for the first time in AC series I actually had to avoid combat, since the opponents were too tough. Good for you Ubisoft!

The "memories" or missions were also different from the previous games and to be honest, the freedom of how to kill your targets was a fresh way to change the gameplay. Main missions were good, but I couldn't bother with the side quests. They were too repetitive.

The story was pretty good up until the ending. Arno's and Elise's relationship was great and it really kept me playing through the story quickly. But then the ending was completely predictable and lame. Dark and gritty endings can be good, but not when they are done like this. Around halfway point of the game I already knew that Elise was going to die. If Elise would have lived, then that would have been a surprise ending and a very pleasant one! But now the ending just left a bitter taste in my mouth.

With slightly better mechanics, fewer glitches and with a different ending, this game really would have been a masterpiece...

…

Expand

I had such hopes for this game. But alas it betrayed me, the game is fun and innovates in various ways but it really shows the franchises

I had such hopes for this game. But alas it betrayed me, the game is fun and innovates in various ways but it really shows the franchises age. The main character is a rip off of ezio, for gods sake his hair and life style and attitude are basically copy pasted from him. There are NUMEROUS glitches and bugs that I have experienced in my game playthroughs. The DLCs were **** All you had to do in the Paris one was climb the effiel tower, really? . The game falls short in so many places I'm just I'm just done with this franchise now.its the new cod. The sacrifice the fan base, story, gameplay, characters just to release the same god damn **** ever year now

…

Expand

This review contains spoilers

, click expand to view

.

Assassin's Creed Unity is an unfinished game that was rushed out. There are so many bugs and glitches in the game and it felt like it was running under 30 fps. The story was just boring and it doesn't make any sense at all. Co-op is terrible!! I could never join my friends in a mission and if you join a public match, players could get you killed easily. The only thing I liked about this game is that missions are more difficult from the previous games and enemies are a lot tougher so it gives you a challenge. Overall Assassin's Creed Unity is a copy and paste game with more bugs and glitches

…

Expand

You can't have a stealth-focused game have a multiplayer focus, it just doesn't work. As demonstrated by Assassin's Creed Unity, the game just

You can't have a stealth-focused game have a multiplayer focus, it just doesn't work. As demonstrated by Assassin's Creed Unity, the game just feels like it slogs through mission after mission with a lack of cohesion. And does it surprise anyone at this point that the game doesn't look anything like it did at E3? Man, what happened to you Ubisoft

…

Expand